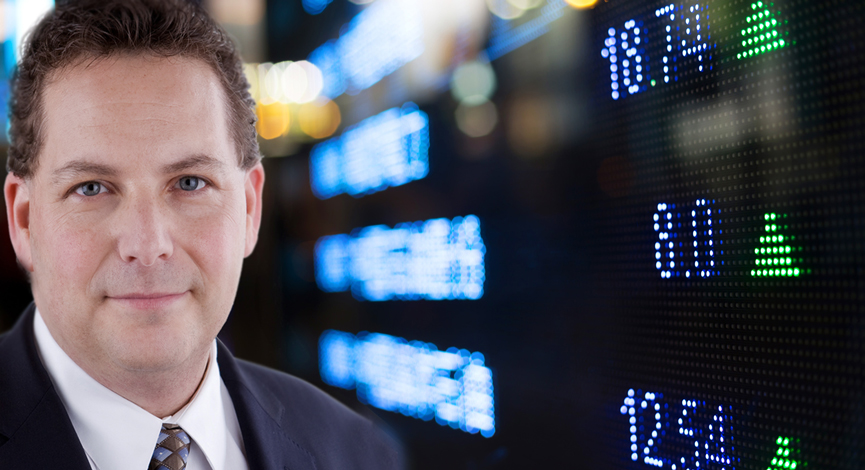 ATMEL (ATML) – provided information and outlook regarding earnings last week. We listened in to the conference call to see how the handheld market was doing and what opportunities were to come. The main area that we were looking for clarity with was the impact (if any) that the Japan manufacturing shortages could have on the company. The good news was that management confirmed that there was NO impact whatsoever.
Atmel Corporation (Atmel) is engaged in designing, developing and supply of microcontrollers. The Company offers a portfolio of touch products, which integrate its microcontrollers with touch-focused property. The Company also designs and sells products, which are complementary to is microcontroller business, including nonvolatile memory and flash memory products, radio frequency (RF) and mixed-signal components and application specific integrated circuits (IC). Its microcontrollers, which are self-contained computers-on-a-chip, and related products are used in smartphones, tablet devices and other consumer and industrial electronics to provide core functionality for touch sensing, security, wireless and battery management. In June 2010, the Company sold its Rousset, France fabrication operations to LFoundry GmbH. On September 30, 2010, it sold its Secure Microcontroller Solutions (SMS) business to INSIDE Contactless S.A. (INSIDE).
Daily Chart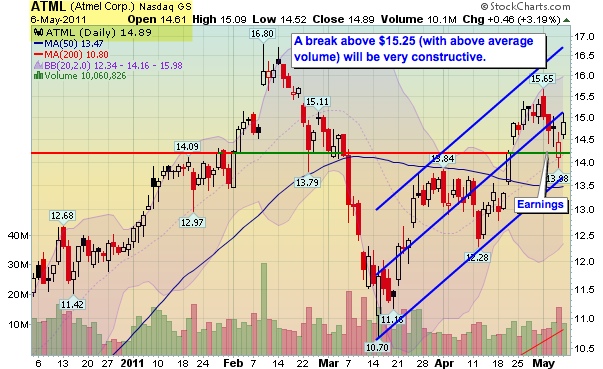 Weekly Chart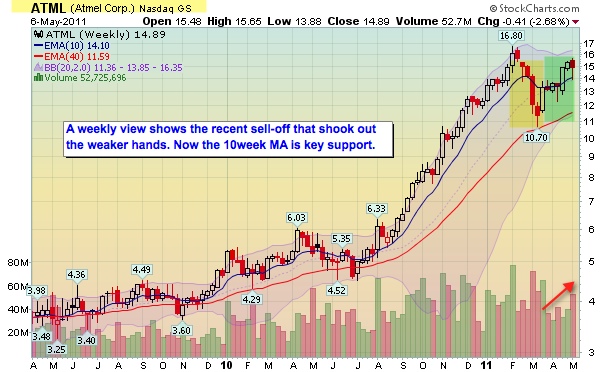 Below are notes and additional information from the call….
EPS grew 1% sequentially, 40% period over period year.
Most of expense increase was due to increase in headcount. In addition, some additional stock options were provided and that was one reason for additional expenses.
Income tax rate of 11.6%, lower than guidance due to one time discrete items. Income went to$.16 which beat analyst predictions of $0.15
Quarterly highest revenue in 10 years. Excluding the smartcard, rev increased 43% as per
51% margin, highest level achieved by company since IPO. 49.5% was last quarter, and ahead see ability to keep margins up.
TABLETS – Rumors that any other tablet but the Apple iPad is wrong. ASUS, DELL and Motorola, LG are selling. ATMEL is the leader in the touchscreen for these products. Some of the new product (E series) customers are ordering much faster than anticipated.
They are increasing inventory for microcontrollers and touchscreens.
Due to increased volume, higher margin products and cost cutting.
Atmel repurchased 5 million shares. Overall 14 million at 9.9 per share for the stock purchase plan overall.
JAPAN EFFECT
NO reports of injury to anyone at Atmel and continues
Less than 5% of overall revenues from Japan. They have no manufacturing in Japan and has no supply chain disruptions from the tsunami etc.
Receiving inquiries from other customer that are having trouble getting supplies to Japan. This is one of the reasons that they are increasing inventory.
Commentary
iSupply ranked Atmel jumped to #4 in overall micro-controllers, They were #9 prior, They are the fastest growing company in the the segment.
Micro-controllers (both touch and non -touch) up combined 95% YoY.
New in vehicle entertainment, intra-net for cars as well as many other features for the automotive markets.
Touch controllers – Samsung Galaxy S4G, Mot Atrix 4G, Evo, Incredible. Kyocera is a new customer, with dual screens. PC world published ATMEL is powering touch in 8 of the top smartphones.
MANY customers are forecasting that they will see a significant increase in smartphone sales.
Again, the higher inventory was discussed as they need to provide additional stock for orders they believe will hit in next quarters.
OUTLOOK
Now expect revenues, up 1-4% on sequential , Gross margin to be 51%, 2nd Q are approx 137 million. Tax rate to be 18%, but may rise in coming quarters as offsets lessen.
Raising gross margin target 51-52%. Also, authorized $300 million to common stock repurchase plan.
Q/A
Management was very positive on many many design wins as well as expanding into many different areas for touch such as readers, navigation etc.
Many questions on how they are achieving such great margins….
Inventory was increased as they are intentionally moving higher as they are looking for more wins. Also, due to the disaster in Japan they are looking to support new customers that are going to come from Japan alternatives. They believe that the inventory will grow slightly into the next period and then burn off.
Management again continued to discuss that they are seeing some major growth in several markets, including consumer, appliances, handheld, auto and building etc.
Primary customers are using ATML as primary supplier rather than use multiple suppliers.
Again, the Japan issue came up and management is seeing new customers because of the problems in Japan. Also, a few OEMs are looking for Atmel for alternatives for production due to the lack of supply from Japan. Overall there appears to be an opportunity for new customers from the tragedy in Japan.
Inventory build is due to forecast and they see that being sold etc. Lead time has been coming down and they see more need in the next quarters.
Looking to invest in The Disciplined Investor Managed Growth Strategy? Click below for the 14-minute virtual tour….