The Disciplined Investor – Essential Strategies for Success Audiobook is now available for immediate download. If you want to: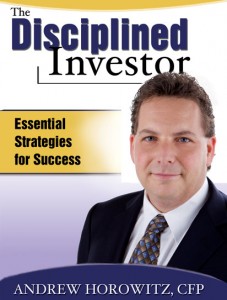 1. Eliminate emotions from your investment decisions
2. Find out how to match your investment strategy to your risk tolerance
3. Learn why asset allocation is so important when creating an investment portfolio
4. Discover tools for enhancing your portfolio's performance
5. Understand options strategies, diversification and other professional tools
6. PROFIT
The Disciplined Investor Audiobook on Audible.com
Download the accompanying reference guide (free)
What the Critics Say
"Andrew is a skilled planner and financial ally to any investor." (South Florida Sun-Sentinel)
"Far from a textbook on market theory and academic arguments, the book provides tangible resources which an individual investor can use to effectively analyze market movements, portfolio allocations, risk tolerances and potential investments." (Zachary Scheidt, Hedge Fund Manager)
Publisher's Summary
The Disciplined Investor focuses on demystifying the often-complex world of investment planning. With proven strategies and easy-to-follow instructions, it is the only guide you will need for investment success.
Narrated by the author and popular podcast host, this audiobook is designed to make you a better investor.