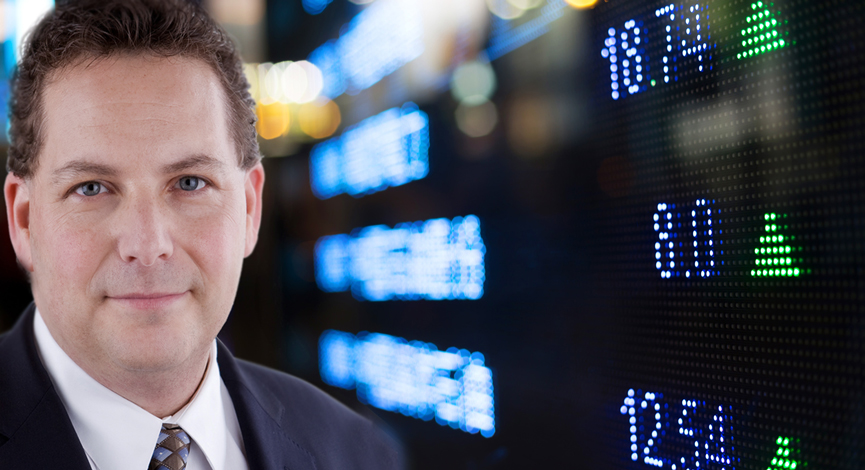 Well, there is no shortage of news. Even over the weekend, there were a flurry of stories that have been making headlines. Some of which will become pronounced over the days and weeks to come.

Looking at the week ahead, there are many landmines that could take markets lower – most are related to Europe. At this point, it is nothing more than guesswork to try to figure out what is going on in Greece. We know that the country is insolvent and that the government is fracturing. Beyond that, facts change minute by minute.
Midday on Sunday, news hit that George Papandreou, Prime Minister of Greece was resigning. That comes as the agreement to form a coalition government stalled. In a nutshell, the resignation of Papandreou "should" help a new Unity Government to push through the bailout package with the obvious caveat: Nothing is as it seems when it comes to Greek politics. Here is a link from SKY NEWS (a great resource for European News).
(This week's Podcast features guests Frank Curzio and Bloomberg's Michael Rosenberg – CLICK HERE)
Of course any resolution of the Greece crisis will only help to migrate the focus to Italy's woes.
More than one EU government is teetering on the brink. Italian Prime Minister Silvio Berlusconi also faces mounting pressure to step down as 10-year borrowing costs for the region's third-biggest economy approach the 7 percent level that forced Greece, Ireland and Portugal to seek bailouts. The premier reiterated today that he won't resign.
Here are the items that are headlining over the recent days. (Bloomberg)
1. Stocks, Euro, Italian Bonds Retreat Amid G-20's IMF Disagreement
2. Jobless Rate in U.S. Drops to 9%; Payrolls Climb 80,000
3. Corzine Resigns From MF Global Days After Bankruptcy Filing
4. G-20 Fails to Agree on IMF Resources as Europe Urged to Act
5. Gross Says U.S. in Anemic, Jobless Recovery
6. BofA Slides as Stockholders Ponder Dilution From Exchange Plan
7. Carney Named to Head Financial Stability Board, G-20 Says
8. AIG Loss Casts Doubt on Benefit From Tax Asset; Shares Fall
9. Cruzeiro Posts Biggest Market Loss on Financing: Brazil Credit
10. Congress Inaction Shrinks Stimulus to $5 Billion
11. Groupon Taps Top Silicon Valley Bankers to Defy IPO Skeptics
12. Syria Crackdown Gets Italy Firm's Aid With U.S.-Europe Spy Gear
As we all know, Groupon (GRPN) came public on Friday. It was slated as the most anticipated IPO in years. With all of the financial engineering that went on before the IPO, the is a great deal of speculation as to the future for this company. The IPO launched higher off of the open, only to come back down to earth during the remainder of the session. Unfortunately, there were no shorts shares available, otherwise we would have been happy to jump aboard.
This is a name that will be traded vigorously over the next few weeks. Our feeling is that it is only a matter of time that a secondary offering hits the market, diluting shares and taking the stock lower.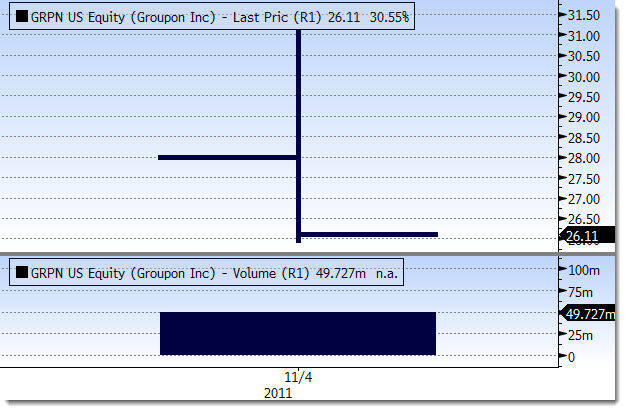 For our TDIMG portfolios, we added a new position in Quality Systems (QSII). This stock has terrific fundamentals, but the last earnings announcement spooked investors. There was revenue recognition that was not what was expected and the stock sold off sharply. As it is now basing, there is the potential for a sharp move up if any institutional buying picks up. The large gap following earnings is what we are watching and believe that any upside move will help to quickly fill that pocket. But, the fact is that the chart is not healthy and knowing this, we will be keeping a tight stop below the recent breakdown levels.
Quality Systems, Inc., together with its subsidiaries, develops and markets healthcare information systems in the United States. The company operates through four divisions: QSI Dental, NextGen, Inpatient Solutions, and Practice Solutions. The QSI Dental division develops, markets, and supports software suites for dental practices; and practice management software, which is designed to automate and streamline various administrative functions required for operating a medical or dental practice. It also supports various organizations utilizing its Software as a Service model-based NextDDS financial and clinical software, as well as certain medical clients that utilize its UNIX-based medical practice management software; and provides dental electronic data interchange (EDI)/connectivity applications, including QSInet application service provider. The NextGen division offers integrated clinical, financial, and connectivity solutions for ambulatory and dental provider organizations, which include NextGen Ambulatory product suite comprising electronic health records, practice management, dashboard, mobile solutions, and digital pen; and NextGen Community Connectivity product suite consisting of health information exchange, patient portal, and quality measurement and reporting solutions. This division also provides EDI, hosting, data protection, and consulting services. The Inpatient Solutions division offers integrated clinical, financial, and connectivity solutions for rural and community hospitals comprising NextGen Clinicals for work efficiency and communication; and NextGen Financials, a financial and administrative system. The Practice Solutions division provides technology solutions and consulting services in the areas of revenue cycle management services, including billing and collection services for medical practices. The company was founded in 1974 and is headquartered in Irvine, California.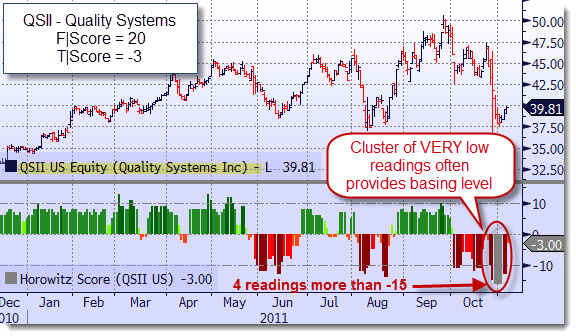 We also added to a few positions on Friday. One in particular was Hansen Natural (HANS). The stock broke out and we added to the position we already held as it passed through key resistance level(s). That particular position is now up by close to 7% since we initiated it. Also, we are once again back in Ulta Cosmetics (ULTA). This is another stock that has held up well and moved against the grain on Friday on above average volume.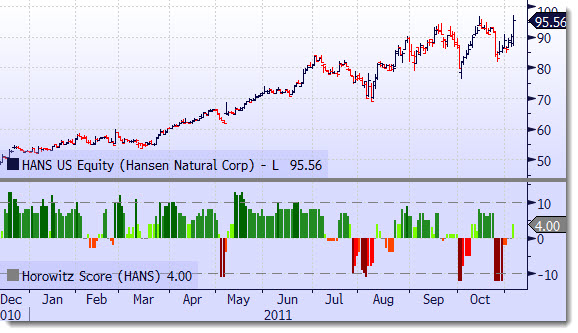 ___
Looking to invest in The Disciplined Investor Managed Growth Strategy?
Click HERE for the virtual tour….
___