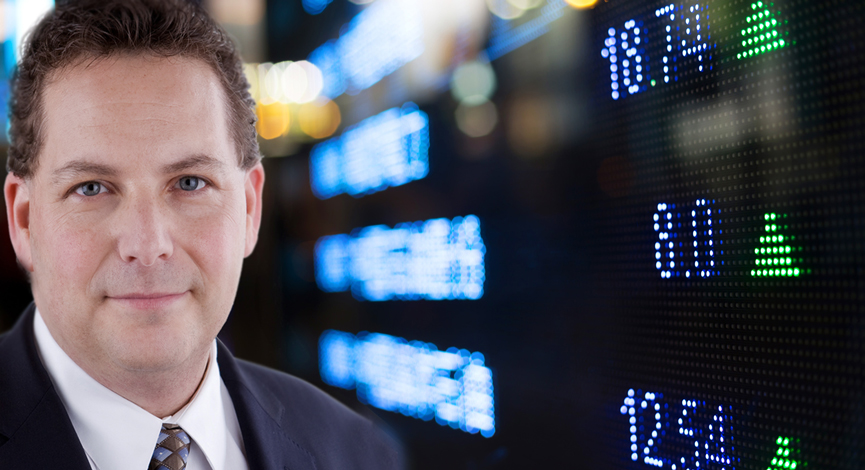 I could swear that someone said that there was a recovery somewhere. Obviously it was other than the housing sector.The better than expected existing home sales on a MoM basis helped to lift markets. Short covering has been the primary driver as the world sits and waits for Greece to drag us all to the edge before coming to a decision that we know they are going to make. Frankly, they have no choice at this point…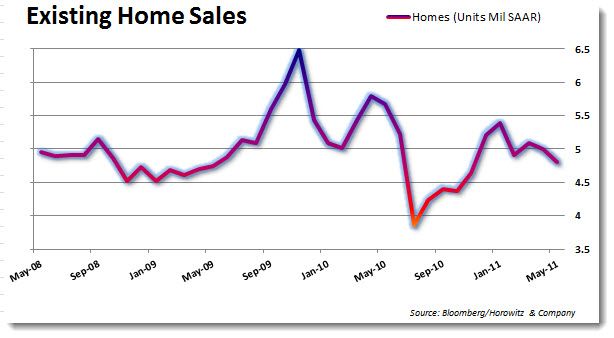 But, if you think that the housing number provided a silver lining, think again. The truth is that all it did was to further point out how weak the U.S. economy has become and that helped to move the dollar index down by .40% – enough to spark a rally as risk-on trades love the lower dollar.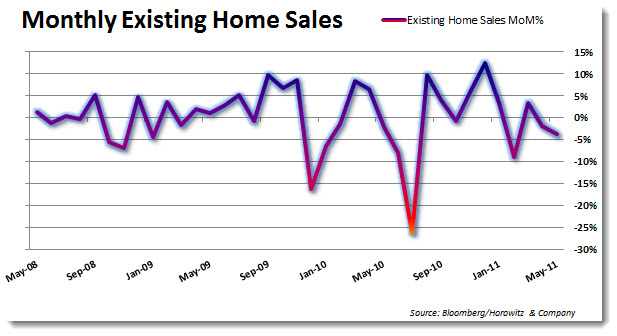 Obviously the trend on the charts tell the story a bit differently than you probably saw in the recent headline…
No wonder why the NAHB survey was so weak a few days ago.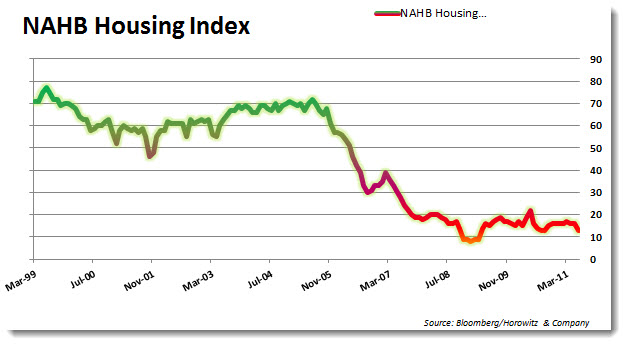 From Briefing.com

Existing Home Sales Tumble, Temporary Factors Are Being Blamed
Existing home sales fell from an annualized rate of 5.00 mln in April to 4.81 mln in May. The Briefing.com consensus expected sales to drop to 4.79 mln units.

The National Association of Realtors blamed temporary factors — including poor weather, high oil prices, and difficult financing conditions — as the main causes for the pullback in contract signings in April. With little contract activity last month, sales weakened in May.

While the temporary factors may play a role, the uncertainty surrounding the economic recovery along with the recent double-dip in housing prices are the main focal points for the current weakness in housing sales. After the temporary factors are gone, these underlying problems will keep housing sales from rebounding materially in the near future without a meaningful pickup in hiring activity.

Distressed property sales continue to comprise a large portion of the total sales numbers. These properties accounted for 31% of sales in May, down from 37% in April.

Median prices fell 4.6% y/y to $166,500 in May, but this compares unfavorably against an artificial spike in sales caused by the expiration of the homebuyer tax credit last May.

Total housing inventories increased from a 9.0 month supply in April to a 9.3 month supply in May. This is the largest inventory level since November 2010.