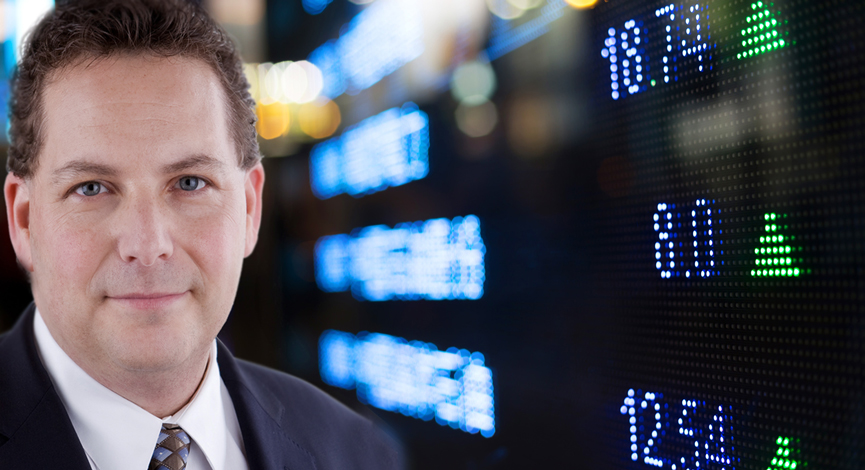 From time to time, we will provide some of the weekly discussion we have for our CLIENT ONLY site. We believe in transparency and this allows all of our clients to see what we are doing and why we are doing it. TDIMG clients have the benefit of this through a our private blog site.
If you would like to see more about how we manage money, please visit the 14-minute virtual tour.
Partial discussion from Thursday and Friday of last week:
Transactions of note: (We sold as technicals are breaking down very quickly and losses were contained as the positions were small)
Sold 100% Sprint (S) at $3.15 (this was an awful earnings report for Sprint)
Sold 100% SolarWinds ( SWI) at $17.80 (one of the worst performers of late. We will re-evaluate this name)
Sold 100% Time Warner (TWC) at $40.71 (reviewed an updated report and saw holes)
Just prior to the close today and to bring down risk, we purchased a 10% position of ProShares Short Russell 2000 (RWM) at an average price of $48.39.
TDIMG portfolios are now 40% Long, 10% Short, 15% Neutral, 35% Cash.
The action from yesterday set the stage for an interesting Friday.
Economic numbers released today showed a large slow down (the most in 9-months) for consumer spending. See write-up HERE)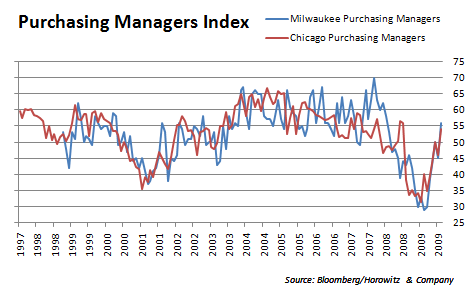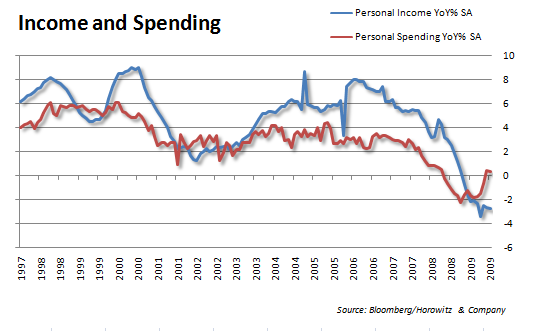 Even thought the purchasing managers index looked good today, sentiment has apparently changed and there is no patience for the lack of spending that we see within the income and spending reports.
Losses accelerated throughout the day (with increasing volume) on the economic news as well as the announcement that CIT Group (CIT) will be filing for bankruptcy on Sunday. We are also seeing some corporate outlooks that are soft. Projections are coming in that show growth, but far less than is expected. That is translating to a considerable overvaluation for many stocks that ran up into earnings.
We executed a good amount of trades as we were alerted to price points on stocks that we like. We are treading carefully here and have continued to add a few long positions while hedging out risk through short ETFs.
Purchased a 1% position of   Aeropostale (ARO) at $38.02
Purchased a 25% more   of The Buckle (BKE) at $30.24 for a 2.5% position at $31.05
Purchased a 25% more of Consol Energy (CNX) $43.46 for a 2.5% position at $45.84
Stopped out of the full position of   (ENER) at $10.62
Purchased a 1% position Long Top Financial (LFT)   at $26.91
Purchased a 1% position of Corporate Office Properties (OFC) at $32.93
Purchased a 5% position of Short S&P 500 (SH) at $57.08
Purchased a 2% position of Proshares 2X Short Financials (SKF) at $27.01 (Synthetically providing 4% exposure)
End of week, portfolios are 42% Long, 20% Short, 15% neutral and 25% Cash.
Note: Neutral positions include Gold (GLD), Agriculture Commodities (DBA) and TIPs (TIP)
Disclosure: Horowitz & Company clients may hold positions of securities mentioned as of the date published.