Chris DeRose gives us a high level look into the appeal of cryptocurrencies. No, this is not a "BUY/SELL" discussion. Rather it is a look into the strange, and often upside down world of cryptocurrency.
ICOs, trading, arbitrage and psychology are all areas we dig into in this episode – Not to be missed.
Plus, we take a look at some wild predictions for the space and examples of which platforms may have long term sustainability.
---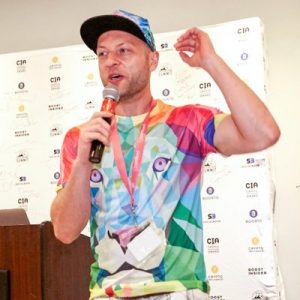 Chris DeRose is one of the oldest, and most controversial speakers in the Bitcoin space. As a avid writer, podcaster, and political commentator – Chris has been involved with cryptocurrency in one way or another after reading Bitcoin's earliest announcement on slashdot.
Unlike most of bitcoin's adherents, Chris' advocacy takes a skeptical and critical approach to the problems, solutions, and difficulties of the Internet's "wild west". Chris has lectured at numerous universities, written for many industry's journals, and produced a weekly podcast and youtube show dedicated to the subject matter. Guided by a strong belief in EMH, and an agnostic approach to public policy, Chris' exploration of the field may best be described as "regrettably reasonable" and "principled irreverence".
Chris DeRose is passionate about the amazing technology of blockchain, and the intersection of finance and computer science, that decentralized technology has brought us.
Check out Chris's YouTube Channel – Bitcoin Uncensored
---
TDI Managed Growth Strategy Virtual Tour

---
Want More Info?
---
Stocks mentioned in this episode: (EDIT), (CRSP), (TWTR), (FB), (TSLA)
---
Podcast: Play in new window | Download (Duration: 54:03 — 37.6MB)
Subscribe: Google Podcasts | Spotify | Stitcher | TuneIn | RSS | More