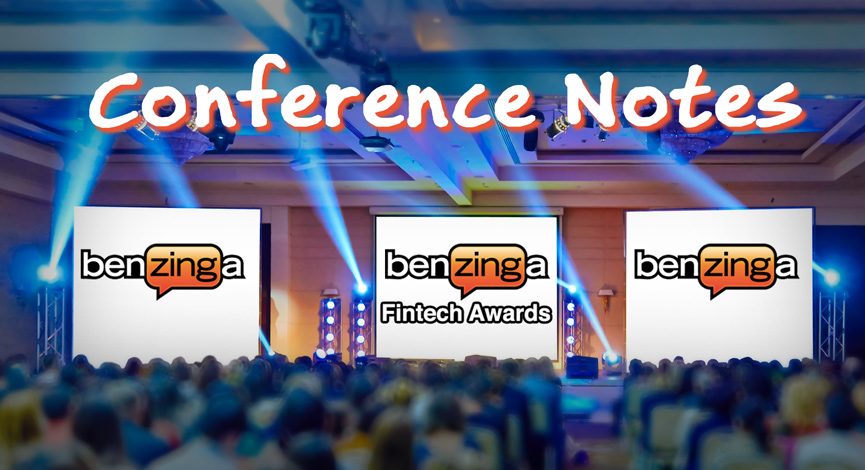 TD Ameritrade on The Future of Finance and Social Media:
In a conversation with TD Ameritrade's Sunayna Tuteja and Facebook's Kahina Van Dyke, the following points were highlighted regarding the Future of Finance and Social Media.
Highlighting the uses of Facebook in Business.

Messenger is the main driver to communicate with businesses on Facebook.

TD is trying to democratize financial planning and investment management.

Messenger is the next channel to Financial Services businesses to communicate with clients and prospects

The question remains, why is messenger better than email, text, phone, or other ways of communications.

Sounds like maybe talking about automated answering services / messaging service based on inputs from the business.

It may be companies are moving away from automated phone systems, now we are moving to automated messaging utilizing Artificial Intelligence based on the company's responses.

People are spending more time on social media and are wanting more direct attention using social media outlets.

This is a Bespoke experience built for your business with Facebook assisting in that process.

American Express and TD were first customers for

Service and Messaging

Swipe your card, you get a text message or alert on your phone.

Finding what each business wants for their customers and providing that ability.

There is a large push to use Facebook Messenger for business use.

What is coming next for Messenger:

Augmented Reality for unique experiences

Facebook saying that inherently people have 95% the same character and qualities, but there still remains 5% that makes us all slightly different in nature.
Trading View – Stan Bokov:  Listen to the Podcast Interview HERE
This is a social trading platform for the retail investor.

Essentially, Trading View is trying to create a Bloomberg type terminal for the retail trader.

News, Trading and social all wrapped into one platform.

An idea that you never have to trade alone again.
About Trading View
Easy and intuitive for beginners, and powerful enough for advanced chartists – TradingView has all charting tools you need to share and view trading ideas. Real-time data and browser-based charts let you do your research from anywhere, since there are no installations or complex setups.
Just open TradingView on any modern browser and start charting, learning and sharing trading ideas! Read more about broad range of chart features.
Trading the financial markets is lonely. TradingView – lets you discover investment ideas and showcase your talents to a large and active community of traders. Freely discuss, share and learn with thousands of market participants using TradingView.
Get better at trading and investing by seeing what others are doing. Browse published ideas and click Play to see how predictions actually played out. Publish trading ideas to your TradingView profile and push them out to Twitter, your blog, or any other place on the web. Start making your name in the trading community and get discovered by trading firms!