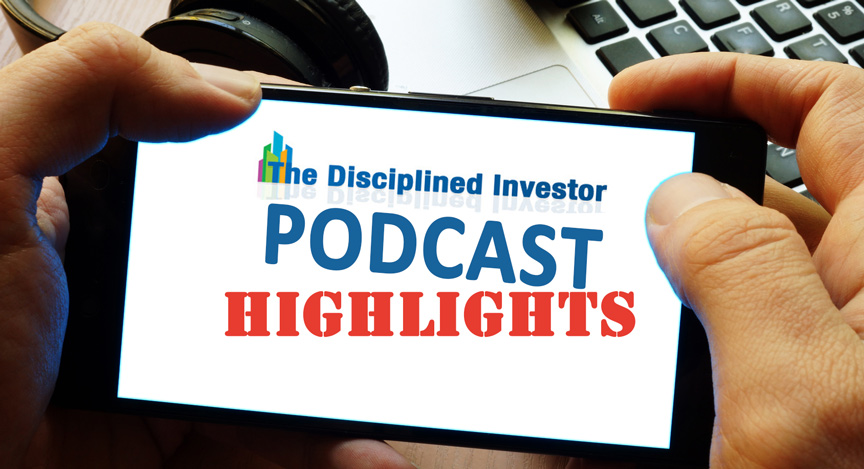 Market Update – Short Holiday Week with the Thanksgiving Holiday and early close on Friday:
S&P 500: 0.95%
Dow: 0.86%
Russell 2000: 1.68%

All time high with expectations for a passing of a tax bill coming soon.

NASDAQ: 1.50%

Larger names are moving the NASDAQ (MSFT, AMZN, GOOG).

Crude Oil: 3.95%

Multi-month high.
Concern in the Middle East causing markets moving higher.
OPEC potentially extending their production cuts.
A lot has to do with Aramco IPO.  Saudi selling off a major portion of their oil business.  As oil rises, the larger potential for a successful IPO.

U.S. Dollar Index: (0.97%)
YTD U.S. Dollar Index: (9.25%)

Helping push Oil higher, but many of the metals not following suit.
Safety in precious metals may be replaced by crypto-currencies.
---
Listen To This Week's Podcast:
---
Economic Update for Last Week:

Leading Indicators: 1.2% vs. Expectations of 0.9%.  Revisions also higher.
Existing Home Sales: 5.48 Million vs. Expectations of 5.43 Million

Housing prices have been consistently moving higher.
Housing sales are key to the economy.

Durable Goods Orders: (1.2%) vs. Expectations of 0.3%
Durable Goods Ex Transports: 0.4% vs. Expectations of 0.5%
UMich Consumer Sentiment: 98.5 vs. Expectations of 98
FOMC Minutes

Bias towards the continuation of raising interest rates.
Why aren't we getting any inflation with unemployment levels low, low interest rates and QE?
Economic Update for The Coming Week:

New Home Sales – Lots of optimism here.
Case Shiller and Consumer Confidence – Usually falls on one of the last days of the month.  We have witnessed markets do quite a bit of window dressing after these numbers.
GDP – Looking for 3.2%
FED's Beige Book
Personal Income and Spending – Expectations are for a small positive change.
ISM Manufacturing Index
Podcast Summary:

Last weeks Podcast on Private Equity was very enlightening.  We don't get to talk about it very often, but this was very educational.
Let's give thanks to:

Markets are giving thanks to a seasonal bias to the Thanksgiving week.
Health, Friends, Family, Clients.
Listeners – Thank you for all of your support.  Always feel free to reach out to us with your questions, comments and suggestions.  You are what drives the discussion and make it interesting.
Technology – To be connected with people we wouldn't normally be able to connect with.
Those who protect our great nation keeping it safe and secure.

BitCoin:

Cypto-currencies are becoming a cult like experience where friends and families are reaching out to all they know to get into the space.
Lots of buzz surrounding all the different currencies that are available within the marketplace.
BitCoin investment trusts and companies that service cryptos are being used as a proxy for an investment into the product.

Bitcoin Investment Trust (GBTC) – It is an OTC-listed investment vehicle that gives investors exposure to the price movement of bitcoin without the challenges of buying, storing and safekeeping it. The shares of Bitcoin Investment Trust track the market price of bitcoin.
Riot Blockchain Inc. (RIOT) – This Nasdaq-listed company has exposure to cryptocurrency through targeted investment in the sector, primarily bitcoin and Ethereum blockchains. The company has made strategic investments in exchanges such as Coinsquare.io, Tesspay.io and Verady.com. The company is also in bitcoin mining.
Social Reality Inc. (SRAX) – It is in an internet advertising and technology company. The company recently announced plans to launch an initial coin offering, or ICO, to sell BIGtoken, a digital currency customers can earn for sharing data.
Xunlei Ltd. (XNET) – Xunlei is a cloud-based acceleration technology company that recently launched the Onecloud project, a content delivery network with its own digital currency. The blockchain of Onelcoud coin, which is meant to be distributed to device holders depending on their contribution to the network, was launched Oct. 12.
Overstock.com Inc. (OSTK) – Overstock.com has recently tied up with Coinbase, a cryptocurrency exchange, to become the first retailer to accept digital currency. The company allows purchase of Overstock.com products using Bitcoins.
MGT Capital Investments (MGTI) – together with its subsidiaries, focuses on acquiring and developing a portfolio of cybersecurity technologies. It intends to address various cyber threats through protection technologies for mobile and personal tech devices, as well as corporate networks. The company also engages in bitcoin mining operation.

Movement for Cryptos are reminiscent to the dot com craze.
What to watch for: Look for an exhaustion gap higher and then a turn lower which could signal a change in trend.  Some examples of this happening include:

Shipping Companies
Veritone (VERI) and the potential for Artificial Intelligence taking over the world.  See the August to October reversal.

Nice Week for Retail Stocks with Black Friday and Cyber Monday sales being the driving force:

Seeing less discounting this year which would be good for company profits.
Crowds looking for doorbusters do not appear to be there anymore.
Plenty of retail stocks moving higher on the expectations of increased revenues.