On one hand, the latest release of the March Unemployment report did not meet expectations for new hires. On the other, the unemployment rate dropped to 4.5% – far lower than most predictions.
This is one of the problems when there are many reports that the media covers. Just a few years ago most analysts primarily followed the "official" reports from government agencies . Now we seem to have private firms that have been gaining media attention that add to the data-plots used in analyzing the economic situation. Over the past few years, firms like ADP, Challenger, Gray & Christmas and Markit have become names that we are all familiar with that give a glimpse into additional points of interest. This has led to incremental adjustments to estimates over the course of a month and adds a great deal of confusion to the reports from the "official" agencies.
While more data may seem better, there are times that it calls into question the validity of the "non-official" reports. This month provides a good example of this as the ADP report, released on Wednesday, showed a massive gain in private payrolls. The numbers came in well above expectations and, combined with the weekly initial claims report, had economists looking to Friday's BLS report with excitement. The thought was that new hires reported by the BLS could easily come in well above estimates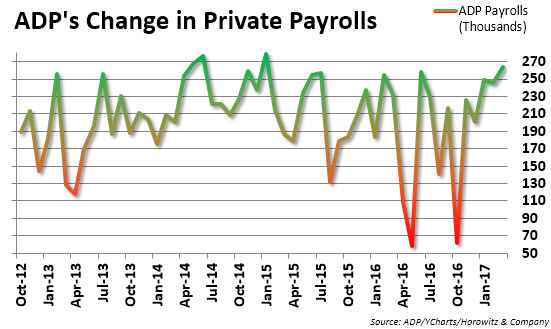 It did not pan out that way at all. Even as the unemployment rate dropped to 4.5% (without much change in the the labor participation rate), there were far few new hires than expected and negative revisions to both January and February's reports.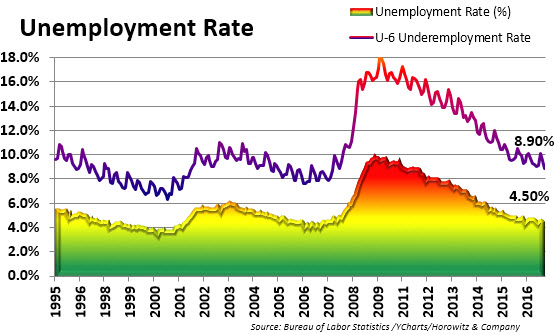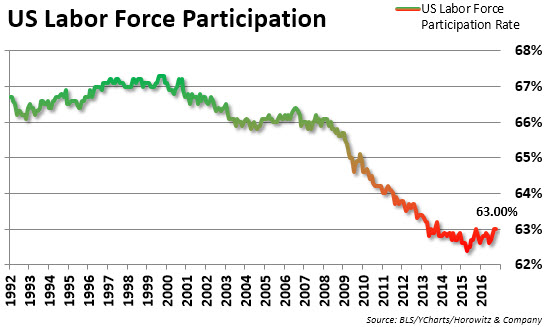 The bottom line – maybe we should be paying less attention to the interim reports as they have less overall utility.
Analysis from Briefing.com
March nonfarm payrolls increased by 98,000 (Briefing.com consensus 180,000).  Over the past three months, job gains have averaged 178,000 per month.

February nonfarm payrolls revised to 219,000 from 235,000
January nonfarm payrolls revised to 216,000 from 238,000

March private sector payrolls increased by 89,000 (Briefing.com consensus 175,000)

February private sector payrolls revised to 221,000 from 227,000
January private sector payrolls revised to 204,000 from 221,000

March unemployment rate was 4.5% (Briefing.com consensus 4.7%) versus 4.7% in February

Persons unemployed for 27 weeks or more accounted for 23.3% of the unemployed versus 23.8% in February
The U6 unemployment rate, which accounts for both unemployed and underemployed workers, decreased to 8.9% from 9.2% in February

March average hourly earnings increased 0.2% (Briefing.com consensus +0.3%) after increasing an upwardly revised 0.3% (from 0.2%) in February

Over the last 12 months, average hourly earnings have risen 2.7% versus 2.8% for the 12-month period ending in February

The average workweek in March was 34.3 hours (Briefing.com consensus 34.4), versus a downwardly revised 34.3 hours (from 34.4) in February

March manufacturing workweek decreased 0.2 hours to 40.6 hours
Factory overtime dipped 0.1 hour to 3.2 hours

The labor force participation rate was unchanged in March at 63.0%