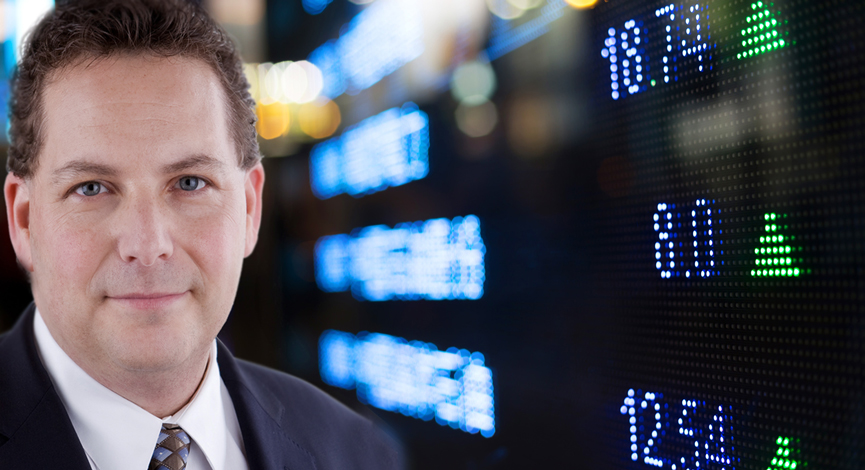 A load of economic numbers were reported on this the first day of the new month. Depending on how you look at the results, will also depend on if you find them encouraging or not.
The spending component came in lower than expected. This could continue to put a damper on retail sales. In fact the Retail-Holders ETF (RTH) was down after the release, even as markets rallied. On the flip side is the good news that personal income is up and beat expectations.
Obviously, we continue to see a higher savings rate as consumers are still focused on the reality that jobs are not plentiful and the economy is fragile.
December Personal Income +0.4% vs +0.3% consensus, prior revised to +0.5% from +0.4%
December Personal Spending +0.2% vs +0.3% consensus, prior revised to +0.7% from +0.5%
December PCE Core M/M +0.1% vs +0.1% consensus, prior 0.0%
December PCE Core Y/Y +1.5% vs +1.5% consensus, prior +1.4%
December PCE Deflator Y/Y +2.1% vs +2.2% consensus, prior +1.5%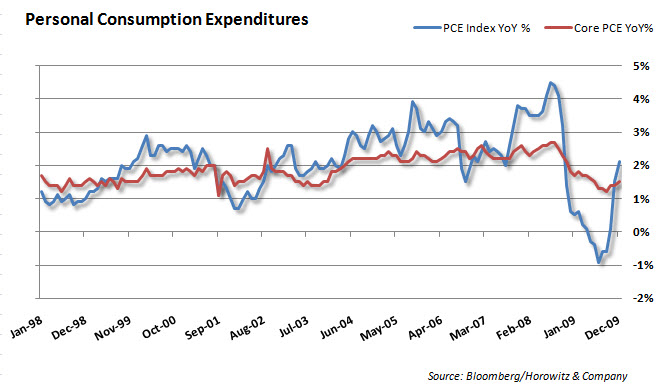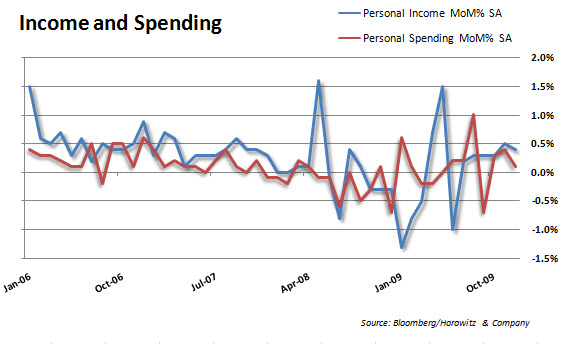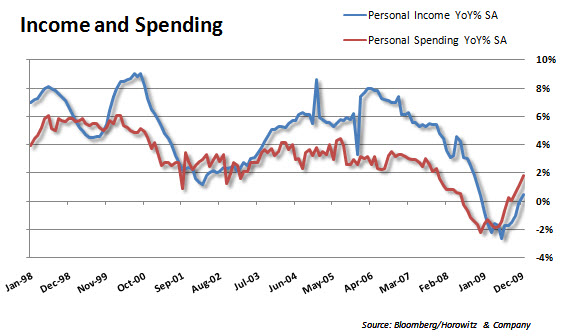 Personal Consumption and Income Weaken – Briefing.com
Personal consumption expenditures increased 0.2% in December after increasing 0.7% in November.

The consensus estimate called for consumption to increase 0.3%.

Real consumption rose 0.1%.

The increase in real consumption was due to a significant increase in services demand, namely from electricity and natural gas usage. The change in temperatures from a relatively mild November to a very cold December increased electricity and gas expenditures 7.3%.

Real goods expenditures fell 0.5% as nondurable goods consumption declined 0.8%. Durable goods consumption increased 0.2%.

Nominal personal income increased 0.4% in December, down from 0.5% in January. Real disposable income held steady at 0.3% growth.

The increase in income allowed consumers to push up their savings rate to 4.8% from 4.5% without the loss of consumption.
___
Disclosure: Horowitz & Company clients may hold positions of securities mentioned as of the date published.