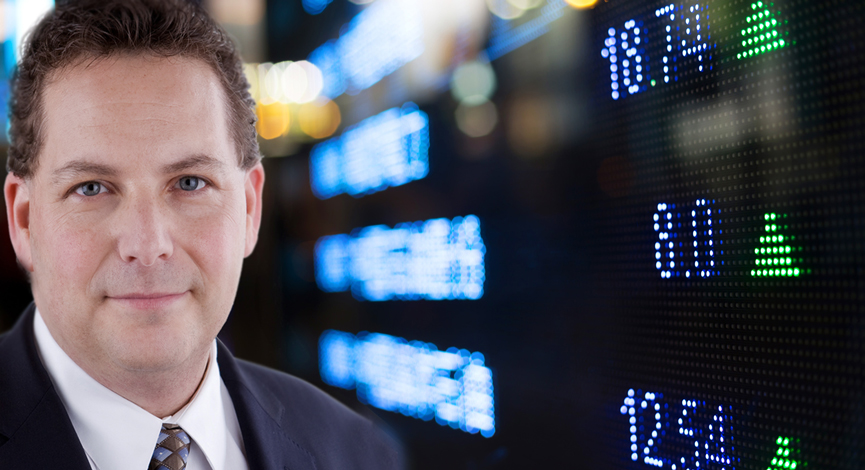 This is a story that has helped to propel the markets higher over the past several months. It is simple as companies are able to use labor as a tool to cut expenses to meet or beat (sounds like "create or save" talk) estimates. Revenue estimates are harder to tweak and therefore many are looking there are a better judge of what is actually happening within the retail sector.
Today, Home Depot announced their quarterly results. Just yesterday Lowe's (LOW) announced earnings that were tepid at best. Of course they did what all companies do when they want you to believe that all is fine, they stuffed in a news release about a dividend payment.
Home Depot (HD) has been seeing a significant amount of competition lately from the likes of WalMart (WMT), Lowe's (LOW) as well as other broad-based retailers that are looking to get into every aspect of retailing. Price slashing has become part of the process to lure in consumers and many outfits will even take in competitors coupons these days.
But, if you wade through just the introduction of the earnings release you would find that while Home Depot was able to beat earnings, and revenues by a small amount – there is reason to be concerned. Sales fell by 8% to $16.4 billion and net income was $756 million. Realize that in order to get to that number, they needed to slash $460 million is costs. Adding that back we would have seen an awful quarter. But is that fair?
Yes and no. We know that in tough times companies will cut cost to maintain profitability. But, we are talking about massive quarterly cuts that are surely unsustainable. (Anecdotally – I have been in several Home Depots lately and I feel very lonely when walking around. I am expecting to see tumbleweed pass me by at any second when in was in the appliance section).
In the end, the days of expansion at any cost will hopefully give way to better product and sales management as well as less inventory overload. (Idea: Perhaps we should have a sit down with Michael Dell on this subject for a lesson in supply-chain optimization)

Nov. 17 (Bloomberg) — Home Depot Inc., the largest U.S. home-improvement retailer, posted third-quarter profit that exceeded some analysts' estimates after cutting expenses, and boosted its annual profit forecast.

Net income dropped to $689 million, or 41 cents a share, in the three months ended Nov. 1 from $756 million, or 45 cents, a year earlier, the Atlanta-based company said today in a statement. Analysts projected profit of 36 cents, the average of 27 estimates compiled by Bloomberg. Sales fell 8 percent to $16.4 billion.

Home Depot reduced selling, general and administrative expenses by 8.4 percent to $3.87 billion. Customer transactions at the company, led by Chairman and Chief Executive Officer Frank Blake, slowed amid sinking home values and the highest U.S. unemployment in 26 years.

The company predicted adjusted earnings per share for the year of $1.55, a decline of about 13 percent from the previous year, compared with an earlier prediction of a decrease of as much as 20 percent.
(From Businessweek.com – Click to go to site)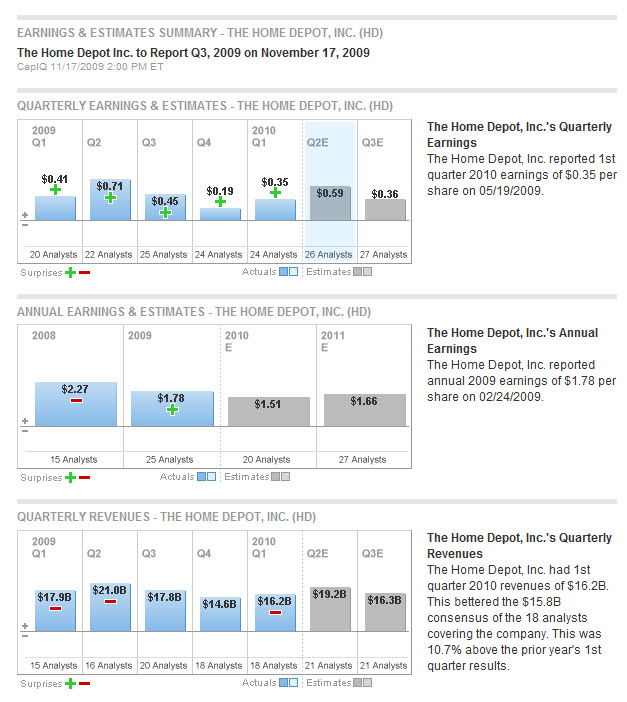 11/17/09 – Initial   Support at $26.25 and top line resistance at $28.50. Volume has been slow during up days and much higher on the down days.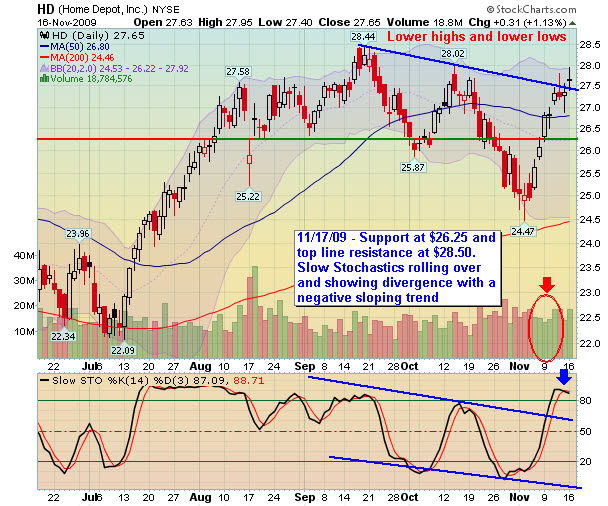 ___
Disclosure: Horowitz & Company clients may hold positions of securities mentioned as of the date published.