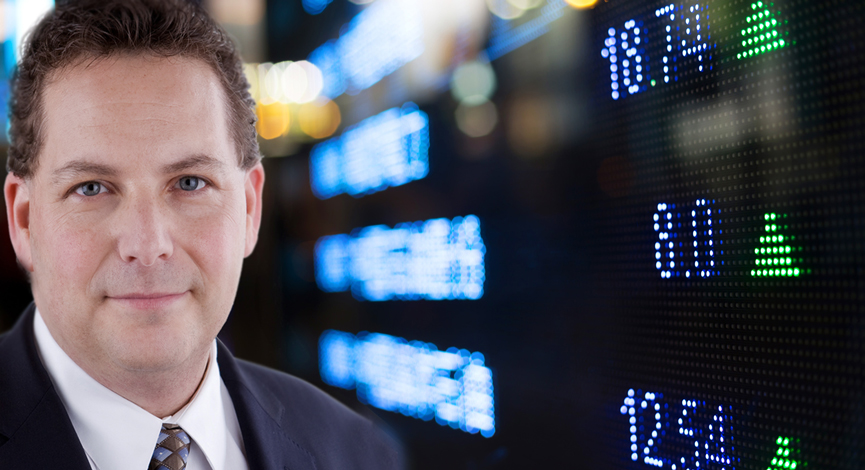 Watching shares prices bludgeoned is never fun. After hours Monday, VMWare (VMW) bled and the red kept on coming like a scene from a third rate horror flick. The real scare is that there could be more to come.
For some time, we have been concerned about the potential implosion in share prices for VMWare (VMW) shares, since, as of late, there has been a painful awareness of the rotation/stampede out of stocks in which investors have high expectations for enormous earnings momentum. Even so, this particular stock has a very unique story, as it is one of the few pure-plays in the technology market today. We have now come to find this is also their Achilles heel. Further adding to the concern is the fact that in the next few weeks (February 11th), the first wave of available shares will flood the market as the initial lockup period ends for IPO shareholders. The dilution will continue over the next few quarters, which will conceivably add selling pressure. This thought has obviously been weighing heavily on investors and this has been vividly seen as the earnings report of January 28th, while not horrible, sent shares tumbling.
We have held that this stock was severely overvalued when we started to research this name. At that time, it was at $102 and it immediately apparent that the catalysts for growth were in danger as several factors were converging. Immediately, we added positions of the April $60 puts to selective client portfolios and paid a premium of $2.60.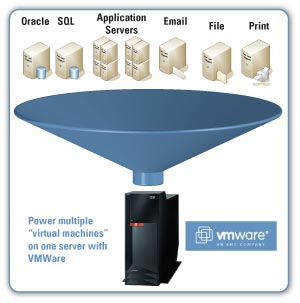 Before getting into those details, maybe a quick review of the incredible technology know as "virtualization" should be addressed. If you have not heard about virtualization software yet, you are obviously not paying close attention. Perhaps one of the greatest technology advances in years, it is one reason that Apple Computers are able to run Windowswithin a window. It has also been a big part of the internet's explosion as servers are able to run multiple sites under the extreme efficiency provided by virtualization software.
History
Virtualization technology can trace its roots back to IBM at their Watson Research Center. Back then, the original concept was dubbed: time sharing. This can be further dated to a visionary paper written by Christopher Strachey entitled, Time Sharing in Large Fast Computers (1959).
In a recently released Executive Memo from Bob Nuglia, Senior Vice President of Microsoft's Server and Tools Business, the history and future of virtualization is explored. One particularly interesting area of the memo was his historical references to the industry's consolidation and the fact that Microsoft has all of their technology lined-up to make a major impact.
"Virtualization is not new. IBM first introduced virtual machine technology for mainframe computers in the early 1960s. Microsoft Windows NT included a virtual DOS machine. Virtual PC was introduced by Connectix in 1997 (Microsoft acquired Connectix in 2003). EMC's VMware introduced its first product, VMware Workstation, in 1999. Softricity introduced SoftGrid, the first application virtualization product, in 2001 (Microsoft acquired Softricity in 2006)."
Adding to that powerful lineup, Microsoft announced a new relationship by press release on January 21, 2008.
"…an expanded role for virtualization as a key enabler of its Dynamic IT vision and outlined a companywide strategy to help accelerate the broad adoption of virtualization. To help drive its strategy, the company also announced the acquisition of Calista Technologies Inc. to improve the end-user experience for virtualized desktops and applications; an expanded alliance with Citrix Systems Inc. in the areas of client and server virtualization; more flexible licensing options for virtualization using Windows Vista; and new tools that provide best practices to deploy Microsoft virtualization software."
Since its genesis in 1959, there have been dramatic changes and giant strides for this important technology, yet the focus of creating a computing environment with a one-powering-many has held intact.
Virtualization Today
Today, virtualization also provides the ability to create extreme scalability within organization, reduce IT cost and can help to reduce energy consumption. While there are several competing companies within the space, to date, the most notable is VMWare (VMW). Over the past 10 years when the company began as a division of EMC Corp. (EMC), it has been on fast track managing to gather an enviable list of clients list and an even more impressive stock price. How impressive? The IPO was one of the most oversubscribe in recent history and vaulted 86% on its first day of trading. Since, shares have seen significant volatility, even through short lifespan as a publicly traded company. (Range since IPO on 8/14/06: $48-$125)
As of the latest reports, VMW has 3,000 employees worldwide. The impressive gross profit margins approaching 83% on expected sales estimated at $1.1 billion into next year has the effect of making investors and competitors take notice. With that much potential headroom, there are a few companies beyond Microsoft that believe that there is opportunity enough in this relatively unsaturated sector for a few more players. The list also includes Sun Microsystems (JAVA) and Hewlett-Packard (HPQ).
Deja-Vurtulization
This is where the shine is going to wear off of the crown rather quickly. Currently, holding the majority of the business market, VMWare is in for a rude awakening. Even without other competitors vying for a piece of this market, Microsoft has come out with sleeves rolled up and ready to mix it up with anyone that gets in their way. As evidenced by their significant commitment through acquisitions and their very impressive display of PR, the next generation of Longhorn Server (2008) will come with an embedded copy of the Hyper-V software.
Microsoft's (MSFT) pitch to existing and potential customers is simple: Keep using Microsoft products and we will continue to support you with state- of- the-art products and at no additional charge. They have done this successfully in the past by including Terminal Services/Remote Desktop (almost putting Citrix out of business at one point) within the Server products area as well as with other general use technologies such Windows Media Player/Encoder (cuts hard into potential market for Real Networks) and with Microsoft Access (Nipping at Oracle's database stronghold within the business market).
Bad Press
If that wasn't enough, there is a buzz in the tech field about the pricing structures and service provided by VMWare.
A SearchServerVirtualization.com article in December 2007 pointed this out in reporting that, "VMware Inc.'s virtualization technology gets great reviews, but for enterprise customers, the company's business practices leave a lot to be desired, said the director of server architecture and planning at a global managed service provider."
John Enck, research vice president at Stamford, Conn.-based research firm Gartner Inc. said that among Gartner's enterprise clients, pricing is the No. 1 complaint he fields about VMware. "They're very hard to negotiate with," Enck said. "Customers don't feel they're getting the recognition they deserve for making a long-term commitment."
"The best deal VMware typically extends customers is a two-year enterprise license agreement, which extends out over the time of the Microsoft Hyper-V launch," Enck said. "Microsoft's entry in to the market, however, will probably force VMware to lower its pricing, which could spawn further resentment on behalf of customers locked into unfavorable enterprise license agreements. We feel that VMware may be setting itself up for a second wave of dissatisfaction," Enck said.
Outlook
Shares of VMWare could continue to be pressured as anything less than a massive earnings surprise to the upside would be unwelcome. From a technical standpoint, the price of the stock could see more downside as the free-trading IPO shares come to market next month. While there is not enough data to provide an accurate reading, technical support was $71. That was breached tonight as the shares continued to suffer after-hours toward $61.
During the 5pm earnings conference call, nothing substantial was revealed aside from a hint of margin compression. As the margin projections were read aloud, shares slid further, down from $64 to $61 in a matter of minutes. It would not be surprising if the price drifts toward $56 before the next recovery bounce. Of course that assumes that it will bounce.
Horowitz & Company clients have a SHORT position in VMW and LONG MSFT as of the date of publish.
—
Selected Virtualization Sources and Links
Microsoft Windows Server Virtualization
http://www.virtualization.info/2007/07/microsoft-windows-server-virtualization.html
Forbes article on VMWare:
http://www.forbes.com/markets/2007/11/26/vmware-virtualization-closer-markets-equity-cx_ra_1126markets43.html
—
Interesting Information
http://www.virtualization.info/radar
http://www.virtualization.info/2007/01/microsoft-publishes-license-calculator.html
System Center Virtual Machine Manager
http://www.microsoft.com/systemcenter/scvmm/default.mspx
—
News/Links
http://www.searchservervirtualization.com
http://www.microsoft-watch.com/content/server/microsoft_gets_hyper_about_virtualization.html
http://www.news.com/8301-13860_3-9833445-56.html?tag=blog.1
http://www.eweek.com/article2/0,1895,2233957,00.asp
http://money.cnn.com/news/newsfeeds/articles/prnewswire/AQTH03913122007-1.htm
http://servervirtualization.blogs.techtarget.com/2007/12/13/vmware-competition-nears-microsoft-ships-hyper-v-beta/
http://www.infoworld.com/article/07/12/13/Microsoft-releases-beta-of-Hyper-V-virtualization-technology_1.html
http://www.informationweek.com/news/showArticle.jhtml?articleID=204803022
http://blogs.zdnet.com/microsoft/?p=1043
http://www.virtualization.info/2007/12/microsoft-launches-hyper-v-beta-1.html
http://www.windowsitpro.com/Articles/ArticleID/97822/97822.html?Ad=1:
http://blogs.technet.com/windowsserver/default.aspx
Jeff Woolsey, Windows Server Virtualization Blog
http://blogs.technet.com/virtualization/
—
Hyper-V SMP Support:
http://video.msn.com/video.aspx?vid=26086837-dd73-444b-9466-65a1ed759544
Hyper-V Networking:
http://video.msn.com/video.aspx?vid=5f2b04d7-c501-4c28-8046-dece495cb5c9
Hyper-V Storage:
http://video.msn.com/video.aspx?vid=e1eb9aeb-9cb4-413e-982f-283667232590
—
Virtualization Diagrams
http://www.virtualization.info/uploaded_images/Viridian_architecture-766434.png
http://www.nasi.com/images/vmware_virtualization.jpg
http://www.vmware.com/files/images/diagrams/sap_diagram_large.jpg