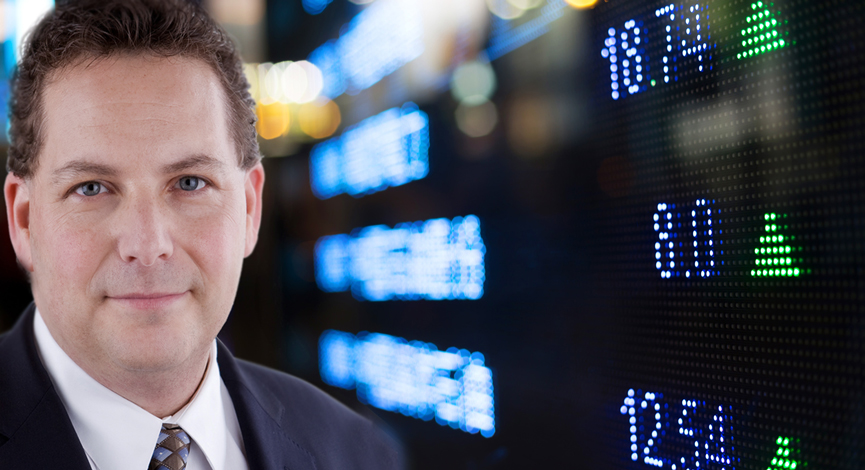 I am starting to think I am a Croc's (CROX) hater or something. Actually, that is not at all true, I am only looking to assess the landscape to see if there is an opportunity to profit on the move of a stock. These days this is the one that has caught my eye with great interest. Many are not happy with me. That is okay. In fact, the more comments and replies that are linked to my rants, analysis and posts, the more I think that there are many shareholders whose engines are revving to high about this.
And for Pete's sake, it is a stock, not a child or spouse or a parent. DO NOT FALL IN LOVE. That is one of the most important rules out there. Sure, I have been stubborn and negative on this through a nice rally. During that time, shorting into the peaks (as opposed to buying on the dips). The eventual covering has turned out to be generally profitable. Would a buy and hold have been MORE profitable?… YES YES YES.
But, I am still inclined to believe that this stock is running on fumes even with the tremendous quarter they just had. There is a great deal of "love and lust" that had been moving this stock recently. Just look at the real action of the shares after the earnings announcement.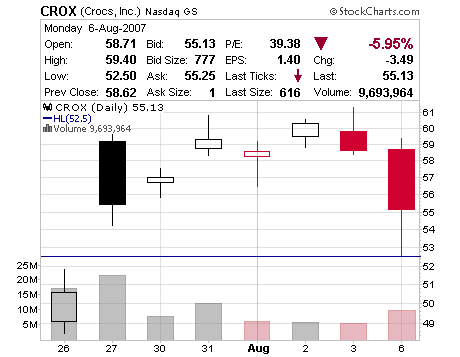 As many predicted, the shares shot up after the earnings came out. If you look closely, the stock initially traded towards $62 that night. That was for a brief moment though. From there, the excitement has been gracefully fading.
Today, Crocs closed down about $3.80 while the DJIA was up a mere 280. There was a couple of cliff dives during the day and just as many upward staircases. At one point though it was down over $6 (10%+) to $52.50 with notable volume. After the close there was not much to explain the massive movement.
There was an interesting article from AP that commented on the back to school shoe biz: "…Meanwhile, while Crocs Inc.'s colorful plastic shoes and Heely's Inc. wheeled sneakers might be a hit with kids, Mintz said, they're banned in many schools, which will likely their dampen back-to-school sales."
Then, a bit later tonight, Jim "Booyahh" Cramer said: "Crocs: I think the near-term move has been made and I prefer Under Armour here."
Of course I do not think that the mid-day announcement of share selling and option exercising by a few of the Crocs management team helped to build investor confidence:
John P. McCarvel reported he sold 75,000 shares last Wednesday for $58.27 to $58.48 apiece.Michael C. Margolis reported he exercised options for 11,688 shares last Wednesday for $2.85 apiece and then sold all of them the same day for $56.71 to $58.50 apiece.Michael E. Marks reported he sold 200,000 shares on last Wednesday and Thursday for $59 to $59.84 apiece.
Click for links to the latest SEC filings for August so far.
So, we will see what the next few days bring. There is a wild card for the markets tomorrow as the Fed's day of reckoning has come.
The follow through from this odd day of Crocs trading will be important to both sides of the argument.
Horowitz & Company portfolios do not hold any positions in Crocs at the time of this writting, though Andrew Horowitz personally owns put options.