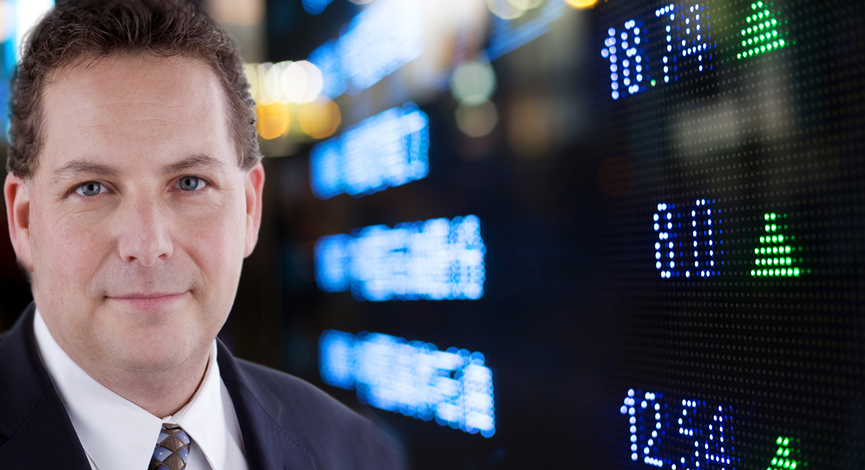 Bloomberg puts out several daily commentary and research pieces. One of those that always catches my attention is the Economic Brief. We spoke with Bloomberg Economist, Joseph Brusuelas a couple of weeks back and recently chatted with Richard Yamarone on a TDI podcast.
Richard has done some outstanding work and this particular series he favors as it is often a look-ahead into the future of GDP.
The recent downward slope of the trend is discouraging.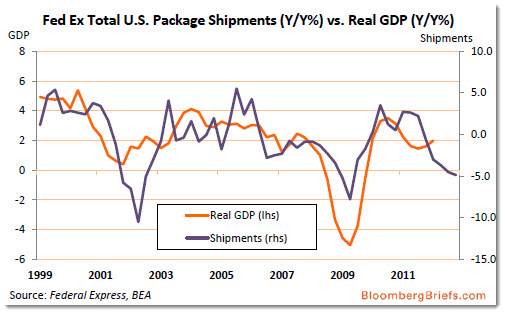 Richard Yamarone, Bloomberg Economist (6/21/12)
One of the oldest economic tricks in the book is to follow the level of FedEx package shipments as a barometer of overall economic conditions; there is a strong correlation between shipments and the pace of real GDP. The latest announcement from the shipping giant suggests a weaker economy ahead.

During its fourth quarter 2012 earnings conference call (ending May 31), average daily volume of total U.S. package shipments at FedEx Express service were 2.490 million, 4.9 percent lower than year ago levels. This was the fifth consecutive quarterly decline on a year over-year basis.

FedEx's economic forecast calls for calendar year 2012 U.S. GDP growth to be 2.2 percent with an associated 4.3 percent increase in industrial production a key metric for the shipping/trucking industry. For calendar year 2013, GDP is expected advance by 2.4 percent.

According to the company, the assumption of these forecasts are "successful management of the debt crisis in Europe and the avoidance of significant tax increases next year in the U.S."

Alan Graf, FedEx EVP and CFO said, the company believe domestic and global economic conditions will be impacted by the European debt crisis, slowing growth in Asia and the uncertainty these issues create.