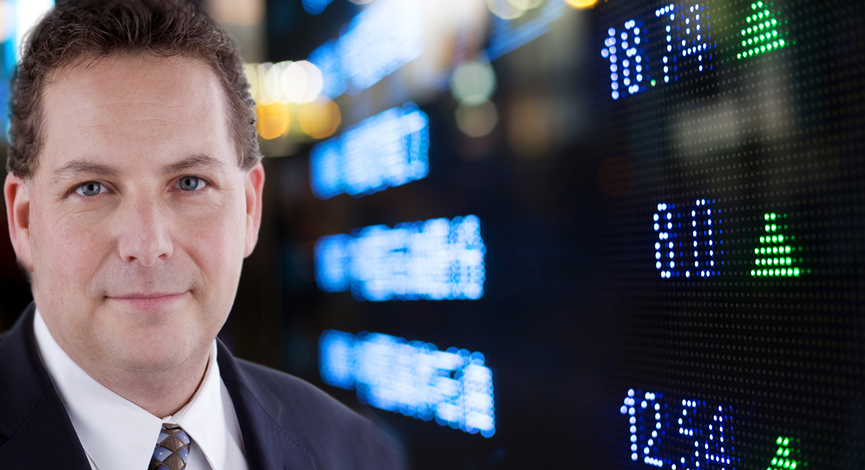 STEC (STEC) shares have been under fire after reports stated that there may be some completion brewing. Add that to a recent confusing outlook from Hewlett Packard (HPQ), a big player in the server business and investors ran before looking.
We see fundamental and technical reasons why STEC should see a bounce from here. While there may be a few investors that are still looking to move out, it appears that the volume selling has slowed significantly. More importantly is the misread of the market competition. Most SSD that may compete will not have products for some time that will be able to match STECs technology.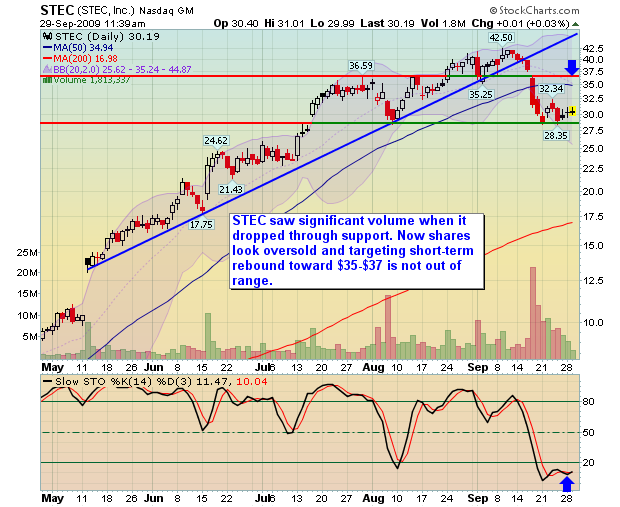 From Barron's ( Note: listen to Eric Savitz on TDI Podcast HERE)
By Eric Savitz
STEC (STEC) shares have received a boost today from B. Riley analyst Mike Crawford, who this morning lifted his rating on the solid-state drive company's stock to Buy from Neutral.

Crawford notes that from September 9 through last night, STEC shares have tumbled 32%, as a result of investor recognition that there is competition coming to the enterprise SSD market from both established players and new entrants. The list of players is getting longer, and now includes Pliant, Marvell, Fusion-io, Violin Memory, Toshiba and hard-drive manufacturers.

But Crawford contends it will time for the other entrants to gain traction, with lengthy qualification cycles to gain approval for enterprise systems. And he notes that STEC is not standing still, working on a series of product extensions, and expanding relationships with newer customers like Hewlett-Packard, NetApp and Pilllar Data Systems, a company backed by Larry Ellison.

"We continue to like STEC's short-term prospects while maintaining our reservations about the effects of competition over the long-term," Crawford writes. "Like us, other investors may be skeptical of STEC's ability to sustain its remarkable growth rate and profitability (margins) in subsequent years given the potential "" not to mention incentive "" for larger competitors to enter the market and drive down margins and ASPs." But he adds that "the near-term strength, however, is undeniable."
From Investors.com
STEC, Inc. (STEC) today announced that STEC's enterprise-class ZeusIOPS Solid State Drives (SSDs) are now available for the LSI(TM) Engenio(R) 7900 Storage System. The integration of STEC's SSDs with the Engenio 7900 is designed to provide midrange storage customers facing unprecedented data growth, rising energy costs and tighter budgets with a new tier of performance, reduced power consumption and increased overall system efficiency.

"Our vision of bringing high-performance technology to the forefront of midrange storage systems is greatly reflected within this shared endeavor with LSI," said Manouch Moshayedi, chairman and chief executive officer of STEC. "Through our close collaboration and integration efforts with LSI, we're able to bring the exceptional value of our SSD technology to the LSI storage platform."

The ZeusIOPS SSD offers much faster transactional performance (IOPS) response rates than that of traditional hard disk drives. The increased performance translates to fewer drives and lower power consumption for the Engenio 7900 system, which can result in as much as an 80 percent energy savings and significantly reduced system space on an equal IOPs basis.

"The integration of solid-state drive technology with the LSI Engenio 7900 system's streamlined firmware and large aggregate backend bandwidth will deliver new levels of storage performance and energy efficiency to customers," said Vic Mahadevan, vice president, product marketing and management, Engenio Storage Group, LSI. "We selected STEC as our SSD provider based on their experience, knowledge and the proven track record of their enterprise SSD technology deployments."

The ZeusIOPS SSD product family offers a comprehensive array of options for enterprise system architects and is the world's most broadly deployed SSD technology. ZeusIOPS SSD provides a wide range of interface options, spanning Fibre Channel to SAS, as well as the widest range of capacity options, spanning 73GB to 750GB. Fundamental to the ZeusIOPS product family is the proprietary SSD architecture which renders an enterprise-optimized storage device with an unprecedented combination of performance and energy efficiency.
Disclosure: Horowitz & Company clients may hold positions of securities mentioned as of the date published.