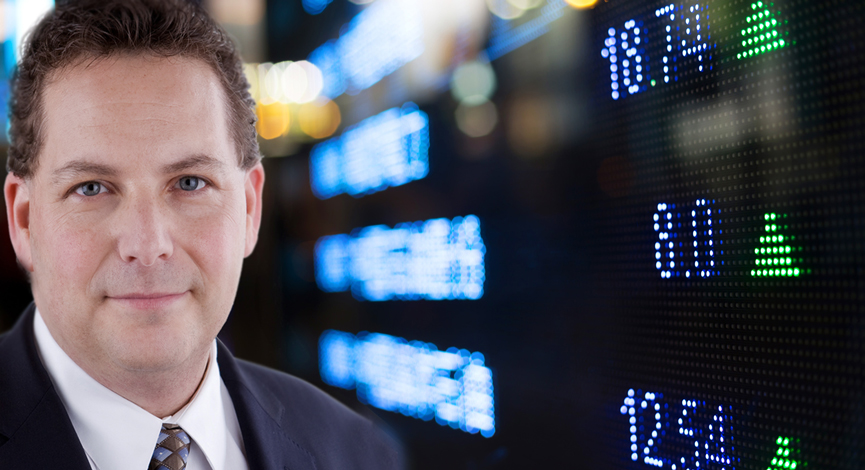 The fear is palpable. What may be coming on Friday could be a disappointment as compared to the lowered expectations – at least that is what the latest market gyrations are saying.
Over the past few weeks, initial claims have been ramping higher and had been above to 4-week average. Then a surprise comes today with a 356k print that may have been a one-off or a continuation of the trend that had already been seen.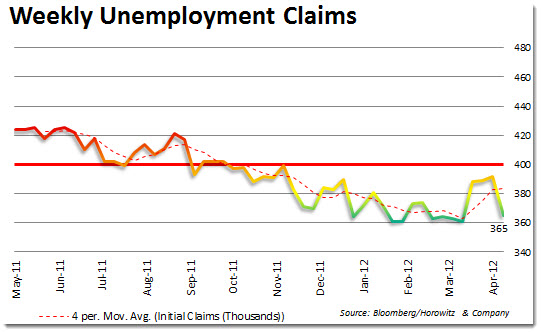 The unemployment rate estimate is holding at 8.2%. For the media that number is important, but for the rest of us we know all too well the the calculation based on the labor participation rate and that is anyone's guess how it will turn out.
The latest estimate shows that 160k were added to the payrolls. But after the ADP report, there is some doubt.
High of +210k (ING Financial) and Low of +105k (SocGen) out of the core estimates.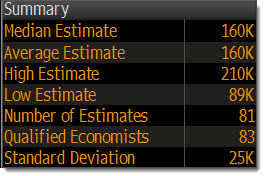 Curve/range of Bloomberg contributor estimates: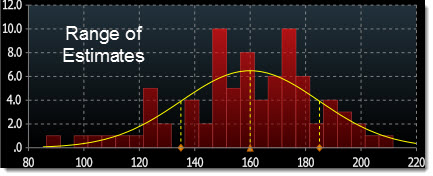 Historically there has been a decent correlation of the ADP to the NFP over time. There have been those odd occurrences where the deviate but more often than not it comes back to normal when several months are averaged out.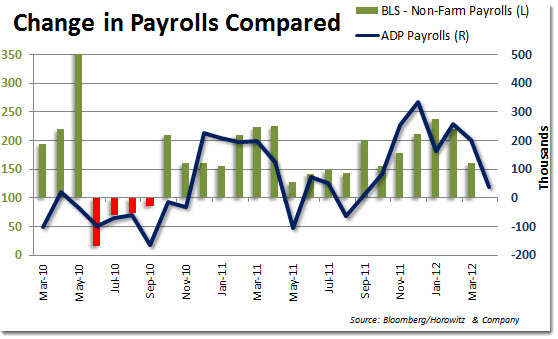 So, where does this put us? It looks like the market is predicting a number on the low side. With the soft ISM Services report and the recent regional manufacturing activity showing weakness, it would not be surprising to see a 100k print. With the market still in a short-term uptrend, it would be difficult to fight the overall trend. But, with the recent skittishness and earnings reports recently being just okay, anything is possible.
We will be going in with the the idea that the damage that was done today is a reaction to the ISM Service index, Europe and memory of the the last NFP report disaster. Since many economists have already ratcheted down their estimates, it would be wise to play in between and not assume anything here.
If the report comes in soft, the USD could drop and that would signal a buying opportunity…. then again…
Perhaps the most important item that will be in play is the support levels for the major markets. For the S&P 500 that will be 1389.84, 1,386.54 and then 1,366.64.
______________________
Looking to invest in The Disciplined Investor Managed Growth Strategy?
Click below for the virtual tour….