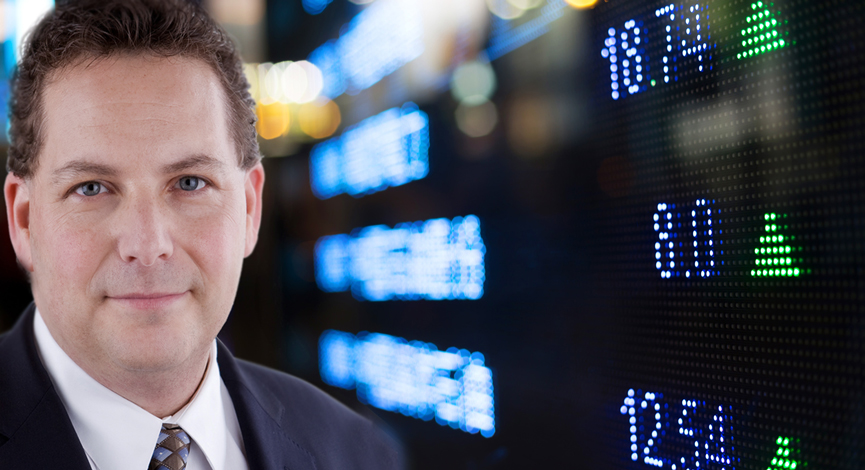 Today is a good day to take a look at general market conditions to see why we are sitting in a generally neutral position. With the help of the major market indicies, we can see that there is a clear line in the sand drawn at the next support and resistance levels. (We will be discussing these in detail on this week's DHUnplugged Podcast)
S&P 500
The move of the 20-Day moving average below the 50-day shows that there is momentum to the downside. Not a good sign. 1,300 is still resistance with 1,304 the point of both the 20- and the 50-day SMA. The short-term trend will change to a bullish level if the S&P 500 can close over 1,309/1,310. Above 1,331 will be a strong uptrend confirmation.
There have been larger than normal swings and ranges in March – the largest in some time. It is also showing a bearish volume trend. Monday, 3/21/11 is a good example of this as there was a big pop, with lackluster volume.
(Click to enlarge)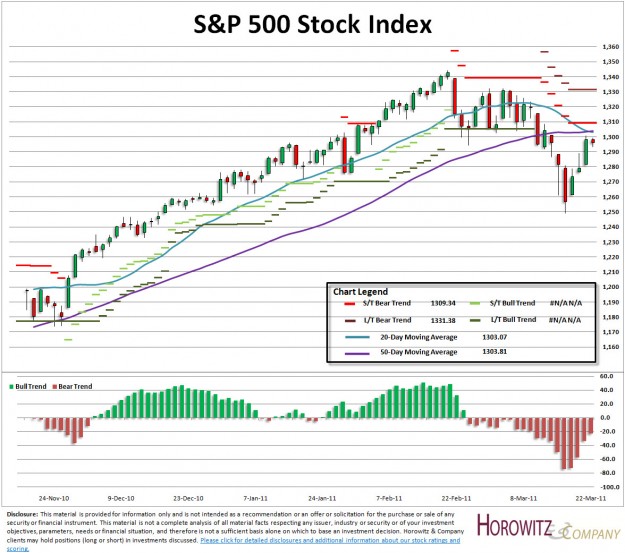 Russell 2000
The small cap index has been holding up better than expected through this recent market correction. Perhaps the sellers are looking to unload their most liquid names first as they would like access to cash and are unwilling to attack those stocks that may see great volatility with large sell tickets.
The 780 level has become an important point of support. Below 770 is a pre-cursor for another leg down, if it can break through. The 20-day SMA is flattening and now the index is above the 20- and 50-day SMAs. The pop above these levels were on low volume on 3/21/11.
815 is a key level to confirm the start of a short-term rally. 830 will become a confirmation point as it will both confirm the move and break above 827 resistance.
(Click to enlarge)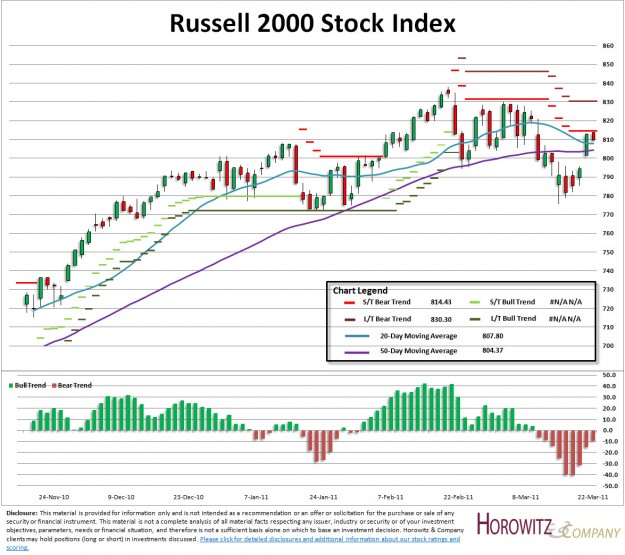 NASDAQ
There has been some very loose and very wild action in the NASDAQ index. 2,600 is hard support. There was a recent attempt to fill-the-gap of a few days ago. Buyers have been there on dips as can be seen by the long wicks on this daily chart. Notice that the chart shows a great deal of gaps. Not a healthy sign.
The index is down from its recent peak by about 8%. 2,730 will confirm the initial return of a rally and will also take care of most of the March gaps. 2,782 will confirm the longer-term trend.