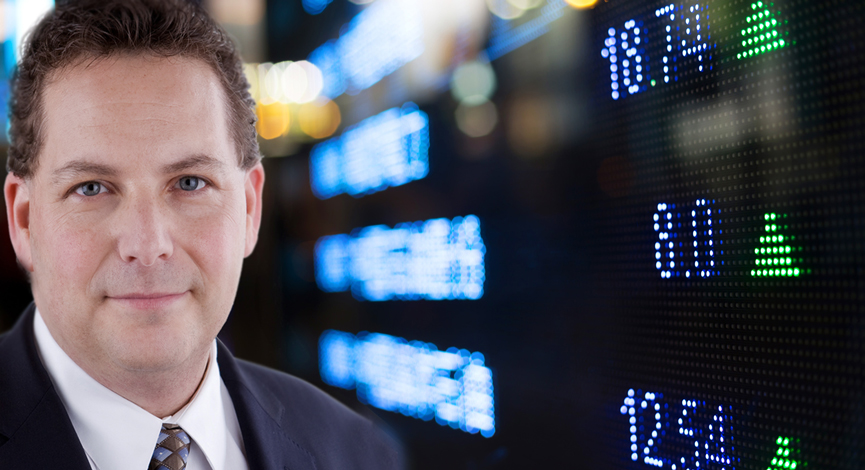 Zagg (ZAGG) many not be a name that you have heard about or even read much about but you are probably aware of its products.
ComScore reports U.S. Online Holiday Spending Surpasses $17.5 Billion for First 35 Days of the November-December Shopping Season, up 12 Percent vs. Last Year. How much of this is being done with mobile devices? How much technology is part of the total.
We know that a good deal of the offerings this year that are the "must have" stocking stuffers are technology related and a high percentage are personal devices. Whether it is a smartphone, PDA device or even an e-reader, the choices are numerous and the one thing that many have in common is that they often require protection.
Dropping, scraping, scratching, dirt and water all do damage to a device, especially those that are often carried around in a back pocket. Most of the time, cases are purchased to cover the back of the device or to add to the style appeal. But more and more there is a need to protect the screens as well.
Comscore reported today that:
60.7 million people in the U.S. owned smartphones during the three months ending in October, up 14 percent from the preceding three month period, representing 1 out of every 4 mobile subscribers.

RIM was the leading mobile smartphone platform in the U.S. with 35.8 percent share of U.S. smartphone subscribers, followed by Apple with 24.6 percent share (up 0.8 percentage points). Google Android saw another month of strong growth, rising 6.5 percentage points to capture 23.5 percent of smartphone subscribers. Microsoft accounted for 9.7 percent of smartphone subscribers, while Palm rounded out the top five with 3.9 percent. Despite losing share to Android, most smartphone platforms continue to gain subscribers as the smartphone market overall continues to grow.
How may of those will continue to use a protective cover of some sort?
A little history behind the invisibleSHIELD "¢ product:
The first invisibleSHIELD "¢ design came about in early 2005 when a man wanted to protect his wristwatch from nicks and scratches. He found the solution in a clear, thin, and very durable military film originally made to protect US military helicopter blades from high-speed damage. He immediately saw the massive potential for a virtually invisible and indestructible protective covering in consumer use, and began working on two fronts: legally securing this new idea of putting clear protective adhesive film covering on electronic devices, and developing other innovative uses for the film. Once patents were prepared and filed, the invisibleSHIELD made its world debut.
One of the areas that we found that needed some explanation was the low level of cash on hand. Currently, there is only $0.25 per share. When we asked the company about this, they explained how the company's model is more of a branding and distribution model than one that would be involved with manufacturing and production of their goods. Zagg obtains the film from the manufacturer and then cuts and packages it for distribution. Therefore, there is usually no need for a significant amount of cash to be on hand.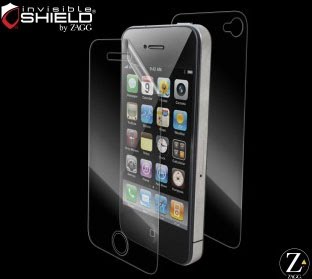 In particular, the company has done a very good job of inventory management over the past few quarters. That brings us to the next obvious question: Why was there such a significant build in inventories this quarter? (inventories up from$6 million last fiscal quarter to just over $10 million in the latest filing).
As it was explained to me, the company saw a great deal of interest from retail establishments that sell their goods. There was a surprising amount of sales in the smartphone and electronics divisions and many stores wanted a good supply as they saw a decent holiday season approaching.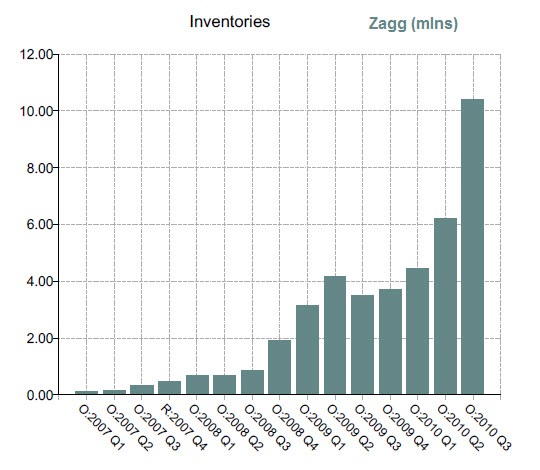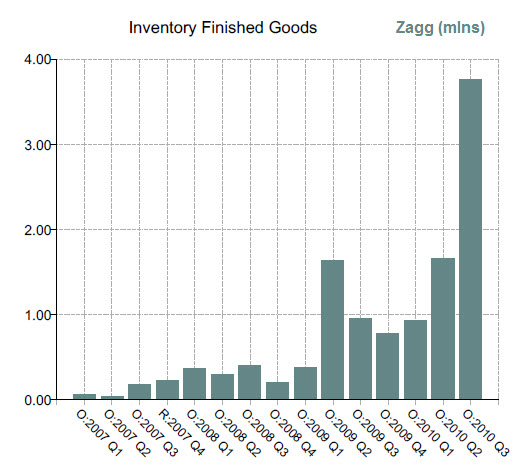 The company said they saw sales moving higher and confirmed that inventory is under control. That may or may not come to pass, but we will have to wait until the next quarter to see if there was a significant drop. We would believe that management's understanding of their business model and limited cash on hand ($5 million line of credit is available if needed) would have provided them with the insight and incentive to keep inventories close to order expectations.
The outlook for the mobile device market is bright. We all know that. It does not really matter if it is a a Blackberry, iPod, iPad or otherwise, they all could have the potential need for a Zagg product. In particular, we are looking at the growth in the worldwide usage and acceptance, particularly outside of the U.S.
In my conversation with the company, they have explained that they are looking at expanding the product-line throughout Europe. Already they have purchased and put into work a distribution facility in Dublin, Ireland. Notice on the table below how mobile phone penetration in Europe. In particular, there is over 100% usage as many have multiple phone subscriptions, not necessarily that many phones.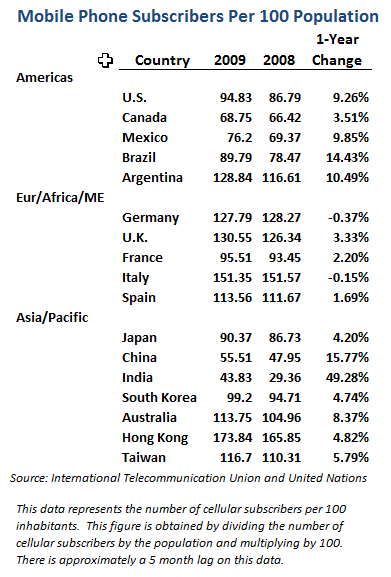 The eventual push into Asia will also be beneficial as they are seeing true growth in mobile device adoption. Consider that many of the emerging nations are still in the process of gaining access. The chart below shows how the U.S. has grown over the years.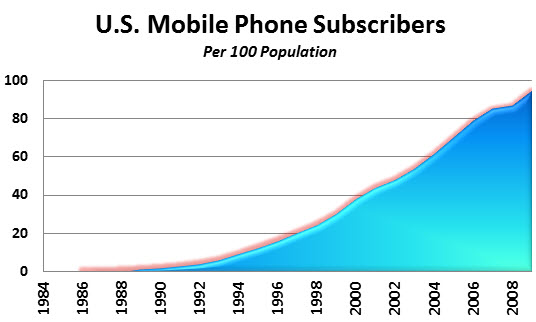 One final note of interest is the recent development with HZO. This is the electronic device waterproofing technology that Zagg now has the exclusive worldwide marketing rights. In addition, Zagg now owns 55% of the capital stock of HZO.
This arrangement is still in the early stages, but could add to the product line-up down the road. According to reports:
This new technology uses a molecular coating process which protects consumer electronics, like cellphones, digital cameras, etc., from water or moisture damage.

This coating is also transparent, and can be applied to various surfaces, such as plastic, metal, or glass. They also claim that this water repellent coating offers anti-corrosion properties as well as repels oils, synthetic fluids, hazardous materials, dust, dirt, and other water based solutions.
Again, this is an interesting addition and we will have to see how it plays out, but if you want to know more about how this works, below is a Rev3 review of the product. (More Zagg videos HERE)
Price Target
Analysts have a price target of close to $11, which would be a 35% upside from the latest close. With the "mobile tsunami" occurring worldwide, that may not be too difficult to achieve. Basically, the smartphone and tablet adoption rate should continue to push shares forward.
Note that we have a "Perfect" 10 rating on this stock, something that we have not seen for some time with our rating process.
(Horowitz & Company clients hold positions in Zagg as of 12/8/10)
——