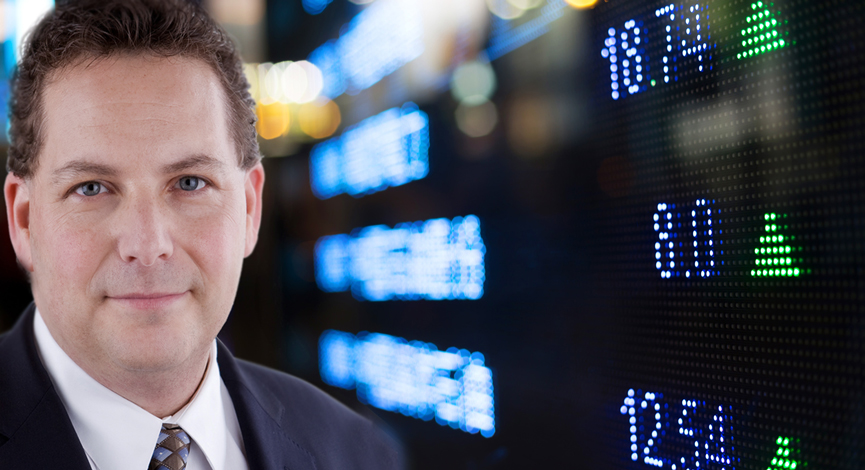 This is from Arthur Hill over at StockCharts.com. A good look at RSI and channel trend…
The S&P 500 ETF (SPY) and Nasdaq 100 ETF (QQQQ) are trading near the upper trendline of a rising price channel that extends back to August. I drew the lower trendlines first, created a second parallel trendline and then moved it up to match the reaction highs. After a sharp advance the last 6-7 weeks, both SPY and QQQQ became overbought and hit channel resistance. The first chart shows SPY stalling near the upper trendline the last two weeks. The second chart shows QQQQ hitting the upper trendline last week. The odds of a pullback or consolidation certainly seem high with these key ETFs overbought and channel resistance at hand, but we have yet to see any weakness.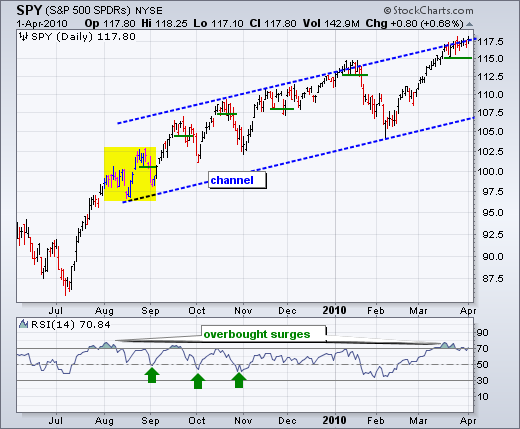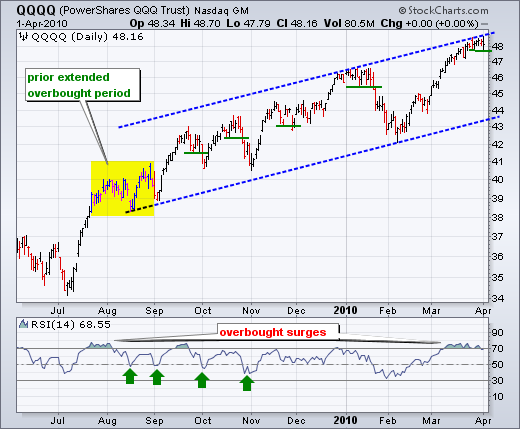 The current overbought period is the longest since July-August, when RSI was above 70 for over two weeks. Prior to Jan-Feb, the last correction was in June-July. This correction ended with a surge that created extended overbought conditions into August. The July-August overbought condition did not foreshadow a correction. Instead, it foreshadowed a period of choppy trading (yellow areas) and a subsequent advance to new highs. Pullbacks pushed RSI just below 50 and ended when RSI crossed back above 50 (green arrows). These RSI dips provided a means to participate in the ongoing uptrend. Going forward, this strategy is certainly not fool proof, but it is something to think about with RSI trading near 70.
___
Check out StockCharts.com