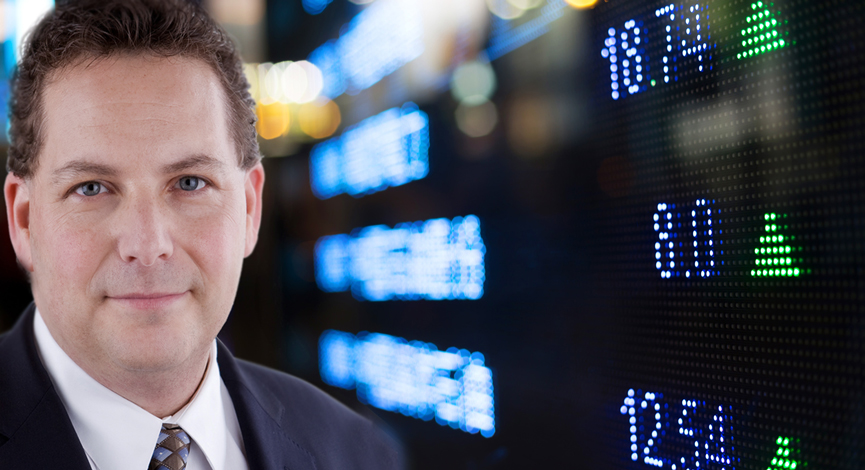 Retail sales continue to see better than expected reports. Consumers are definitely feeling a little better after the 2009 Armageddon warnings have been lifted.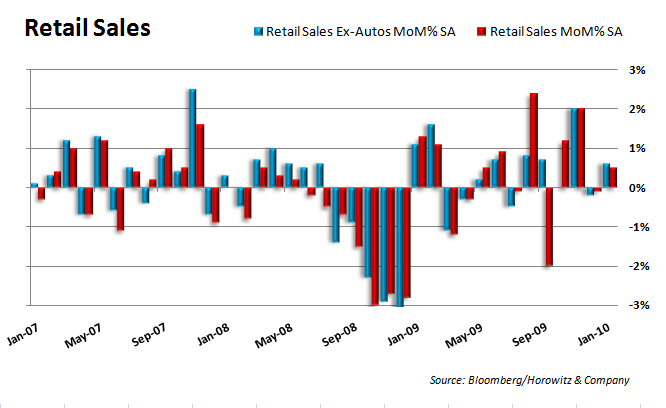 For the most part, retailers have been reporting that they are using extreme measures to bring in customers in order to provide the sales. Interestingly, the high end retail sector is doing well and perhaps even better than most expected.
January Retail Sales ex autos +0.6% vs +0.5% consensus, prior -0.2%
January Retail Sales +0.5% vs +0.3% consensus, prior revised to -0.1% from -0.3%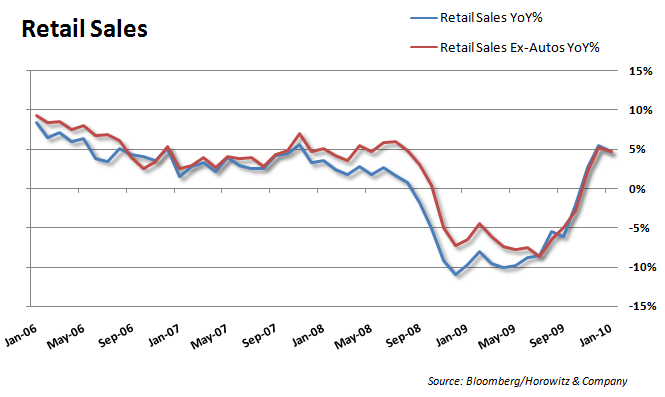 Vehicle sales, on the other hand, are still showing the after effects of the cash-for-clunkers scheme. Once again, the govy did a great job at borrowing from the future in a failed attempt to life spirits and hopes.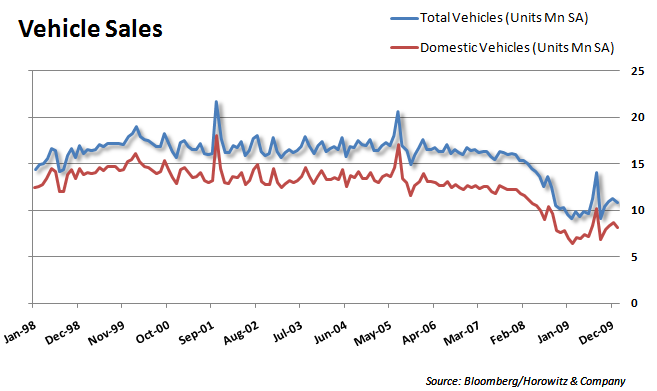 Retail Sales Greatly Exceeds Expectations

Retail sales exceeded expectations as expenditures rose 0.5% in January. The consensus estimate called for an increase of only 0.3%.

Excluding motor vehicle and parts dealers, sales increased 0.6% (consensus 0.5%).

The report was extremely strong across all sectors. Only building material suppliers, furniture stores, and miscellaneous store retailers posted negative monthly sales growth.

More importantly, core retail sales — sales excluding motor vehicle dealers, building material suppliers, and gasoline station expenditures — rose 0.8% in January after declining 0.3% in December.

Typically, when core sales decline by 0.3%, another negative month occurs immediately preceding or following it. January's results broke this trend.

The strong growth in core sales gives hope that consumption growth will be steady and upward moving in Q1 2010.
___
Disclosure: Horowitz & Company clients may hold positions of securities mentioned as of the date published.