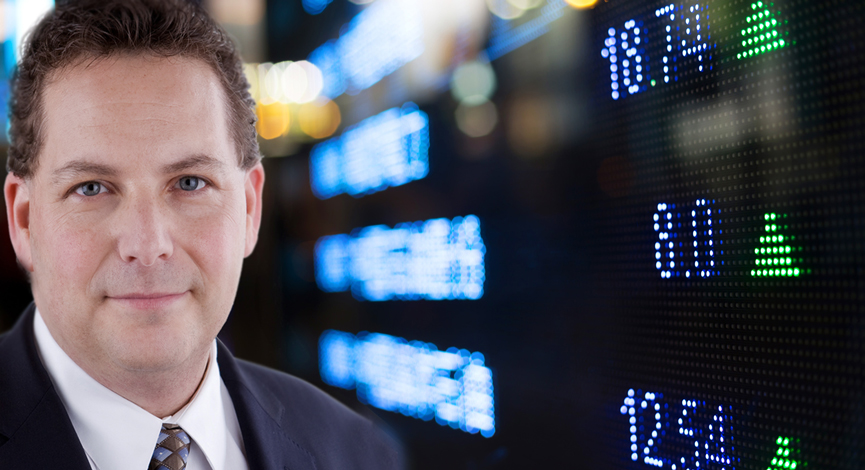 The ADP Employment report released this week was simply stunning. Interestingly, as a relatively newcomer as publicly released reports, this seems to be very accurate.   In fact, it appears to be more inline with TrimTabs and BLS revisions.
With all of the talk about improving conditions and the thought of a bottoming process, can we really be inclined to believe that all is on the mend? It appears from most economic activity that there are signs of a slowdown of the steep slide for sure, but that is not a turnaround by any measure. Actually, it is important to look at the slope of the trend and consider that the sharp and vertical move.
For example, this morning, a report from the Mortgage Bankers Association of America found that:
In the week ending March 20, the MBA market index increased 3% to 1,194.4. After weeks of double percentage-point increases, the indices were pretty stable. The purchase index, increasing just 0.1%, finished at 267.8. The refinance index ended at 6,363.2, up 3.7% from last week. Interest rates remain unchanged from last week. (economy.com)
But a look inside reveals that the majority was from refinancing activity. This will provide a greater level of income for homeowners, yet it also provides additional debt as costs are added to the mortgage and often will extend the mortgage as homeowners will need to pick from a 15 or 30 year option. If they have already paid in for as few years, they will essentially lose all of the money they have already spent on the initial interest charges and start all over. Not what I would call a good deal.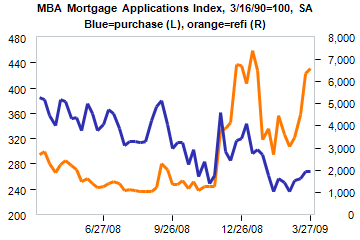 From ADP:
Wednesday, April 1, 2009, 8:15 A.M. ET

Nonfarm private employment decreased 742,000 from February to March 2009 on a seasonally adjusted basis, according to the ADP National Employment Report ®. The estimated change of employment from January to February was revised down by 9,000, from a decline of 697,000 to a decline of 706,000.

March's ADP Report estimates nonfarm private employment in the service-providing sector fell by 415,000. Employment in the goods-producing sector declined 327,000, the twenty-seventh consecutive monthly decline. Employment in the manufacturing sector declined 206,000, its thirty-seventh consecutive decline.

Large businesses, defined as those with 500 or more workers, saw employment decline by 128,000, while medium-size businesses with between 50 and 499 workers declined 330,000.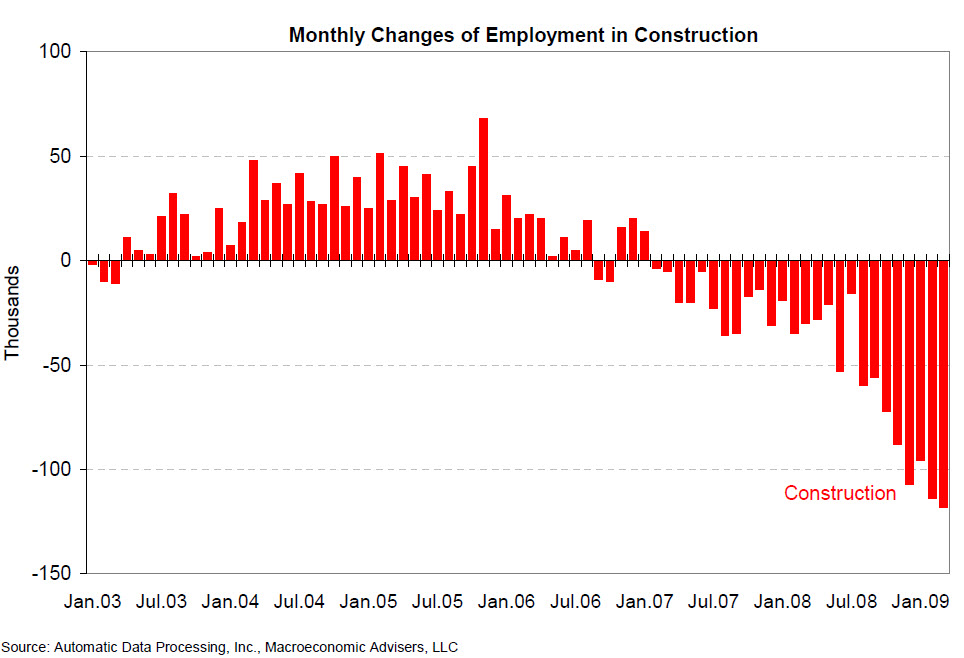 Employment among small-size businesses, defined as those with fewer than 50 workers, declined 284,000. The sharp employment declines among medium- and small-size businesses indicate that the recession continues to spread aggressively beyond manufacturing and housing-related activities to almost every area of the economy.

In March, construction employment dropped 118,000. This was its twenty-sixth consecutive monthly decline, and brings the total decline in construction jobs since the peak in January 2007 to 1,135,000.
It is no surprise that the construction sector is having the hardest time. It is difficult to imagine any major change within this sector in the near future as inventories need to be worked off before we see a significant pick-up.