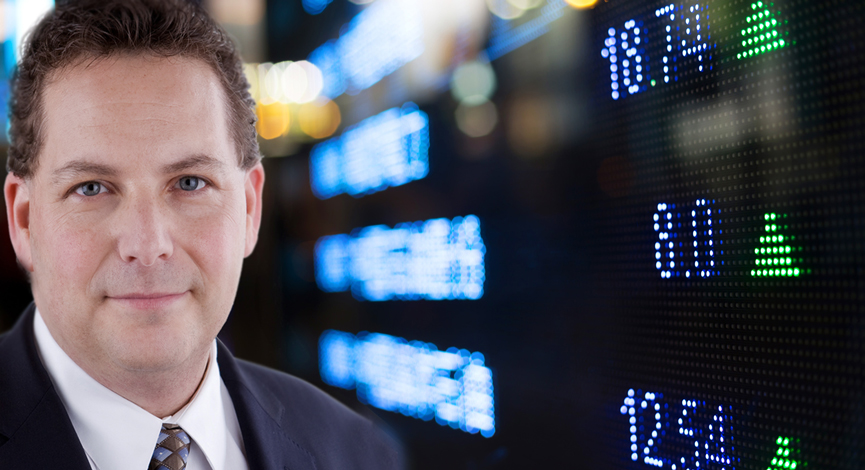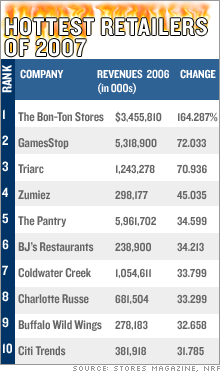 On July 24th, we initially reviewed Zumiez (ZUMZ) with a post entitled Zoom Zoom Zumiez. Concurrently we started to add a first round of investments for our client portfolios. The price at the time was approaching $38.50.
Recently, CNN.com reported that Bon-Ton is tops in growth in the Stores Magazine's list of 'Hot 100' firms. This list ranks stores with fastest-growing annual sales. Also included towards the top ranking is GameStop (GME), Zumiez (ZUMZ) and CitiTrends. Meanwhile, Wal-Mart (WMT) is down at number 78.
According to the article, within the top 10 also includes Zumiez (Charts) at number 4! This is a huge move over the past 12 months. Zumiez is an online and mall-based seller of clothing and accessories for active sports like snowboarding, skateboarding and surfing. All the HOT products…..
Since then, there have been several interesting announcements from the company and the sector. First, Zumiez announced same store sales that beat expectation by 40%. Coming in at a hot 9% growth rate as compared to last report was enough to push the stock higher, for a few days. Then, the retail sector reported that sales had slowed in many sectors. This had a cooling effect on many retail stocks.
The noted strength in this name during the recent market downturn has to convey increasing support and awareness for the underlying brand that Zumiez sells. The sector has a broad range of companies, some of which will do well in this current market and economic environment and others that will not. Furthermore, there are a select few that will be more protected from market risk (although not removed from it). These are the companies that sell to the younger group that will continue to buy up the "hot" items. This is where we want to invest.
Coming in a few days, (August 22) Zumiez is planning to release quarterly earnings. The latest run up and then almost immediate pullbacks indicates that we are seeing short-covering (as of July 17 – 15.7 million shares held short which is 27% of float) into this announcement. The company only has 17.47 million shares in float and a daily volume that is approaching 1,248,190. This is a sharp increase from the 3-month average of 660,000 shares.With 88% institutional ownership and Profit Margin (ttm) of 6.69%, along with operating Margin (ttm) of 11.33%, the earnings will certainly show us if this is a short term aberration or if this company and their management actualy understands their market segment. Up until now, they have done a stellar job honing in on the trends and creating the environment within their stores that helps to move products.
The continuing concern is the Forward P/E nearing 32.6. This is high as compared to the market and the retail sector. As we wrote in the initial review and buy recommendations, the P/E along with a hot PEG ratio has us wondering if this is a growth company ion the verge of a major breakthrough or a company that is overvalued.
This next earnings announcement will show us a much better view. With that said, during the recent market meltdown, we have been recommending and buying this name aggressively.
Analysts are looking for quarterly earnings with a range of $.08-.09 and annual of $.95-1.01. Management has surprised in the past, though the surprises are not consistent. All of this is the obvious reason that investors have not committed to shares. Until we see otherwise, we are finding good reason to build positions, especially when shares are below $40. This may be the last time investors have this option as a good earnings report will solidify the range and should push the shares above $46.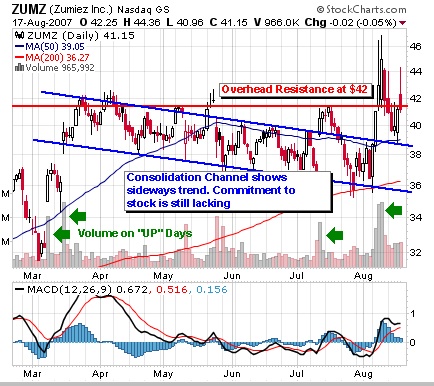 Disclosure: Clients of Horowitz & Company hold LONG positions of ZUMZ as of this post.
___________________________________________________________________