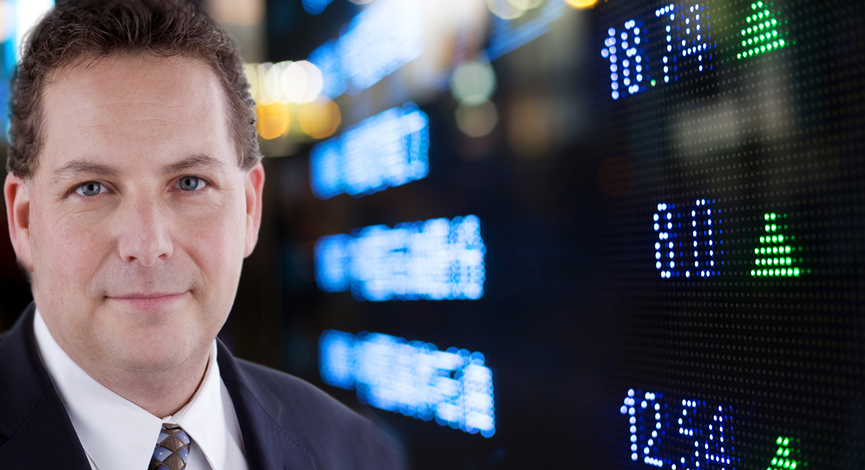 The huge rally last Monday held its ground for the week. The S&P 500 was up 1.7% and the NASDAQ 2.1%. There were some close calls as markets drooped a few times every day, but managed to pull out of its tailspin toward the close. Friday on the other hand did not have the same benefit for stocks.
While the UMich Consumer Confidence number was much better than expected, overhang from the news in Europe and a long weekend off had traders squaring positions.
With the slowdown in Europe, many companies are providing cautious outlooks in their earnings calls. Perhaps the worst have been tech companies and that shows through with their performance over the week. Cisco (CSCO) started the trend and Dell (DELL) was no better.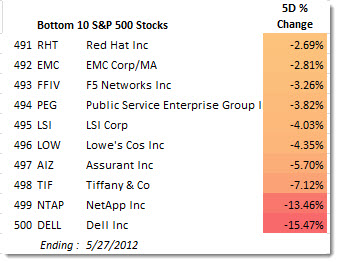 On the other hand telcom, utilities and staples did well and a few M&A announcements helped specific companies. With Friday's upbeat confidence report, the travel and consumer discretionary stocks lead and provided some of the strongest performance for the week.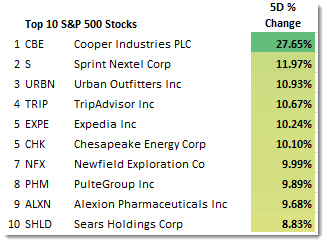 Alexion (ALXN) managed to bounce nicely last week as it is now going to be part of the S&P 500 index. Home-builders also benefited on the week with a good new and existing home sales reports. Of course Mr. Ichan's announcement of an active investment in Chesapeake (CHK) provided a much needed bounce for the stock.
It will be a light week for "important" earnings releases. Joy Global (JOY) will give a further read on the demand for the construction and mining industry and Omnivision (OVTI) will provide a further read-through for the smartphone/tablet market.
Ciena (CIEN) will be the next networking company that could show a slowdown in global tech spending and that could be the final word for the industry cycle. Then there is Vera Bradly (VERA). High-end retailers have been enjoying a nice ride as the wealth of the middle-class in Asia grows. But Vera Bradly is down 50% from its may 2011 high. Short interest is a whopping 12.5 days to cover and that should provide a lift into earnings as shorts look to flatten to avoid a massive squeeze of something goes right for the company.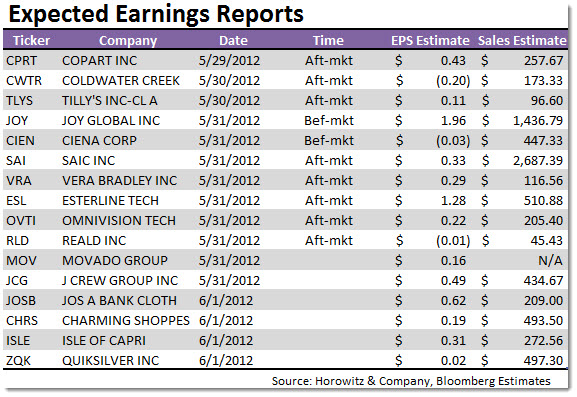 More earnings related reports and analysis can be found at TriggerPoints Research – take a look at some of the most recent Pre-Earnings reports.