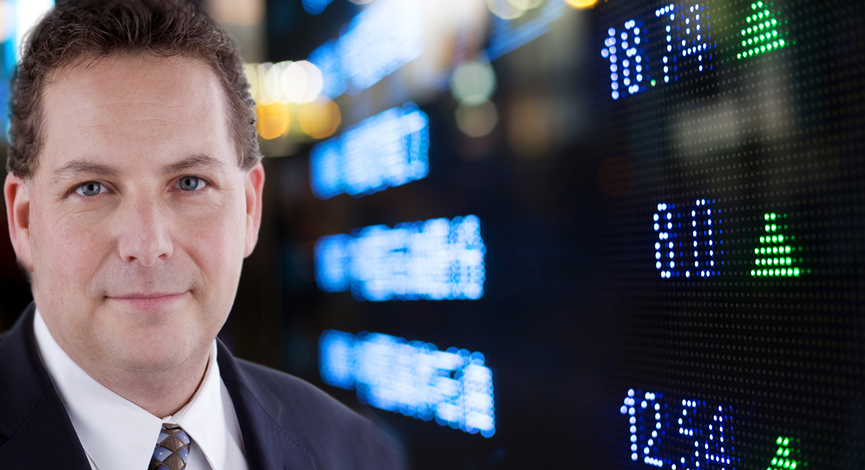 During the month of September, we are going to be adding a special section to this site. Below is our most recent discussion and commentary (Scroll down for more information about the TDIMG Managed Growth Strategy)
2011-09-09
The world watched Europe in the morning for clues about additional financial support for the region. Not much thought was given to Trichet providing additional tightening measures as there has been a precipitous slowdown for the region over the past few months.
There are no two ways about it: Trichet is in a pickle. On one hand he needs to hold on to the single mandate of the ECB and try to stimulate at the same time. He also needs to keep an eye on the austerity measures that are in-force, while doing what he can to regain growth. Essentially there is no way that he can win this game.
Here are some of the key comments from his speech:
Govts must honor sovereign signature
Some finance conditions have tightened
Economy to grow moderately amid downside risks
A Number of factors damping growth, temporary factors boosted 1Q
Banks must retain earnings, strengthen capital
Those were not exactly what the markets wanted to hear. On the "discovery" that there are downside risks, investors sold off positions quickly. Germany's DAX index dropped over 1%.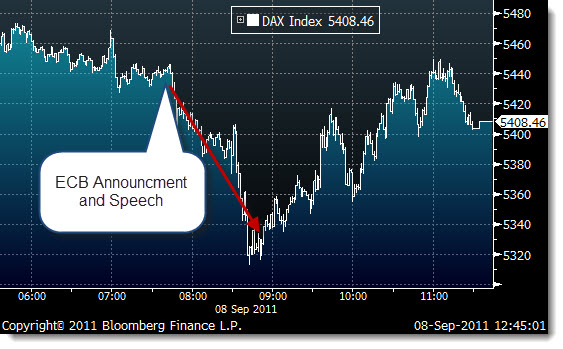 The drop only lasted until investors realized they had another chance at 1pm when Bernanke would be speaking. The hope was for some comment about additional easing, stimulus or any of the other "financial drugs" that these markets have become accustom to.
However, without a pledge to keep up interest rates, the Euro was under pressure. That pressure gained traction throughout the day as there was a touch of realization that started to creep in the minds of the currency traders once the Euro/USD broke $1.40.
Part of the reason was the lack of support that was provided by Trichet, but that was simply the catalyst for an already broken down currency. As all of the market movement has a blinding effect, the CDS spreads are continuing to rise. Not only does Greece have record high rates on their 1 and 2-year bonds, but CDS rates are now at a record.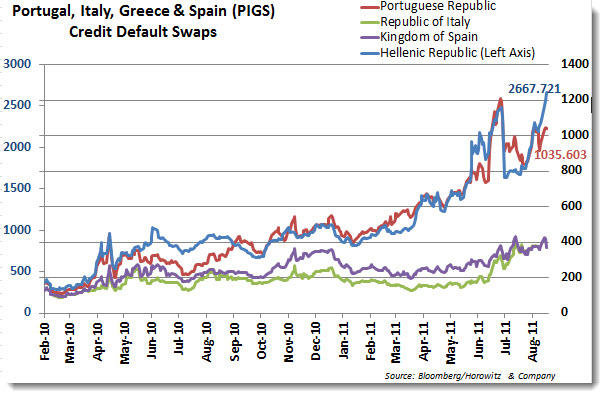 As there was anticipation for the next important speaker of the day, stocks held up even in the face of the USD rising. The hope was that Mr. Bernanke would say something that would give investors comfort in knowing that the FED has got their backs. But, there was a good deal of disappointment as there was no such commitment made. (You have to be amazed at investor's never-ending hope that Central Bankers will always be there to to bail out their mistakes)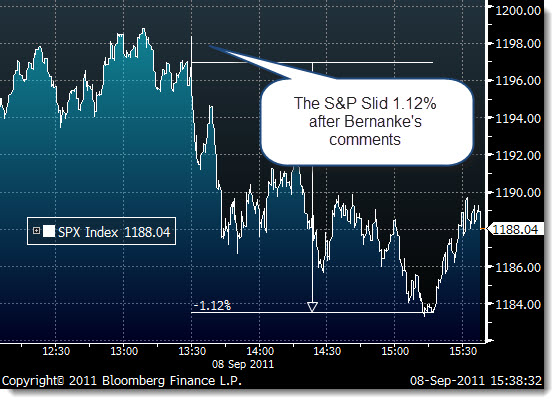 (Bloomberg) — Federal Reserve Chairman Ben S. Bernanke said policy makers will discuss the tools they could use to boost the recovery at their next meeting this month and stand ready to use them if necessary. Policy makers "are prepared to employ these tools as appropriate to promote a stronger economic recovery in the context of price stability," Bernanke said in the text of a speech to economists today in Minneapolis.
The real story of the day is the strength of the U.S. Dollar. By far the most hated currency, it is serving as a refuge as there is is a need for a place to park money as many of the traditional "safe" currencies are now being vigorously defended (sold) by their governments in order to for their country to be more competitive. The Swiss Franc and the Norwegian Krona.
With two of the four overhangs behind us, the Obama's employment speech was the next item that would shape the global sentiment moving forward. President Obama gave a very impassioned plea to Congress to PASS THIS BILL NOW in order to create hundreds of thousands of jobs. His delivery for this particular speech was different than many he has done previously.
The tone and stride were much more deliberate but less eloquent. That will appeal to more as he went out of his way to be identified as "of the people, for the people" in his request to help make America great. The appeal was applauded by Democrats, while Republicans sat on their hands for most of the 30 minutes.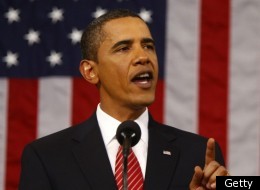 Overall this was probably one of his better speeches as it did not involve blame or finger pointing. In fact, he went out of his way to show that many of the items that he is looking to accomplish in this action have already been agreed to by both sides of the aisle. In total, this stimulus amounts to almost $450 billion of expenditures that will be supposedly "paid for" with cuts to entitlements, revenue from closing tax loopholes and other benefit reductions.
It will require a miracle if all of the stimulus requests are agreed to and something even more powerful to see tax increases passed by the Republicans. The bottom line is that over the next few weeks there will be a great deal of negotiations, politicking and party-line commentary about this package. But, it may be seen as a positive start to some additional spending that will help with the ailing economic condition.
There is one problem though: Assuming that this is going to be a zero-cost plan, how can we see any benefit if there will be money taken from one group of people in the form of entitlement cut and higher taxes and given to another in the form of stimulus? Isn't this simply moving money from one pocket to another?
If it is as simple as that then there is no economic benefit that will flow into the economy as there is no additional money being spent. That is not stimulus, that is simply a Robin Hood mantra of robbing the rich to give to the poor.
(Click HERE for the text of the speech)
The last item on the list were the worries about the final CPI report out of China. As we are well aware, Premier Wen has very publicly made it known that he is very keen on sapping the life out of inflation. He has been using a variety of tools available in an attempt to slow the economy over the last year or so. If the inflation rate is not controlled at this point, the fear is that he will continue with his aggressive campaign.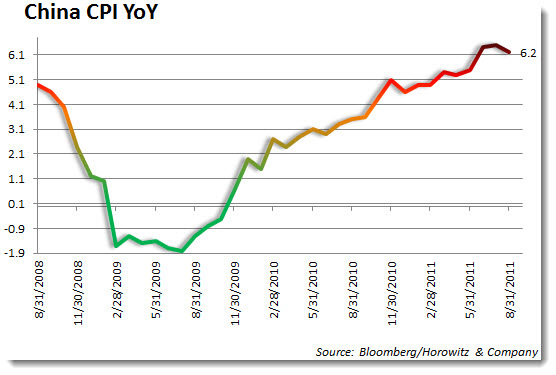 The good news is that there is a stabilization occurring. So far the plan is having an effect on consumer prices. China markets liked what they saw as they are looking at this as the potential for an end to the tightening.
On the other hand, PPI is still escalated and stubbornly so. This shows that input prices are not coming down and that is due to global inflation trends. This will need to come down in order for companies to remain profitable. If not, price increases will be passed down to the consumer offsetting any of the benefit of the recent tightening campaign.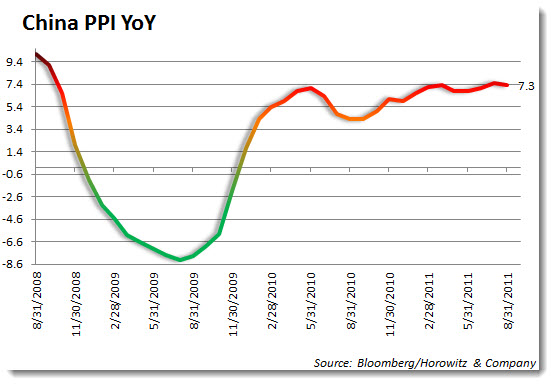 Below is a snapshot of the closing positions currently held in portfolios. It was a positive day as the short European exposure provided a good amount of return as did two out of the three equities. Silver is not off to a good start and that was made even more clear as the U.S. Dollar was up by over 1% on the day.
A recent addition today was HealthSpring (HS) to the short-side of the portfolio. While we generally like the fundamentals of the company, the technical-pattern/chart looks horrible and more importantly, 100% of their revenue comes from the government. If there is any chance that cuts to Medicare will be enacted, this could well be a casualty of the proposed jobs initiative.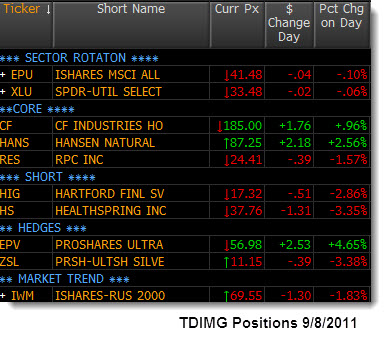 (Note: IRA portfolios do not hold the short positions listed)
There is little U.S. economic news that is on the docket for the next couple of days. This is often a time that markets can rest without the headline risk weighing on investors. Of course, the Greece and Italy problems are only getting worse, but unless there is something new to arise, markets have a nice way of forgetting about what is not right in front of it. Out of sight, out of mind.
Next week we will look into Peru and some of the reasons why we are holding a position in the Peru ETF.
___
The TDI Managed Growth Strategy provides a private "client-only" blog where we discuss the day and our general outlook. Areas that we cover range from current holdings analysis, economic reports, political commentary and more.
The primary purpose of the "client-only" blog is provide information so that clients for whom we manage money will have a better understanding of what is the rationale for portfolio decisions. In addition, the information is designed to be educational so that readers can learn from both our mistakes and successes.

On a daily basis, simply follow www.thedisciplinedinvestor.com or use an RSS reader and point it to : http://tinyurl.com/3u3jahy or http://www.thedisciplinedinvestor.com/blog/category/stocks/insideedition/feed/