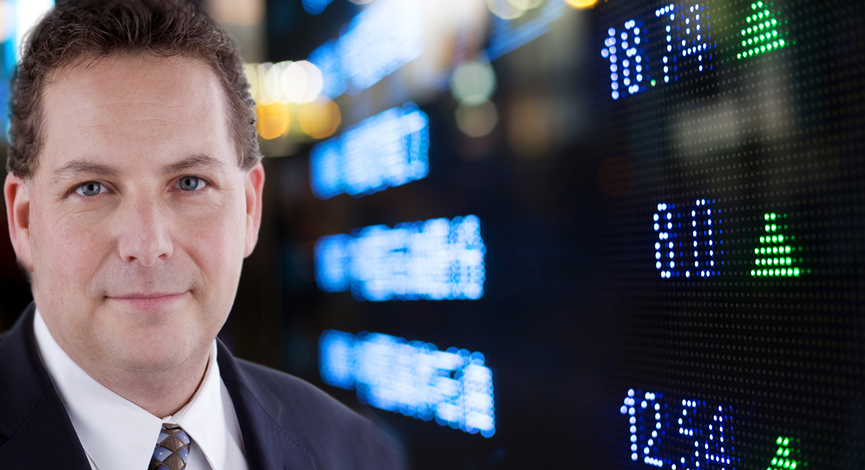 Today we were treated to a couple of   economic reports that were less than pretty. First there was the 20 city Case-Schiller housing report which showed that over the last 12-months, prices have declined by 3.1%. That was less than anticipated (-3.2%) but still one of the worst readings in years.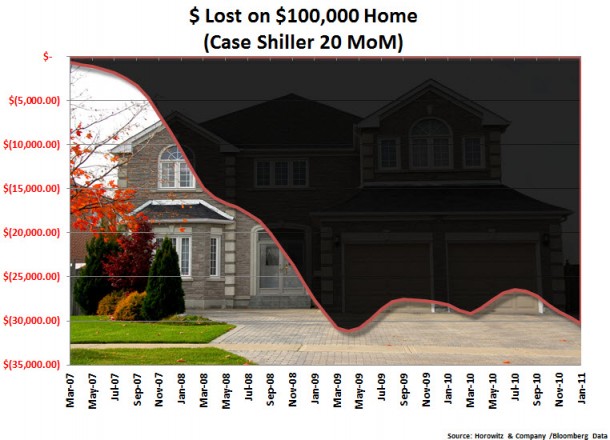 Markets got off to a slow start after that and the U.S. dollar initially strengthened. Actually, the U.S. dollar strengthened against the Euro after reports were released that showed a potential requirement of European banks to issue over $3.2 trillion of bonds to provide adequate liquidity under Basel III rules. On top of that, Portugal and Greece were both downgraded today by S&P. In fact, Greece is now at JUNK level, while Portugal's debt is one notch above.
Without any other input, that should have been enough to pull the Euro down and provide an opportunity to bid up the U.S. Dollar. "SHOULD" is the operative word here.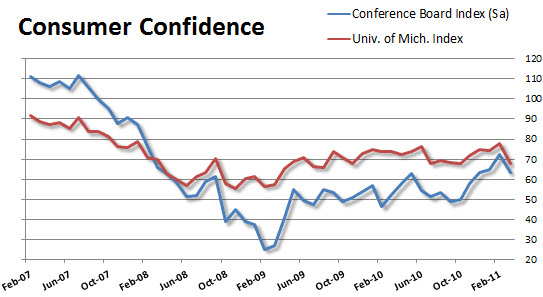 Once the consumer confidence report was released, stocks staged a quick reversal as the dollar was aggressively sold. Does this mean that with all of the problems in Europe and around the world that investors believe that the dollar and the U.S. economy are the comparably weaker?
Perhaps it is just that the worse the numbers, the more money is assumed to be pumped into the U.S. economy – further debasing the dollar. Either way, it is the same equation that is driving markets – Sell Dollar:Buy Stocks.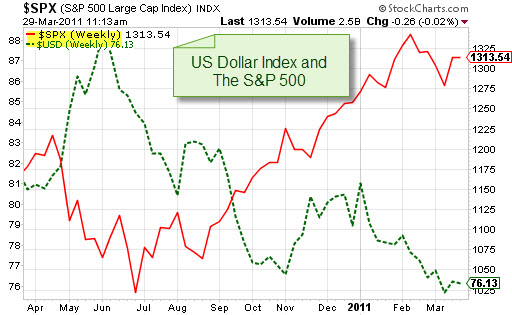 Briefing.com: Consumer Sentiment Tumbles on Higher Gasoline Prices
The Conference Board's Consumer Confidence Index fell from 72.0 in February to 63.4 in March. The Briefing.com consensus expected the Consumer Confidence Index to decline to 65.0.

The current conditions index improved, increasing from 33.8 in February to 36.9 in March. The expectations index weakened from 97.5 in February to 81.1 in March.

The drop in March followed a similar decline in the final reading for the March University of Michigan Consumer Sentiment Index. That dataset fell from 77.5 in February to 67.5 in March.

Both indices fell for the same reasons: turmoil in the MENA region and higher gasoline prices. Typically, consumer sentiment/confidence correlates with equity prices, employment, media reports, and gasoline/oil prices. The increase in oil and gasoline prices easily outweighed the recent gains in employment. As oil prices continue to spike, we anticipate a further decline in sentiment.

Even though consumer confidence tumbled this month, there is no indication that households are in the process of pulling back on spending. The recovery in the labor sector is steadily, albeit slowly, improving and should provide sufficient support for income growth needed for stronger consumption levels.