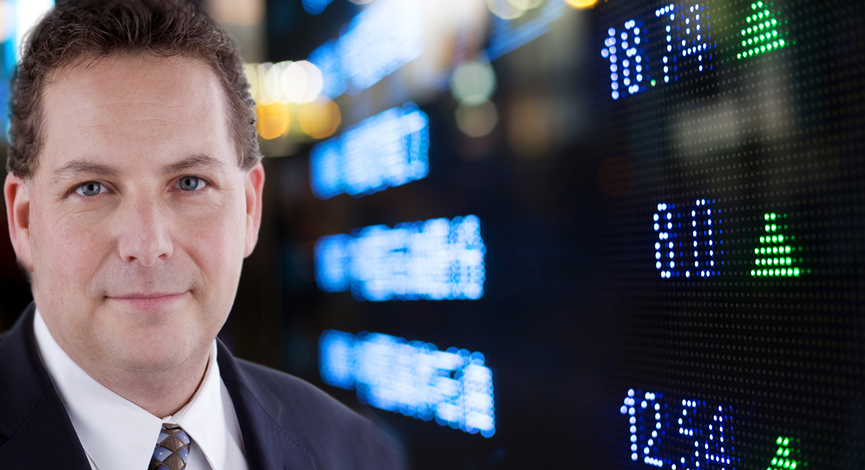 For some time we have been trying to find a correlation to something (anything!) and the Baltic Dry Index (BDI). While there are a few possible ways to look at it, it has not been the best leading or lagging indicator. Many believe that there is a connection to the BDI index and world growth. Materials that need to be shipped will show up as creating demand on the transportation servicers. Even so, the two do not necessarily correlate. So, it is a good index to watch that helps to see one more piece of the puzzle, it is not the entire puzzle.
Over the past month there was a significant decline and then a rise in the index. Below are two charts that show the most often followed of the shipping indicies.
Below that there is an update of the recent action and then comes a few definitions of the various components of the BDI.
Investopedia explains Baltic Dry Index – BDI
Changes in the Baltic Dry Index can give investors insight into global supply and demand trends. This change is often considered a leading indicator of future economic growth (if the index is rising) or contraction (index is falling)  because the goods shipped are raw, pre-production material, which is typically an area  with very low levels of speculation.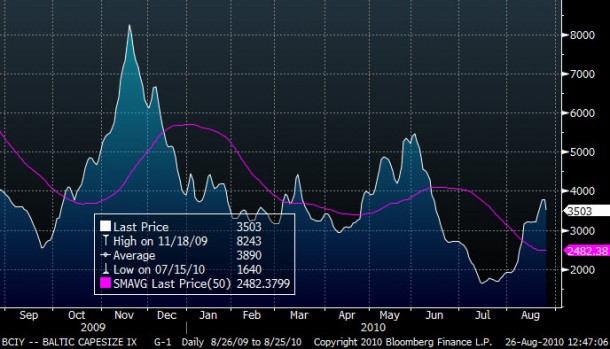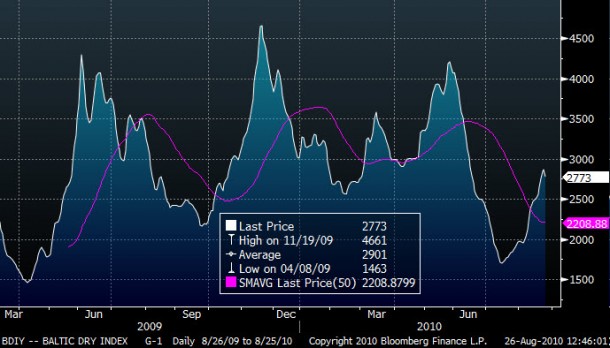 From Briefing.com
The Baltic Dry Index (BDI) broke its 14-session rebound streak overnight, losing 88 points, or 3.1%, to close at 2,773.Recall it rebounded 69.8% from Aug. 4-12, then gained another 18.8% in the previous six sessions. China was one reason for the rebound rally, as its iron ore imports and iron ore/steel prices increased in July and early August. However, reports yesterday said Chinese iron ore prices have leveled off over the last two weeks and steel prices have dropped modestly in that time…

The BDI is an assessment in price of all the major raw materials transported by sea. Since the index measures end demand for commodities aboard bulk carriers, including cement, coal, iron ore, steel and grain, it is used as a barometer of economic demand.
Baltic Exchange Tanker Routes Asia (BITR-Asia) – Daily Worldscale and non Worldscale assessments on Asian tanker routes and a selection of inidual Timecharter Equivalents (TCEs).
Baltic Exchange Dry Index (BDI) – daily index made up of 20 key dry bulk routes
Baltic Exchange Capesize Index (BCI) – 10 daily Capesize vessel assessments including voyage and time charter rates.
Baltic Exchange Panamax Index (BPI) – 4 daily panamax vessel assessments of time charter rates.
Baltic Exchange Supramax Index (BSI) – 9 daily timecharter rates.
Baltic Exchange Handysize Index (BHSI) – 6 daily timecharter rates.
Baltic Exchange Dirty Tanker Index (BDTI) – Daily Worldscale and non Worldscale assessments on international dirty tanker routes and a selection of basket and individual Timecharter Equivalents (TCEs).
Baltic Exchange Clean Tanker Index (BCTI) – Daily Worldscale and non Worldscale assessments on international clean tanker routes and a selection of basket and individual Timecharter Equivalents (TCEs).
Baltic Exchange LPG (BLPG) – Single daily assessment.
Baltic Exchange Sale & Purchase Assessments (BSPA) – Weekly assessment of second ship values – Aframax, VLCC, MR Product Tanker, Capesize, Panamax (Dry) and Super Handy.
Baltic Exchange Palm Oil Assessment (BPOIL) – Single daily assessment.
Baltic Exchange Handymax Index (BHMI) – 6 daily timecharter rates.
Baltic Exchange Handy Index (BHI)