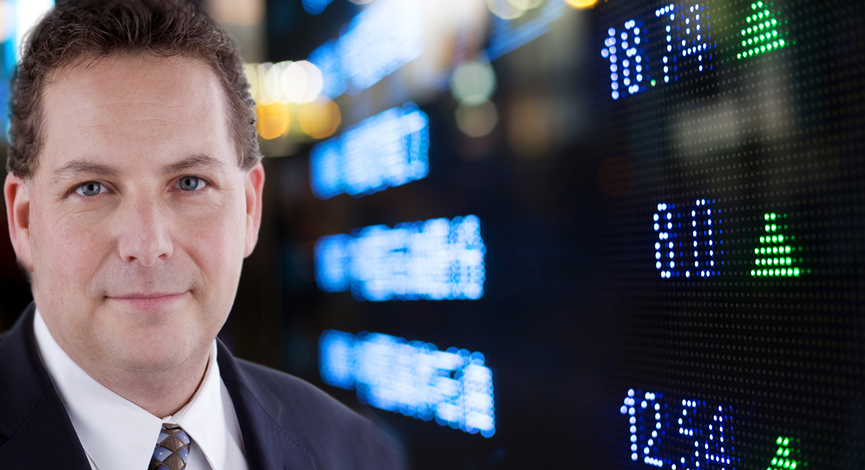 Netflix (NFLX) was a favorite pick of ours recently until we saw several pieces of news and information that made us rethink this position. In fact, we sold off our last piece of it just yesterday for a handsome profit.
Now there are several reasons not to own the stock ass it could see some downside pressure due to:
Chart Trend
Heavy Put option buying
Wal-Mart is now in the streaming video business
1. Chart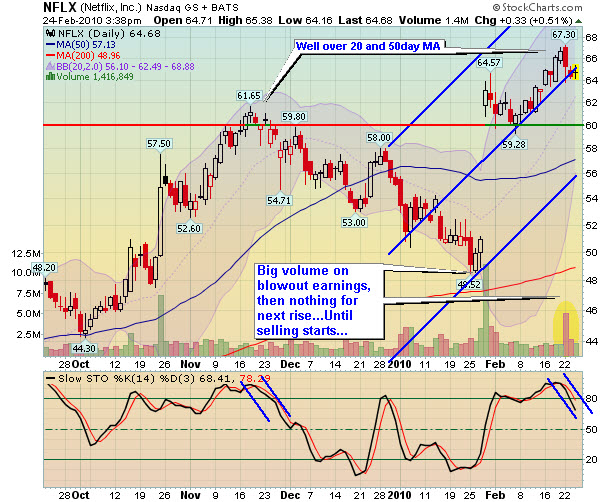 2. From Briefing.com
NFLX puts are seeing heavy volume today, with total put volume of 25K vs. total call volume of just 1K. The volume is concentrated on the Mar 60 puts, which have traded 24.0K contracts vs. open interest of 5.26K. The activity has taken place in a large number of relatively small trades, rather than big blocks. At the current offer price of $1.10, expiration breakeven occurs at 58.90, representing a -8.9% move from current levels. While expiration profits will occur below the $58.90 level, profits on a long position could be seen on smaller downside moves in the interim. These puts will benefit from a downside move and/or increased volatility in the stock.

NFLX reported strong earnings at the end of Jan, which sent the stock up more than 20% to all time highs. The stock was volatile earlier this week on reports of WMT's acquisition of online movie service Vudu, whose service is built into high-definition televisions and Blu-ray players. WMT's move into online movies represents a competitive threat in the Internet movie business, although competition is nothing new to NFLX.

Given the large volume and increased implied volatility (indicating expectations for greater stock movement), we wanted to put the NFLX puts on trader's radar as the action indicates a more bearish sentiment toward the stock over the near-term.
3. From the NY Times:
Analysts estimate that fewer than 5 percent of the HDTVs sold in the United States last year can go online to pull in movies and television shows, bypassing traditional cable and satellite TV service. Now, however, the idea of an Internet-ready home entertainment setup has a powerful new backer: Wal-Mart.

The retail giant said on Monday that it had agreed to buy Vudu, a Silicon Valley start-up whose three-year-old online movie service is being built into an increasing number of televisions and Blu-ray players.

Terms of the acquisition were not disclosed, but a person briefed on the deal said the price for the company, which raised $60 million in capital, was over $100 million. Other companies, including Best Buy, Amazon.com, Comcast and the satellite company EchoStar, had also expressed interest in acquiring Vudu, according to this person, who asked for anonymity because the terms of the deal were private.
And one more thing…. Just as we were putting the finishing touches on this, we saw the earnings release for Blockbuster (BBI)
Prelim adj. ($0.24) vs ($0.12) First Call consensus; revs $1.08 bln vs $1.08 bln First Call consensus
Note: We had been owners of the stock and looking for a merger until the last earnings release and conference call.
___
Disclosure: Horowitz & Company clients may hold positions of securities mentioned as of the date published.