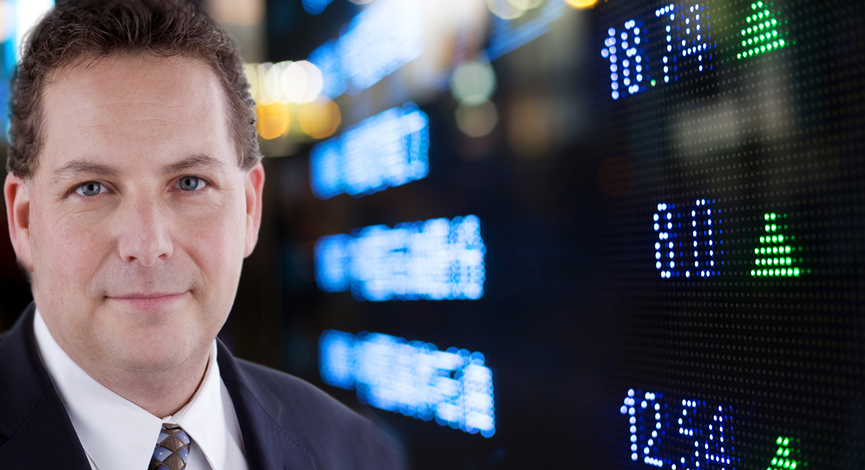 There was a surprising uptick in the initial claims this week. The question is whether on not a trend is occurring. So far there has been less than acceptable job growth and we all know that one of the best ways to get margins inline is to cut workforce.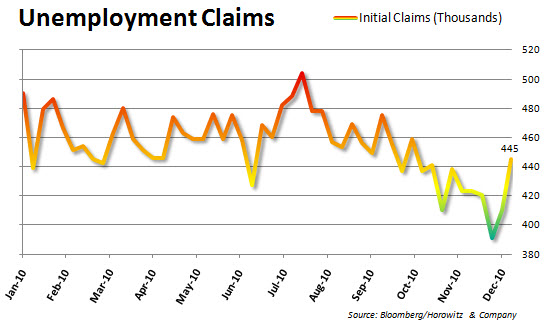 The drop in continuing claims is both good and bad. On the surface it is nice to see that there are more people off of the rolls and potentially working is great. Unfortunately, many that are no longer counted still do not have jobs.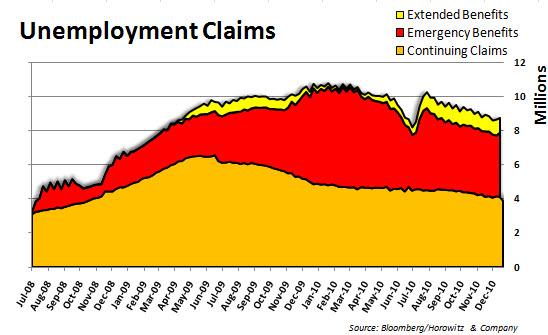 From Briefing.com:
Initial Claims Jumps to its Highest Level Since October

The gains in the employment sector suddenly reversed as the initial claims level rose from 410,000 for the week ending January 1 to 445,000 for the week ending January 8. The Briefing.com consensus expected the initial claims level to increase to only 415,000.

However, this week's initial claims level should not be looked upon as an inflection point where weaker employment numbers become the norm.

Since the last two weeks of data incorporated two major holidays (Christmas and New Year's Day), it is not unreasonable to assume that firms held off on laying off workers until the holiday season passed. We believe that workers who would have normally been let go during the last couple of weeks of December were extended until the first week of January. Therefore, the increase in initial claims this week was likely due to a one-time surge in layoffs that will dissipate next week.

The continuing claims level fell from 4.127 mln for the week ending December 25 to 3.879 mln for the week ending January 1. This is the lowest level of continuing claims since claims October 2008. The Briefing.com consensus expected the continuing claims level to fall to 4.080 mln.