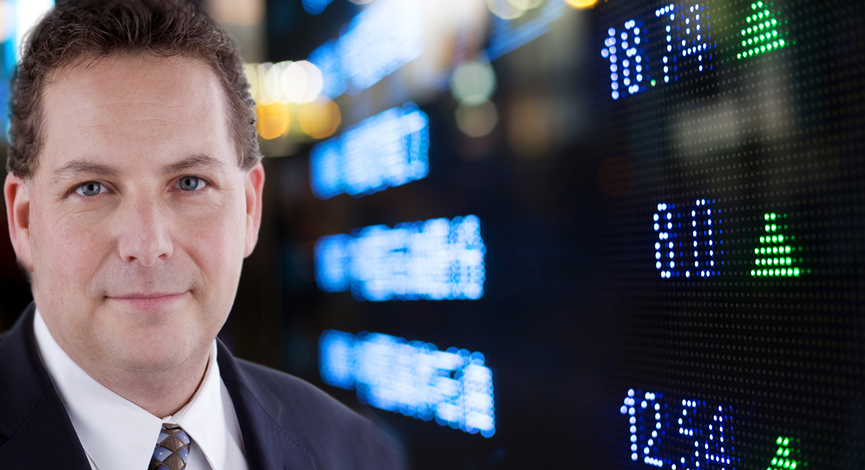 Below is a commentary/update that we sent to our clients last night. We thought that it would be of help to anyone looking for answers, to the confusing day we saw on Thursday.
Today was not your ordinary day. No, not by any measure. Even though they started off with all intentions of breaking higher, U.S. markets were caught between mixed economic news (mostly positive) and the wait to see what would be the outcome of the EuroZone politics. TDIMG portfolios, along with Horowitz & Company Global Allocations did not get stung too badly by the sell-off due to diversification and overall positioning, but it was a rough day indeed.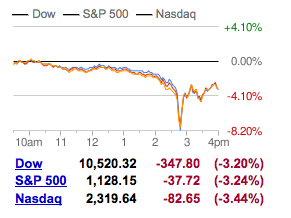 TDIMG Portfolios were down less the 1/2 the loss of the S&P 500 ( -1.6% ) today. There were several reasons why were were able to escape a good amount of the global sell-off. Part was because we sold all of our positions in the Emerging markets (India, Brazil, South Korea and Singapore) yesterday and had taken down several other positions over the past weeks. In addition, the 4% position in gold (GLD) was helpful as the flight to safety was in full swing. In addition, we added short hedge positions via the S&P 500 (SH) totaling 20%.
**Note – This hedge may be temporary as we see the labor market numbers early Friday morning as well as the resolution to the Greece debt crisis resolve (at least for a short time) with the weekend vote by EuroZone members and the IMF. We still see a very good level of earnings and economic reports in the U.S. that may help to resume the rally if these important matters can be cleaned up.
As for the time-line of what led up to the plunge, first we saw that Jean-Claude Trichet, the President of the European Central Bank held rates steady for the zone and commented that there was a balanced risk for both growth and contraction. He also made a slight mention of Greece and that it could potentially hold back growth for the region. Absent though was any discussion about whether the ECB would be purchasing bonds in an effort to stem the declines and firm up the region's debt and currency.
After that, the austerity plan was approved in Greece. This was a necessary step in getting the funds from the EU and IMF to pay off debt coming due in May. That was too much for the Greek citizens to deal with as they are going to be locked into a very difficult situation that they believe they do not deserve. Riots and strikes broke out throughout Greece casting further doubt that the plans will actually work.
In reaction, debt spreads for Greece, Spain, Portugal and Italy continued to widen against the German bund. This concerned investors as they are seeing this as a sign that contagion is spreading and that the ECB may be waiting too long to "fix" the problem.
As calm as the ECB sounded, US officials appear to be growing worried the Fed's Bullard said the Fed is "carefully watching" what's happening in Europe because small problems can turn into big ones while the White House said it is in close contact w/their European counterparts (CNBC's S Liesman reported late in the day today that US officials think their European counterparts have "dithered" when it comes to dealing w/this problem, allowing it to mushroom).
Even after all of this, there was an odd sense about what actually happened during the 2pm – 3pm time period. What we can say is that there was a race away from risk. We noticed that there was a severe drop in the USD/YEN pairing in the early afternoon, before the plunge. In fact, the Yen rose 5% against the dollar. Often times, the Yen is considered the safe haven when risk rises.The dollar index was up against a basket of six other currencies was up 1,4%. So, investors were looking for shelter in a storm. Volume was up in equity trading as would be expected.
Part of the sell-off may be blamed on technical measures as stops may have been triggered below the 1,150 level for the S&P 500. This is an area that we began to add short hedges as well. But the ferocity of the selling was not orderly, nor was it anything that has been seen since 1987. The near 1,000 point drop in the DJIA is a record point move.
In an after-hours report, JP Morgan's trading desk summed it up as:
The 2-3:15pmET trading patterns the market was already for sale even before 2pmET and the great plunge. Slicing through the 1150 technical level so easily didn't help sentiment. However, CNBC, DJ, Fox, and other media sources are reporting that a trading error at a major firm accounted for the late day plunge in stock prices. After the close today, Citigroup said it was investigating the speculation that it made an erroneous trade; a spokesman for Citi says it currently has no evidence that it made an erroneous trade. Some major names had huge intra-day moves (i.e. PG had a range of $ 62.67-39.37 today and Accenture was $ 42.30-0.01!). The sharp decline in prices triggered several stops and threw a wrench into quant models, but prices wound up recovering by the close.
Here is another snippet of what went on:
General Electric Co., the world's biggest maker of jet engines, power-generation equipment and locomotives, fell as much as 17 percent before ending down 4.4 percent. Apple Inc. tumbled as much as 22 percent, the most since 2000, and ended down 3.8 percent.
Procter & Gamble Co. said it's looking into electronic trading of its stock to determine whether it was made in error. Its shares sank as much as 37 percent and closed down 2.3 percent.
Crude oil fell to an 11-week low in New York, retreating 3.6 percent to $ 77.11 a barrel.
Gold rallied 2.6 percent to top $ 1,200 an ounce, approaching a record.
There are still many problems that needs to be addressed in Europe and there are many governments looking to curb growth after they pushed unprecedented money into their economies. (Australia, New Zealand, China and India as examples). For now, we will continue to work this trend and see how sentiment changes (or not). Still, many of the positions we hold have great upside opportunity and there are several names that we have identified that are well in oversold zone that could be added once (if) a turn up occurs.
In summing up the day and the last few weeks, there is a definitive mood that needs to be resolved. This is centralized around the uncertainty in Europe and how that will be either fixed or finally broken. It is very reminiscent of the fear surrounding the late 2008 global banking crisis. Either way, our job will continue to work toward profit opportunities while looking to protect principal, when possible.
What is next? For now, we will watch and take clues from all of the indicators and see how the next weeks progress. A bounce is very possible toward 1,200, as is further downside toward the 1,050 level for the S&P 500.
More to come in the weekly summary on Sunday.