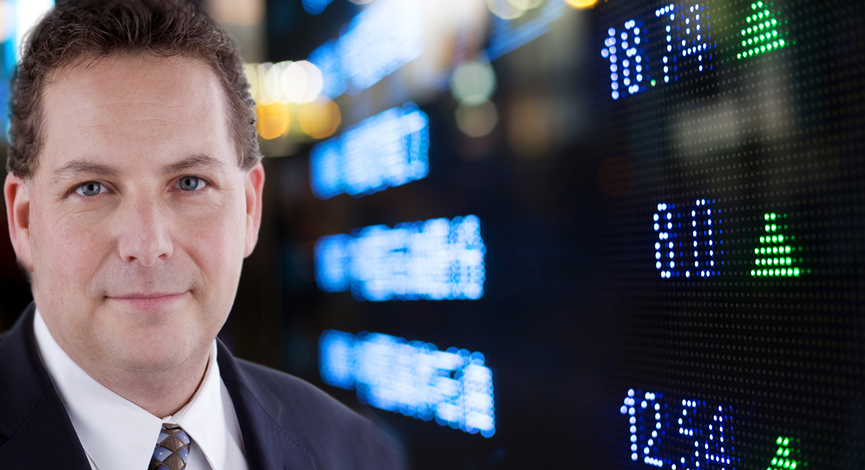 No matter how we look at it, there is inflation creeping into the system. While we see that on a month-over-month basis there is little movement, on an annual basis there is more than enough evidence to show us that pricing pressures are mounting.
Sure, we are comparing to a low base, but isn't that the way we are comparing everything these days? If we like what we see in earnings from a low base, I think that we should accept the fact that prices are increasing from a low base. Anyway you slice it, it is inflationary.
(Let's not even talk about the GDP estimates that we are starting to see…..)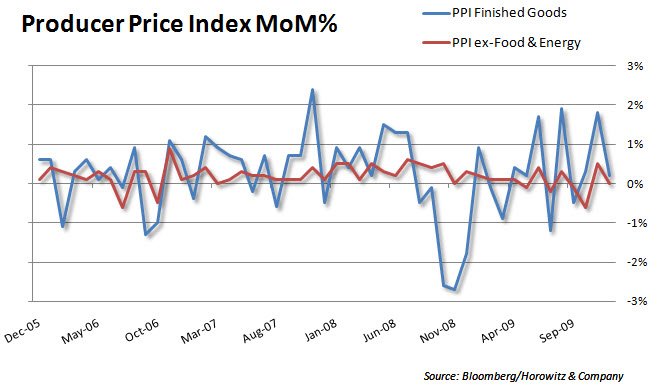 From Bloomberg:
Wholesale prices in the U.S. rose at a slower pace in December, showing the economy is recovering without the immediate threat of inflation. The 0.2 percent increase in prices paid to factories, farmers and other producers followed a 1.8 percent jump in November, according to Labor Department data released today in Washington. The gain was more than anticipated and reflected higher food costs. Excluding food and fuel, so-called core prices were unchanged. An unemployment rate projected to average 10 percent this year and excess capacity are giving companies room to hold the line on prices. Few signs of inflation will allow the Federal Reserve to keep interest rates near zero in coming months to help fuel the economic recovery.

"The substantial slack in the economy will keep inflation subdued this year," Ryan Sweet, a senior economist at Moody's Economy.com in West Chester, Pennsylvania, said before the report. "As the recovery gains momentum in 2011 then inflation will be more of a concern and that's when we expect the Fed to aggressively raise interest rates." Economists forecast no change in December producer prices, according to the median of 73 projections in a Bloomberg News survey. Estimates ranged from a decrease of 0.5 percent to an increase of 0.5 percent. Prices excluding food and energy were forecast to rise 0.1 percent after a 0.5 percent increase a month earlier, according to the survey median. Core prices have increased in one of the last four months.

Wholesalers received 4.4 percent more for their goods last year, compared with a 0.9 percent decrease in 2008. Core producer prices rose 0.9 percent in 2009, the smallest gain since 2002. Year-over-year costs may keep rising the next few months as the plunge in fuel prices at the depths of the recession in late 2008 and early 2009 drops out of the calculations.

Energy Costs

Compared with a month earlier, energy costs fell 0.4 percent in December, led by cheaper gasoline and natural gas. The cost of crude oil on the New York Mercantile Exchange has since risen, reaching an intraday high of $83.95 a barrel on Jan. 11 after closing at $69.51 on Dec. 14. The cost of food increased 1.4 percent from November, led by higher pork, dairy and vegetable prices. The cost of pork showed the biggest gain since January 1999, while dairy products were up the most since July 2007. Core costs were restrained by cheaper business equipment, women's apparel and trucks. Producer prices are one of three monthly inflation gauges reported by the Labor Department. Consumer prices rose 0.1 percent in December, while the cost of imported goods was unchanged, according to data released last week.
___
Disclosure: Horowitz & Company clients may hold positions of securities mentioned as of the date published.