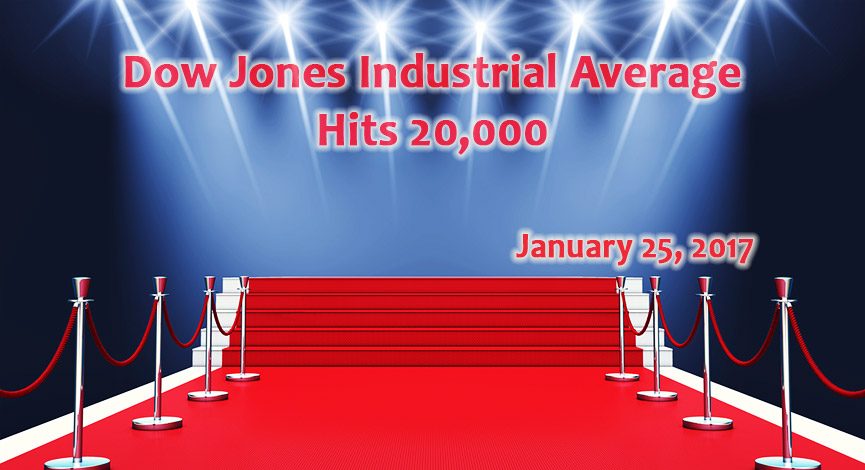 The Dow Jones Industrial Average has finally eclipsed the 20,000 milestone. So much importance has been put on this level by the media that we thought that it would be only right to reprint the acceptance speech that could be given by the index on this occasion.
If only the index could talk, here is what we think it may say:
Thank you, Thank you. This is HUGE! It is an honor to reach this historic level – something that I have looked forward to for a long time. Of course, reaching this point was not only from my efforts. It is the result of many people, companies, governments and algo programs that pushed tirelessly to get me here.

Let me start by thanking my parents – for whom I owe my entire existence. Charles Dow and Edward Jones. I was born out of their wisdom on May 26, 1896 and since then there have been many changes. In my early years I was all about industry. Yes, I have changed with the times. I am humbled that even though my prominence has been challenged over the years, I am still considered viable.

I would be remiss if I did not mention some of the real heroes that have helped me be the focus of hats and regalia on this day. My executive producers and others that have provided funding over the past decade – Ben Bernanke and Janet Yellen. I am fortunate to have been able to team-up with some of the smartest people in the business who have unlimited pockets and have been tireless in their promotion. Yes, they had help. Assisting them was a team of aggressive central banks around the world that all got on board with the DJIA 20k project since 2009.

Many companies have been instrumental in reaching this breakthrough moment. As an example, IBM will be forever in my heart as they continue to buyback their shares with the gracious funding from my producers. Even as they struggle to bring in more revenue to their own company due to a continual slowdown in their core business, they have sacrificed the quality of their earnings for this movement.

By all means, the wise team at S&P/Dow Jones has done an amazing job of adding companies outside of the original intended makeup as times have changed. One of their best moves was back in 2013 when the decision was made to remove Hewlett-Packard, Alcoa and Bank of America. These were all lower priced securities that would have less of an impact than the replacements; Nike, Visa and Goldman Sachs. Undoubtedly, the move in 2015 to replace lower priced AT&T with Apple was seen as a way to bump my price higher over time.

Some of my recent success has to be credited to those financial companies popularizing passive strategies. Investors have been lulled into a sense that set-it-and-forget-it is the wave of the future. Over the past decade, the idea that any market correction is simply a short-term discount on equities, ETFs have gained immense popularity. Bravo to the marketing teams at iShares, Blackrock, Vanguard – just to name a few.

To put it mildly, I am overwhelmed. Thank you all for getting me here. Thank you for believing in me. Thank you for staying with me in times when many would have just thrown in the towel.

To my marketing and social media team at CNBC – you commitment to me, day in and day out, is extraordinary.   Even when it looks as if there may be some bumps in the road, you have a way of crafting a message that is upbeat and positive. When times are grim, you seem to always get the right guests on the show to explain the bullish side of the story. Thank you for keeping those analysts with a downbeat message to a minimum. I don't know how you keep all those plates spinning all the time. Great work gang!

To my brother, the S&P 500 – I know you can make the move to 5,000 over the next few years. My sister NASDAQ is well on her way to even more lofty heights. My son, Russell 2000 is following in my footsteps and that is all one could ask for.

Last but not least, there is a debt of gratitude I owe to Jeremy Siegel for always pushing the idea that there is more room to run. Even though you have perpetually been uber-bullish, I want to grant you a pardon for missing all corrections along the way. You were right in the end!
(Bulls and Bears – Please use your humor mode when reading)