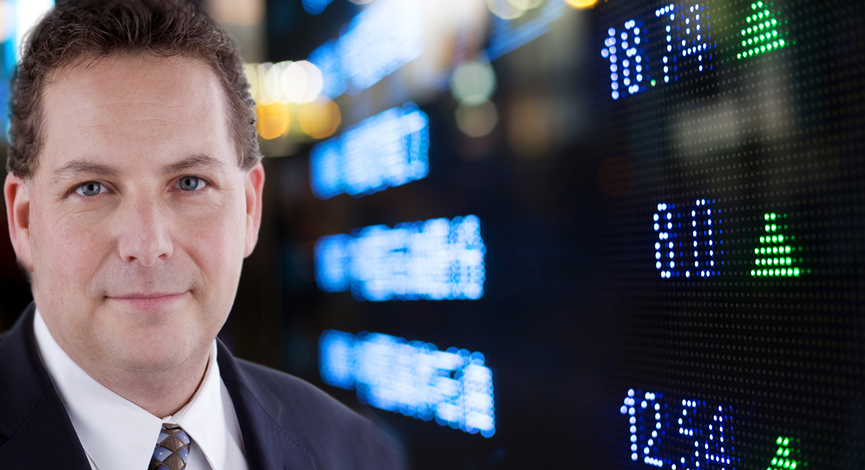 Short interest on the S&P 500 is on the rise. This should be watched as it seems that every time there is a majority on one side of the boat, the move is to the opposite side.. We have seen this will oil and other commodities as the Commitment of traders report is now a great contrarian indicator.
So, when we looking back at the levels of short interest recently and the resulting market rally just days after the report, it makes sense that the move higher was short-lived.
The level of short interest spiked for industrials and the overall short-interest ratio increased. Some of this has to do with the low volumes that we have seen recently.
Below are the charts as of the recent levels.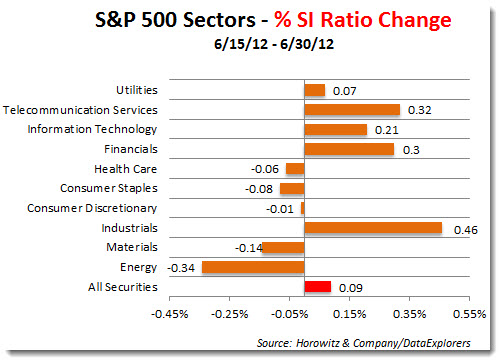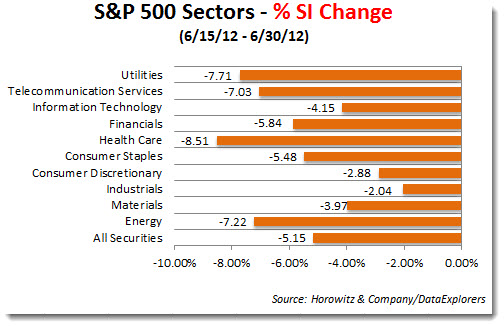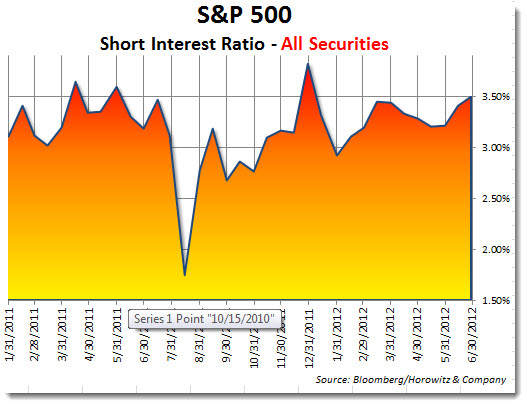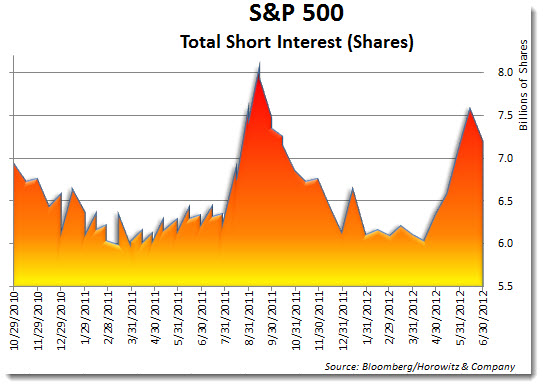 By Whitney Kisling July 16 (Bloomberg) — Short sales on the New York Stock Exchange have climbed above last September's peak, a level thatpreceded a five-month rally and heralded losses for bears. Shares borrowed and sold reached 5.35 percent of stock available for trading last month, according to data compiled by NYSE Euronext. That eclipses 5.28 percent on Sept. 15, when bearish bets peaked last year and the 25 most-shorted companies in the Standard & Poor's 500 Index began a 21 percent advance, data compiled by Bloomberg show.

Investors speculating on declines have pushed up short sales each of the last two years only to see the trades fizzle as actions by central banks helped stoke rallies. Bulls say the same thing will happen in 2012 as European leaders work to contain the debt crisis and companies beat earnings projections for a 14th straight quarter. For bears, slowing economies from China to Germany mean the bets will finally pay off."To the extent people have gone short U.S. domestic equities, I think they're kind of wasting their time," Michael Shaoul, chairman of Marketfield Asset Management in New York, which oversees more than $2 billion, said July 11. "As I said last year when Europe was falling apart and the U.S. was going down, once this panic is over we'll go straight back up again."

Stocks fell four straight days last week, before JPMorgan Chase & Co.'s quarterly earnings report boosted the S&P 500 on July 13, giving the index a gain of 0.2 percent for the week. Earlier losses came as companies from Applied Materials Inc. to Cummins Inc. cut sales forecasts. Almost $1 trillion has been erased from U.S. equities since shares peaked this year on April 2, data compiled by Bloomberg show.
_____