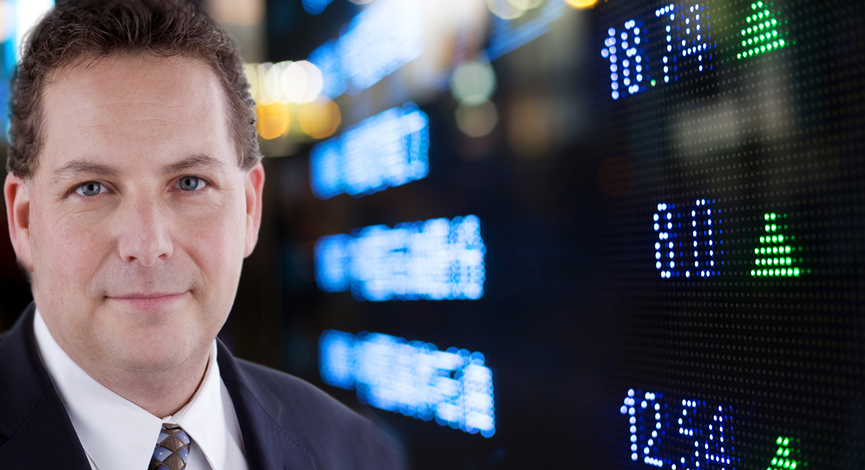 The news that Anadarko (APC) has been able to achieve revenues much higher than expected from the Niobara property was a positive development for companies that are also involved in that region. According to Reuters, based on drilling results, Anadarko estimates its properties in the Niobrara and Codell formations in the Wattenberg Field have resource potential of 500 million to 1.5 billion barrels oil equivalent, the Houston company said in a news release.
The Niobrara Shale is a location near Denver, Colorado. This general area has been discussed as one with excellent potential, but the Anadarko news is very exciting for the companies that are either working the location and/or that may be seen as potential partners for joint ventures.
Gulfport Energy (GPOR) has been one of the companies that we have been following (and investing in) for some time which has excellent fundamentals (F|Score)   and technical score (T|Score) at the top of the range. We expect that there is potential for buyers to step in if volume picks up, the short positions will see a sensational squeeze above the $36.75 level.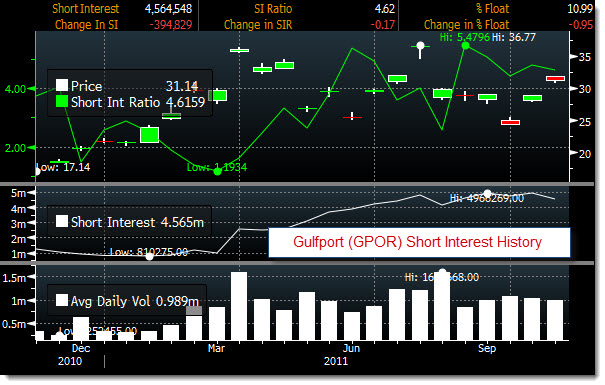 (Click to Enlarge)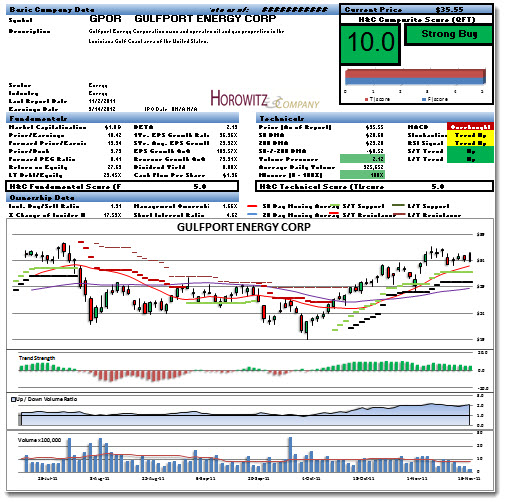 Horowitz & Company's proprietary Technical Scoring System (T|score) takes into consideration both individual security technicals as well as the overall market direction when considering whether or not to purchase a company. H&C's Market Trend Indicator (MTI) is a measure which is designed to evaluate the overall trend in the market. There are four designated levels to assess the trend which include: Strong Downtrend, Downtrend, Rally and Strong Rally. We are currently in an environment where the MTI is in a Strong Rally. All of our indicators are showing that the markets are in a strong rally and risk is back on. Investors of all risk tolerances may consider moving to a higher level of equities while still looking to pick up companies with increased levels of technicals. With that said, this stock ranks in the highest percentile of stocks from an individual security technical score. H&C would consider purchasing a small portion of this position even during a Strong Downtrend. This position would be a definite purchase if the market were to be in Downtrend or any kind of Rally.
Below are some of the areas where Gulfport Energy Corp (GPOR) excelled or detracted from the value of the technical score:
Stochastics are currently showing some bullish attributes which may mean this stock has some room to run in the short run.
In terms of price and volume especially over a short period of time it is important to see if there is any weight behind either a rally or correction. This company has shown to have good price action in terms of volume and therefore has a greater chance to move higher if the overall market and economy are to continue to trend higher. Higher volume with positive price also will provide support levels for this position if it were to decline back to these levels.
On a 12-month rolling period this company has performed very well when comparing against its peers and equities in the S&P 1500. We see this as a positive sign for this company as it shows strength relative to the overall market
H&C currently sees Gulfport Energy Corp (GPOR) in a Short Term Uptrend and Long Term Uptrend.
(Click to Enlarge)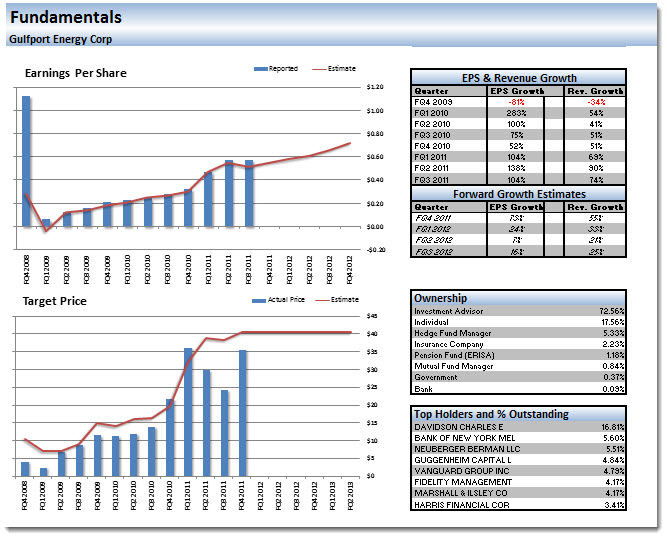 Horowitz & Company's proprietary Fundamental Scoring System (F|score) takes into consideration many factors related to each company's financial history and outlook. This system is oriented toward a growth model and therefore will give a higher score to those companies which continually show increasing earnings per share and revenue over time. Over the long-run (and when looking to purchase a security) we prefer companies with a track record of growth and solid fundamentals. In the short-term however, it is price / technicals that pay. When investing, we combine both of these analyses to seek out possible investment opportunities within our universe of stocks.
This stock ranks very highly with regard to fundamental factors and could be considered a candidate. See below for details on where this company thrives and possibly some of its drawbacks:
We find that EPS Growth on a Quarter over Quarter basis is one of the strongest components when screening for growth stocks. Continued EPS Growth in a company generally shows strength in leadership, the ability to manage expenses and improve the bottom line.Over the last three quarters, this company has done exceptionally well producing EPS Growth Rates last quarter, 2 quarters ago and 3 quarters ago 103.57%, 137.50%, 104.35% respectively.
Revenue Growth similar to EPS Growth is also a strong component to consider when screening and scoring for growth companies. Continued growth in revenue shows that the company is innovative, marketable and its products remain relevant in the marketplace.Over the last three quarters, this company has done exceptionally well producing Revenue Growth Rates last quarter, 2 quarters ago and 3 quarters ago 73.91%, 90.29%, 69.34% respectively.
The 5 Year EPS Growth Rate has added to the fundamental score with a value of 25.77.
Last quarter this company reported Earnings Per Share 10.47% better than analysts had expected. We believe this surprise although only for one quarter could set a trend for future earnings reports and guidance.
Price relative to earnings growth is commonly referred to as the PEG Ratio. This company may contain added value as it's PEG Ratio is 0.41. We generally would like to see the PEG ratio under 1.5 and it is even better if it is under 1.0.
Below is the map view of the region and some of the pipelines and rigs from companies working the area.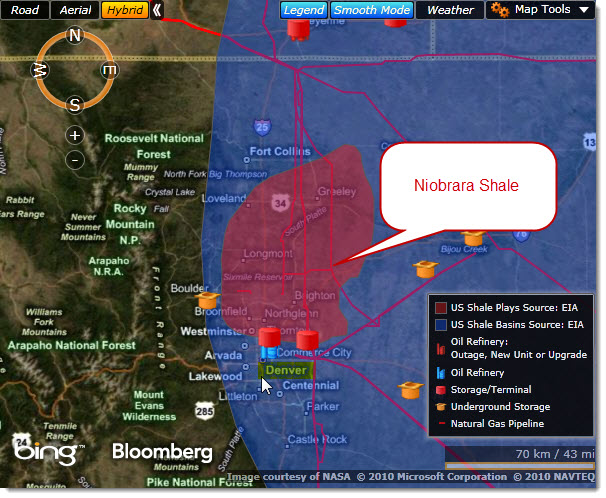 The shale formation in focus is just north of Denver. The company does a good job at summing it up:
From the Gulfport Website:
The Niobrara Formation oil play in northwestern Colorado is located between the Piceance Basin to the south and the Sand Wash Basin to the north. Rocks mainly consist of interbedded organic-rich shales, calcareous shales and marlstones. It is the fractured marlstone intervals locally known as the Buck Peak, Tow Creek and Wolf Mountain benches that account for the majority of the areas production. These fractured carbonate reservoirs are associated with anticlinal, synclinal and monoclinal folds, and fault zones. This proven oil accumulation is considered to be continuous in nature and lightly explored. Source rocks are predominantly oil prone and thermally mature with respect oil generation. The producing intervals are geologically equivalent to the Niobrara reservoirs of the DJ and Powder River Basins which are currently emerging as a major crude resource play.

Oil and natural gas can be found at depths of 3,000 – 14,000 feet

Upper Cretaceous Niobrara formation has emerged as another potential crude oil resource play

Natural fracturing has played a key role in producing the Niobrara historically due to the low porosity and low permeability of the formation

Gulfport holds approximately 19,000 acres of leases and continues to pursue acreage acquisition opportunities

Gulfport will shoot and process 3-D seismic survey over its Craig Dome acreage during 2011

In 2011, Gulfport plans to drill 3 to 4 gross vertical wells.
To see Gulfport's latest earnings announcement – Click HERE