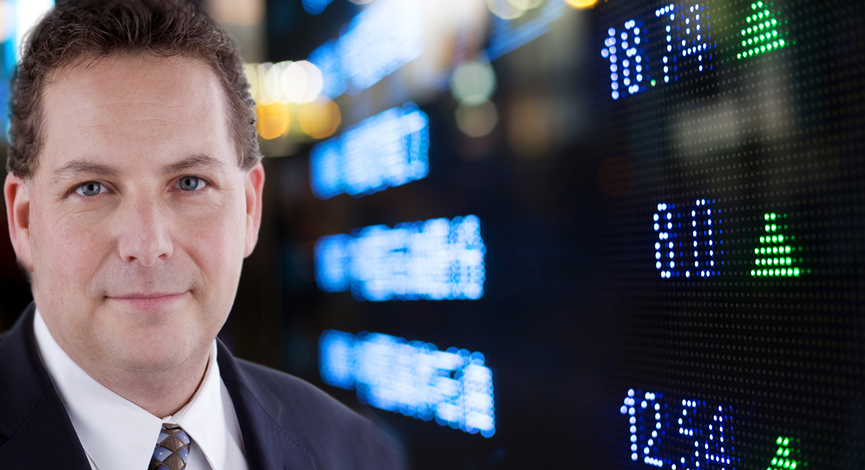 Sina (SINA) owns one of the most popular "Twitter-like" sites within China. It is named Weibo.com. There is a good deal of excitement surrounding the opportunity for Weibo to boost Sina's reach, but it is also its Achilles heel.
(Quick setup – Under $87.50 is a potential area to initiate a short position with the 50 DMA acting as the stop. Press the short if the price moves down as far as $79.50. Then, see if there is a pivot and take some profits at that level – if not, next downside level appears to be close to $72)
In the past, Sina/Weibo have had to defend themselves due to governmental crackdowns on micro-blogging. The simple fact is that China demands that the government oversees all communication with its citizens. Sites that allow blogging, opinion and social media exchanges are difficult to censor and therefore have been under attack as the Chinese government looks to squash anything that may be detrimental to their cause.
Nothing more, nothing less – it is their way or the highway. In other words: Communist Rule.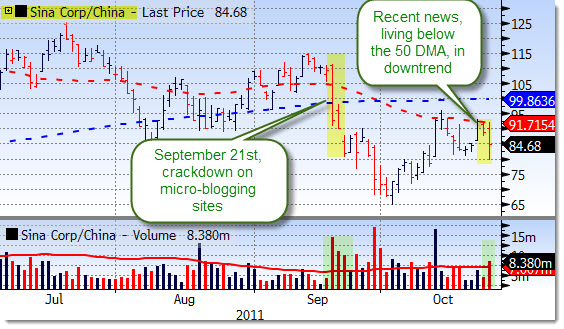 From the Telegraph:
The government was deeply alarmed by the way the internet was used to galvanise protests across the Middle East, and detained hundreds of activists in the wake of the Arab Spring movement. It is also jittery about the "Occupy" movement that has been sweeping the West.

Already a number of people have been put under what China calls "administrative detention", usually 15 days under arrest. One was accused of writing a fake report about changes to the income tax system. A student was jailed for claiming that cancer had killed eight village officials in Yunnan. A third was detained for writing that a Chinese jet had crashed.

Sites such as Sina Weibo, which was launched in August, 2009, just after China banned Twitter, have quickly become part of the mainstream.

The Communist Party was also unnerved by the sudden amplification of public anger over the internet following a bullet train crash in Wenzhou in which 40 people died. More than 10 million people left comments on Sina Weibo, many of them openly criticising the government's handling of the disaster.

In response to government pressure, Sina has hired 1,000 staff to monitor the flow of messages through its servers.

It has also suspended the accounts of anyone posting controversial content.

Experts said the government was unsure how best to enforce its control. "It is unclear how to strengthen the censorship on Weibo," said Zhan Jiang, a former professor of international news and communications at Beijing's Foreign Languages university.

He said one proposal to force users to reveal their real names would lead to a "tremendous drop in users" and that the "majority of the government" believes there are "more benefits than drawbacks" to having websites like Weibo. "On the technical side, it is difficult to censor Weibo," said Yin Hong, a professor at Tsinghua's Journalism and Communications school. "It is easy to block a link to a website, but it is difficult to scan all the messages for a certain Chinese character and weed it out."

China Online Clampdown China's ruling Communist party said it will strengthen management of online social media sites that have increasingly questioned government actions and exposed official graft. Vowing to promote the development of what it called a healthy internet culture, the Central Committee said it will supervise the world's biggest online community more closely, promote "constructive" websites and punish the spread of "harmful information," according to a communique from its October 15-18 meeting released by the official Xinhua news agency.
Facebook and Twitter are already banned from use in China. Of course if you have some tech savvy, there are ways around the firewalls. Even so, if the government decides to put additional limitations on the use of Weibo.com, things could get ugly. If anyone thinks that is something outside of reality, look no further than the recent Chinese ban on some features of Google.
The last time this was news was back on the front-burner was September 21st. The stock was hit hard and continued to fall for a few days. After a few analysts defended the name (which is what they do no matter what the reason for a stock's decline), Sina began to lift from its 10-day, 45% plunge. Most of that occurred on below-average volume.
In early October there was news that a leader within China had mentioned that micro-blogging may be a beneficial tool. That led to a surge on significant volume as shorts ran to cover.   That also happened to be the same time the general markets began to rally from their deeply oversold levels.
Now Sina has been living under its 50-day moving average and in a general downtrend. In addition, estimates for EPS have been coming down sharply. Growth has slowed over the past few quarters and China's equity markets have been in bad shape for months. (
Note: Earnings scheduled for 11/16/11. Estimates are for $0.22 EPS on $125m of revenues)
The bottom line: Sina has the potential to see additional downside if China continues to put pressure on its micro-blogging services. Whether it is the need to hire more employees to scrub messages or the requirement to reveal the names and personal information of their users, membership will drop off a cliff. Of course all of this depends on the follow-through of the government, but the fear that may show up for investors that own this stock could force another sell-off down to levels seen in September.
The short will be watched for a breach above resistance on volume. For that, use the 50-DMA as a guide. On the downside, there is some support at the $79/80 level. From there, look to cover near $72/73 if it continues to move down.
 ___
Looking to invest in The Disciplined Investor Managed Growth Strategy? Click HERE for the virtual tour….
___