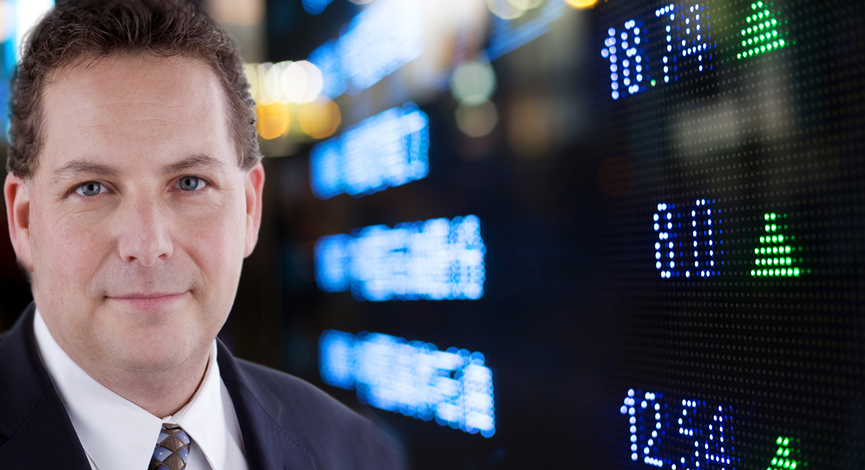 The headlines are already showing that there is a good deal to celebrate as China's economy is still going strong. Even after several rounds of rate hikes and government measures to try to cool the economy, inflation is accelerating. But is this really good for the global economy?
The CPI measure was stronger than anticipated by a fraction. That is still too high by the government's own admission. This will surely have trigger another round of increases, or some other form of tightening, sooner than later. Even more worrisome is that the non-food inflation costs have hit an all-time high for the country (2005 is earliest report data available).
Food inflation hit 11% – a terrible situation for the non-affluent.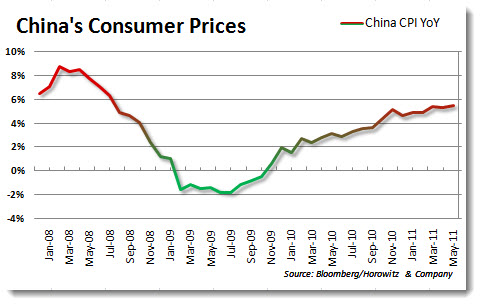 A good comment dug out of a Bloomberg report:
April's consumer-price data "is a disappointment because it shows that tightening measures introduced so far have not managed to prevent economic overheating and bring price pressures under control," said Dariusz Kowalczyk, senior economist at Credit Agricole CIB in Hong Kong. The data indicates "continued spreading of price pressures to the broader economy, which will require further tightening."
Even as the Producer Price index has slowed its recent ascent, the stubbornly high level is providing troubling signs. As China competes for low price manufacturing on a global scale, these higher prices will inevitably be passed on to buyers. That is not a welcome sign for the major importers, like the U.S. and Europe.
Either one of two things will happen: Export pricing and CPI will continue to climb, or margins will be compressed and China's companies will show lower profits. Which one occurs will best be shown in the equity markets move over the next few months.   (My money is on China's ability to pass on price increases)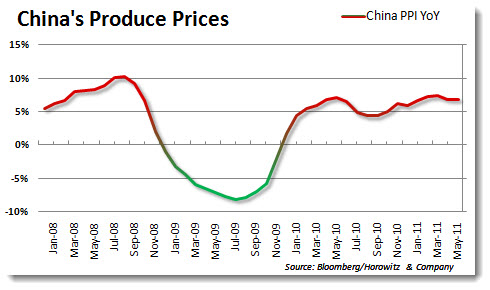 As the pricing of goods increase, retail sales suffers – a simple equation. Only within an economy that also has a commensurate rise in wages will that thesis fail. So far, China's wages are not accelerating quickly enough to offset this increase.
Already the tightening measures are taking hold as the money supply measure has recently slowed to the lowest since November 2008.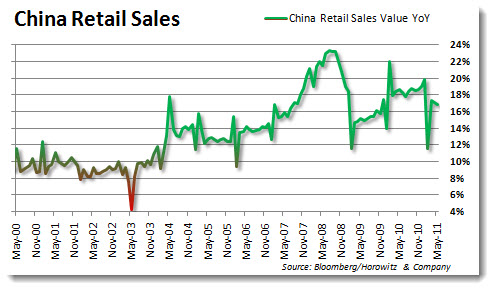 Industrial Production also cooled somewhat this month. This   is providing further evidence that the economy is slowing. While it still shows impressive growth, the trend is lower – no longer does China have the easy comparisons as it did in 2008 and 2009.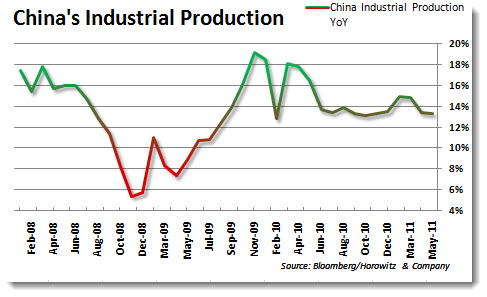 The IP is also a signal that global orders may have slowed and the tightening efforts are starting to tamp down growth.
"China's economy is probably slowing down more than people realize," Jim O'Neill, chairman of Goldman Sachs Asset Management, said in Hong Kong today. Inflation "won't be a problem" in the second half of the year and the government will stop tightening policies as price gains moderate, he said, estimating growth may slow to about 8 percent in June through December.