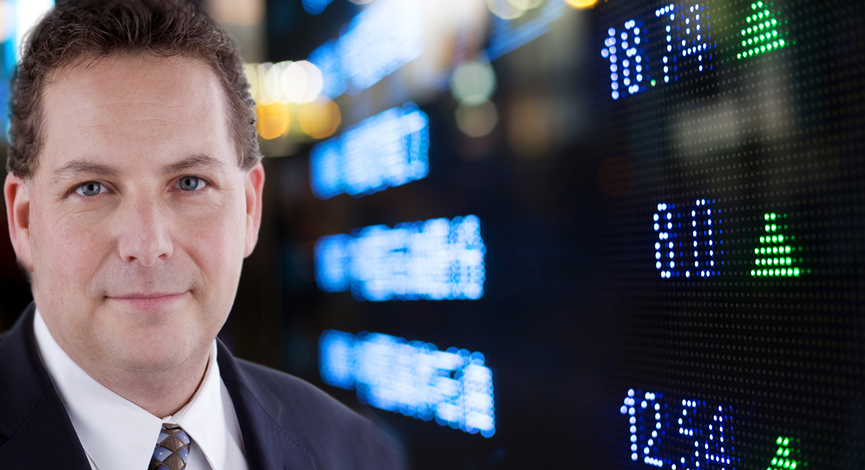 Here is a sample of the info we write to our clients on a daily basis. We believe that transparency is extremely important as well as education. So, we write about what is going on with the markets, economics, stocks and what traders are thinking to help explain our current basis for investing. Where else can you get this and a money manager that eats his own cooking?????
If you are interested in becoming a client ($50,000 minimum account please) and want to peek into the work we do to make sure that this is something you are looking to do,   then just fill out the form below and we will set you up in a 2-week trial.
Here is what we are writing today:
There was a great deal of reading Thursday morning that sparked my interest…..
From a trader that I read…..
I've reached the point this morning where it's getting more and more difficult to say anything interesting about this market. It goes up. We got it. Point made.

In the WOW department, the new AAII data is out this morning and it's pretty shocking: respondents grew noticeably more bearish in the past week, with the number of bulls dropping sharply, and the number of bears rising. This trend must continue to be respected.

Another interesting tidbit I ran across premarket: The number of new highs on the NYSE yesterday reached the 20% level (20% of all stocks on the NYSE made new 52-wk highs). That's an extreme that typically suggests the rally has reached unsustainable levels. But that doesn't mean go out there and short it on margin with no stop.
There were several other pieces we noticed from some of the big shops that were all abuzz with the for-profit educational stocks. We have been watching their wild moves and even though some have superb fundamentals, there have been accusations that much of these could have been fudged. So, while some of these firms have been under investigation, we have stayed away. Now, as a lesson in "what to watch and what not to"…. Consider the chart of Apollo (APOL) below.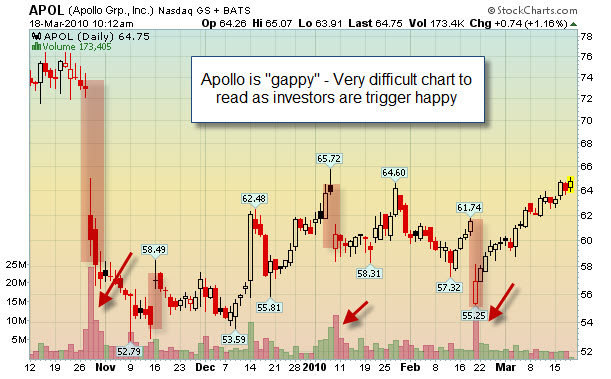 We have been tentative of entering, even as we are seeing decent fundamentals. Even so, we see that there is clearing above ~ $65.   As the sector has benefited by the potential for a windfall of money that is tucked away inside the "Approve or Die" health bill, the opportunities are growing for   many of these companies. (APOL) (ESI) (EDU) (COCO) (CECO) among others.
Economic Releases

March Philly Fed 18.9 vs. 18.0 consensus; prior 17.6
Feb Leading Indicators +0.1% vs. +0.1% consensus
Continuing Claims 4579K vs. 4522K consensus; prior revised to 4567K from 4558K
Feb CPI YoY +2.1% vs. +2.3% consensus
Feb core CPI MoM +0.1% vs. +0.1% consensus
Feb core CPI YoY +1.3% vs. +1.4% consensus
Initial Jobless Claims 457K vs. 455K consensus; prior 462K
Feb CPI MoM 0.0% vs. +0.1% consensus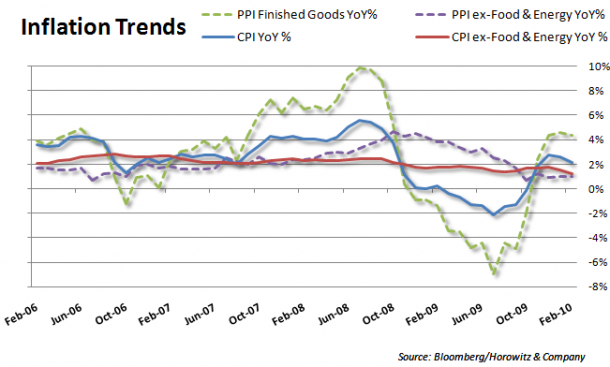 NEWS
(Companies we own in BOLD)
Cheesecake (CAKE) – Another IBD issue displaying modest strength as it attempts to take out its minor 52-wk range high near the 27.00 level this morning
Qualcomm (QCOM) gaps near last week's peak at 39.39
Bristol-Myers (BMY) says FDA accepts New Drug Application for once-daily fixed dose combination of Onglyza and extended release Metformin for the treatment of Type 2 diabetes mellitus in adults
Apple (AAPL) : Google starts selling Nexus One in competition with iPhone
Google (GOOG) ests raised at FBR Capital Mkts following checks
Cephalon (CEPH) filed a lawsuit against Lupin Limited and Lupin Pharmaceutical

Cephalon disclosed that on March 16, 2010, it filed a lawsuit in U.S. District Court in Delaware against Lupin Limited and Lupin Pharmaceuticals for infringement of U.S. Patent Nos. 7,132,570 and RE37,516 for the Cephalon product NUVIGIL (armodafinil) Tablets. The lawsuit is based upon an Abbreviated New Drug Application filed by Lupin seeking approval from the FDA for a generic equivalent of armodafinil to be sold in the United States. Lupin alleges that the above NUVIGIL patents are invalid, unenforceable and/or will not be infringed by Lupin's manufacture, use or sale of the product described in its ANDA.
Trades for March 18th, 2010:
Purchased initial 2% position of Apollo Group (APOL) at $64.94
Sold full position of our "Solar Package" including Canadian Solar (CSIQ) and Trina Solar (TSL) on the heels of a public offering from Trina resulting in a dilution of 7.9 Million American Depository Shares at $21.47 and $21.48 respectively.
Tripled position in Qualcomm (QCOM) to 3.2% position after positive comments from Barron's and broken technical resistance at $39.63
Initiated position in RINO International (RINO) at $22.98