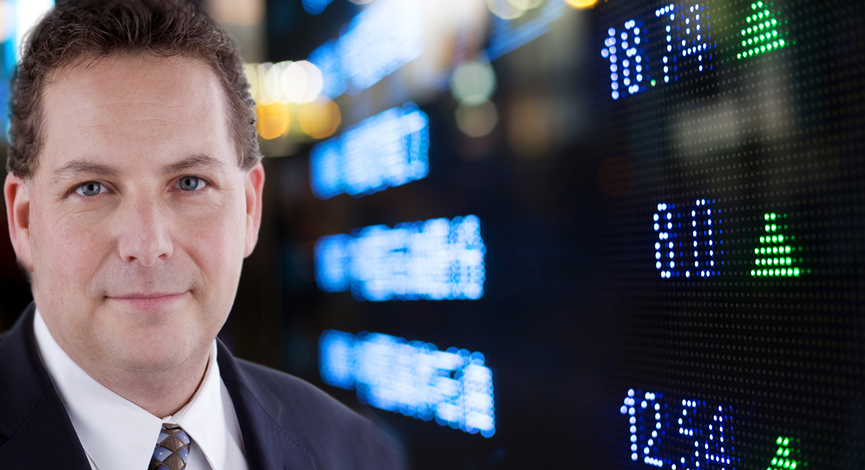 Generally, the trend continues to show a bounce off of the lows for most economic series. Year over year Income has been ticking up, but we are seeing a slight move lower for spending. More importantly, the monthly series is showing just the opposite. Spending is starting to rise with income coming down. That can be something to note as it may be a pre-cursor to the consumer beginning to add credit again.
Over the past many months, the de-leveraging process has provided us details that shows consumer credit coming down like an avalanche. If consumers are continuing to spend via credit, are we starting to see a trend that will return us to an economy that lives and breathes off of credit lines again? Perhaps it is a good sign that consumers are more confident about the future, but that would not match with the the latest consumer confidence numbers.
Core PCE is also showing a good deal of strength. That showed up in the recent retails same store reports from companies this week, which beat most estimates. Good news and bad news…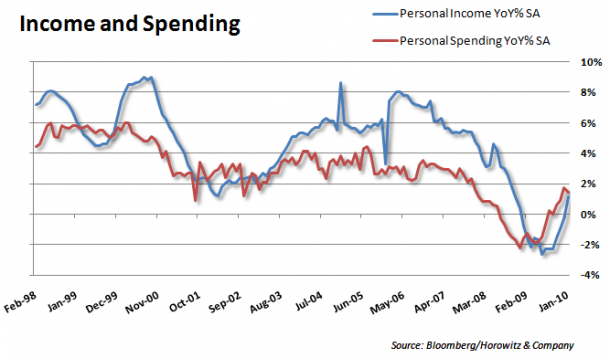 From Briefing.com
Highlights
Personal spending in January rose 0.5% after increasing 0.3% in December. The increase matched January's retail sales numbers and exceeded the consensus estimate by 0.1 percentage points.
Personal income rose 0.1%, well below the 0.4% increase the consensus expected. Real disposable income fell 0.6%.
Inflation remained subdued as core prices were unchanged. However, higher energy costs pushed total consumer prices up 0.2%.
Key Factors
The spending data came in largely as expected. Goods expenditures rose 1.2% as nondurable consumption jumped 1.8%. Services consumption increased a modest 0.2%.
Personal taxes rose by $59.0 bln as federal net nonwithheld taxes rose by $52.5 bln. The jump in taxes should not carry over into February and growth in disposable income should look strong in response.
Big Picture
While off their lows, sustainability in the personal income and consumption sector look weak. High unemployment will put heavy downward pressures on wage growth. Since consumption has a direct relationship with the amount of income a consumer has to spend, lower incomes will cause consumption growth to be weak. Government stimulus in the form of tax credits has done a nice job of maintaining minimal growth and if they expire we could see another leg down in consumption spending.