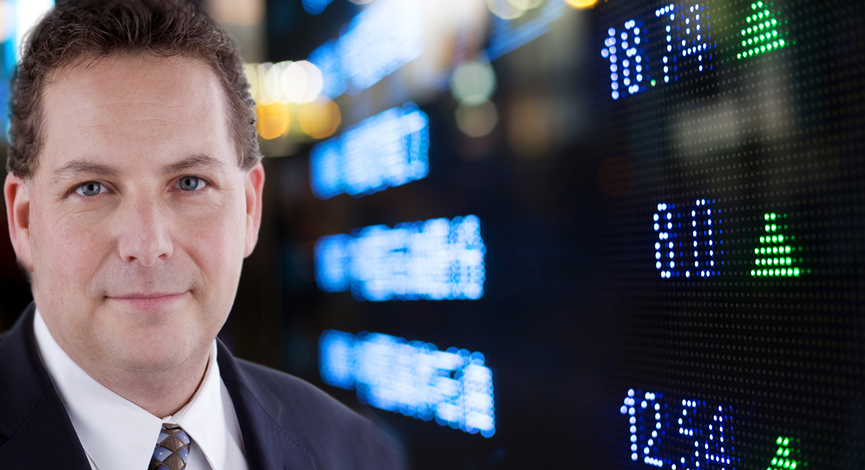 As investment advisers and money managers, we obviously run money on behalf of clients. One of the most important aspects of what we do is not only look to make profits and protect downside risk, but to also provide transparency. In order to do this, we have a "Client-only" site that is dedicated to portfolio specific discussion that we update each day.
From time to time, we will take a piece of that commentary and post it to the public blog/website here. Below is an excerpt from Thursday's commentary.
If you are considering having us manage money for you and want a 2-week free, no strings attached test-drive/trial access to the site, complete the information at the bottom of this post.
Excerpt:
"Retail sales are on tap for Thursday morning. Along with this, the initial and ongoing claims were reported this morning.   After the close today, Intel (INTC) is going to release earnings that is the opening tech stock for this earnings season. Before the open on Friday, JP Morgan (JPM) will report.   Then, the floodgate of earnings start to come in starting next week.
Click HERE for a detailed look at the REAL state of the unemployment claims…
First, we need to focus on the   recent energy reports. Combining the inventory reports for natural gas and the oil does not provide any good news for coal providers as energy stocks usually get hit or rise together. But the very weak natural gas numbers pose a bigger problem to the coal companies as they have a much higher correlation to natural gas prices. As can be expected, our holdings in Patriot Coal (PCX) and Consol Energy (CNX) dropped slightly on the news. If you recall, we cut these positions down recently after their great run. We will continue to monitor them closely. Also, we increased our position in the 2X inverse oil ETF   (SCO) as it primarily being used as a hedge for this situation. So far, this has been profitable as this was added close to the recent high for oil.
Looking back for a moment, the takeaway from yesterday was the big build in oil inventories and the fact that oil is starting to reverse from highs. Today we saw confirmation of the trend as natural gas inventories came in much higher (translated as a build greater than) expectations. This is starting to show some cracks in either the recocery or that analysts are way ahead of themselves.
Retail sales were disappointing as well. Expectations were for a gain of +0.5% for the advanced retail sales which came in at -0.3%.
Retail sales less autos were -0.2% versus expectations for +0.3%.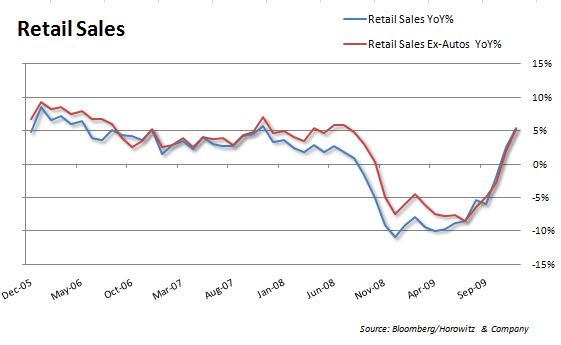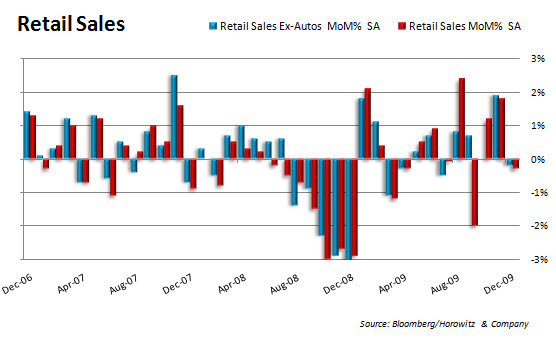 This is continuing to provide evidence that the recovery is not "V" shaped. Perhaps a square root?"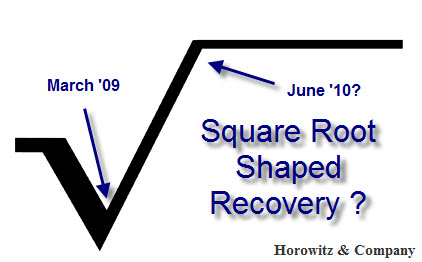 Disclosure: Horowitz & Company clients may hold positions of securities mentioned as of the date published.