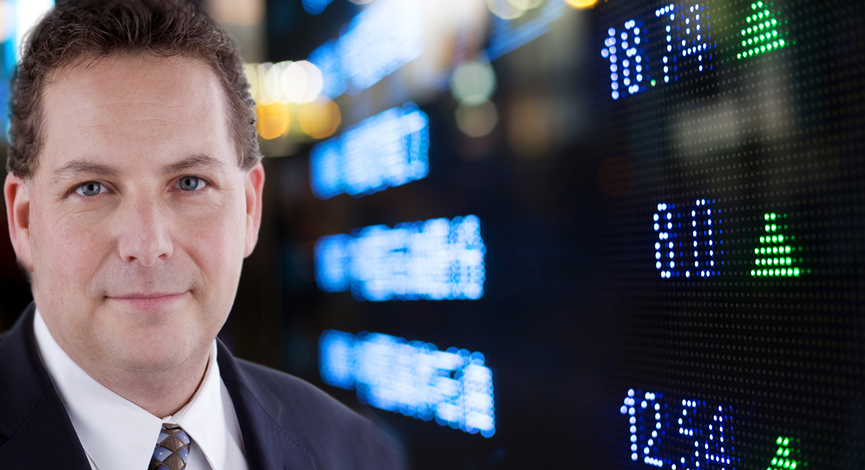 We have been talking about the latest move by China to add to coal stockpiles. Now that they are also getting a cold-snap, coal supplies are running low. In an effort to keep the lights and heaters on, we foresee some production increases as well as buy orders coming in to their favorite suppliers.
Two firms that may benefit (among others) and have been benefiting are Patriot Coal (PCX) and Consol Energy (CNX).
Quick technical charts: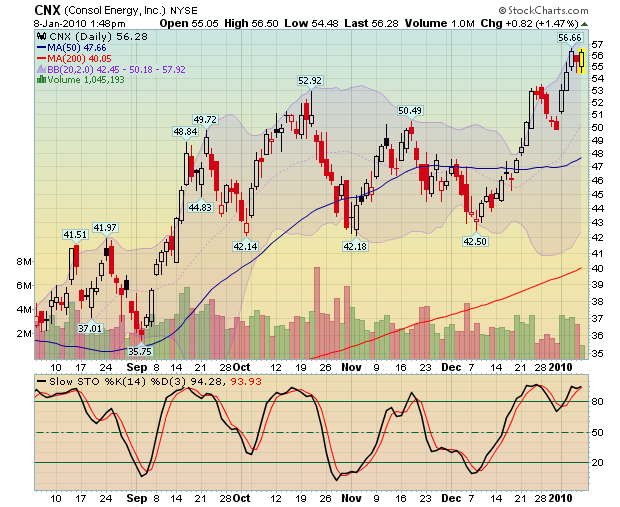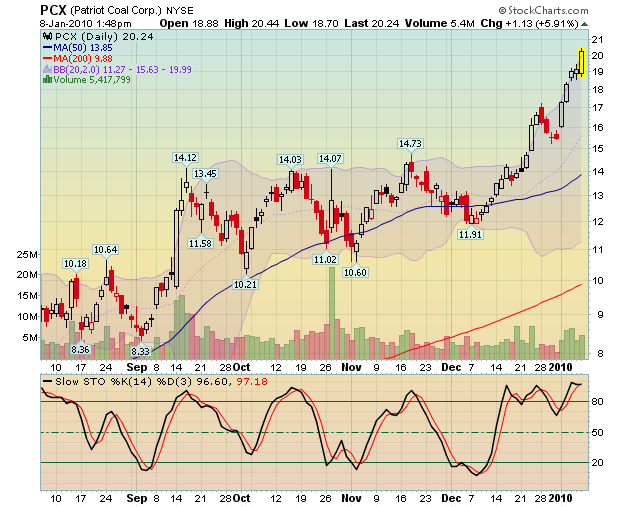 Just today, we saw more evidence of this in a story from Bloomberg:
Jan. 8 (Bloomberg) — China's northern province of Shanxi, the nation's largest coal production area, is increasing output of the fuel to meet rising demand after snowstorms cut off supplies to inland power plants.

Coal output has been ramped up in Shanxi since the start of December, the official Xinhua News Agency reported, citing Hou Wenjin, an official with the local coal bureau. Inventories of coal at power plants have fallen as rail-cars carrying coal failed to arrive on time at destinations, putting output of energy-intensive commodities such as steel and aluminum at risk of stoppage.

The world's second-largest energy user was hit by record- low temperatures as wintry weather sweeps across the Northern Hemisphere, forcing generators to ration electricity use. More snow is forecast for Beijing today.

"There's a shortage this time of every year," said Wang Ye, chief coal analyst at Citic Securities Co. in Beijing. "Even if you book now, they can't give it to you in time. You can't just go looking for food when you're already hungry."

China had increased overseas purchases of coal and liquefied natural gas in November compared with October to meet winter fuel demand, government data showed.

Coal imports rose to 12.65 million metric tons from 11.14 million tons in October, according to data from the Beijing- based General Administration of Customs. LNG imports climbed to 588,439 tons from 433,946 tons.

Reduce Usage

Shanghai, Chongqing and other regions of China are limiting power consumption after snowfalls restricted coal deliveries to power plants. Temperatures at Harbin city in China's northeastern province of Heilongjiang and Shenyang city in Liaoning province may drop to minus 21 degrees Celsius (minus 6 degrees Fahrenheit) today, according to the China Meteorological Administration.

Some aluminum smelters in China's Henan province, the largest producer in the nation, received notices from power suppliers to prepare for stoppages, according to CRU International Ltd., an industry-research company.

Power consumption in the provinces of Sichuan, Jiangxi and Hunan rose to a record on Jan. 5, the official Xinhua News Agency reported yesterday. The provinces of Jiangsu, Hubei, Henan, Hunan, Jiangxi and the municipalities of Shanghai and Chongqing have limited electricity use.

Snowstorms

A cold front in northern China that caused the heaviest snowfall in Beijing in almost six decades and the lowest temperatures since 1971 began moving south on Jan. 6 into the provinces of Zhejiang, Jiangxi and Hunan, threatening to disrupt rail services. Snow is expected in for parts of the three provinces, the weather bureau said on its Web site.

Electricity use in central China surged 33 percent from a year earlier to 58 billion kilowatt-hours in December, Xinhua reported. That level of power use exceeded the volume during peak summer electricity demand on a daily basis, Xinhua said.

Coal stockpiles at power stations in the region dropped 24 percent to 8.68 million tons at the end of December from the beginning of the month, Xinhua reported. The region has shut down 3.35 million kilowatts of power generation units because of coal shortfall, it said.

Power companies should monitor the cold weather closely and adopts emergency precaution scheme to ensure safe operation and production of electricity, the State Electricity Regulatory Commission said Dec. 25.

Coal Output

Shanxi's total production of the fuel rose to a record of more than 60 million tons in December, with daily deliveries to other provinces rising more than 40 percent from a year earlier, Xinhua said.

A cold front will hit China today, with snowfall forecast for provinces including Shandong, Hebei, Jilin, Heilongjiang, Inner Mongolia, Xinjiang and the municipalities of Beijing and Tianjin, the China Meteorological Administration said on its Web site late yesterday.

Shandong province in eastern China is increasing purchases of coal from other provinces to mitigate a supply shortfall, Xinhua reported today. Coal stockpiles at 32 main power plants in the province fell to 8.5 to 9 days of use by Jan. 7, it said.
___
Disclosure: Horowitz & Company clients may hold positions of securities mentioned as of the date published.