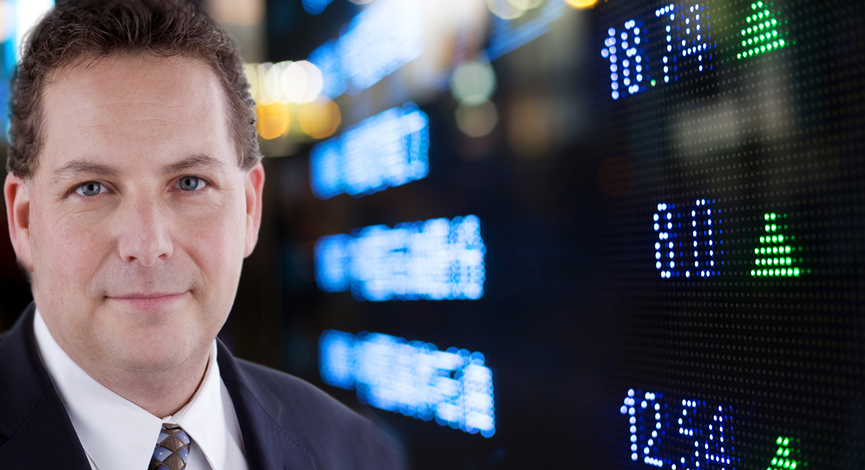 Recently, there have been several reasons why we have been stubbornly looking at the markets as overbought and due for a correction/downturn. One issue has been the general complacency of traders as can be seen in the low price of the VIX (Volatility/Fear Gauge)
Beyond this, we have been bumping along the 910-940 range on the S&P 500 and there is not much that investors have seen in the way of economics or earnings that have them inspired to push the markets ahead. Oil has been an issue and the world markets optimism/hope has had been pressing stocks higher.

As you have been following our Natural Gas/Oil Spread trade, below is information you may want to have a peek into. This morning, Natural Gas saw increasing stockpiles/storage but the actual number was better than estimated.
The Energy Department's Energy Information Administration said in its weekly report that natural gas inventories held in underground storage in the lower 48 states rose by 70 billion cubic feet to about 2.72 trillion cubic feet for the week ended June 26.

Analysts had expected a boost of between 72 billion and 76 billion cubic feet, according to a survey by Platts, the energy information arm of McGraw-Hill Cos.

One contributor may have been a heat wave that struck the South and Midwest, as people turned up the air conditioning.

The inventory level was 21 percent above the five-year average of about 2.25 trillion cubic feet, and 29 percent above last year's storage level of about 2.11 trillion cubic feet, according to the government data.
We have also been looking at some of the make up of the recent rally and the total lack of any significant volume. The chart below shows us that conviction buying/selling has basically dried up and most of the action on a daily basis can be attributed to day traders and programmed trading.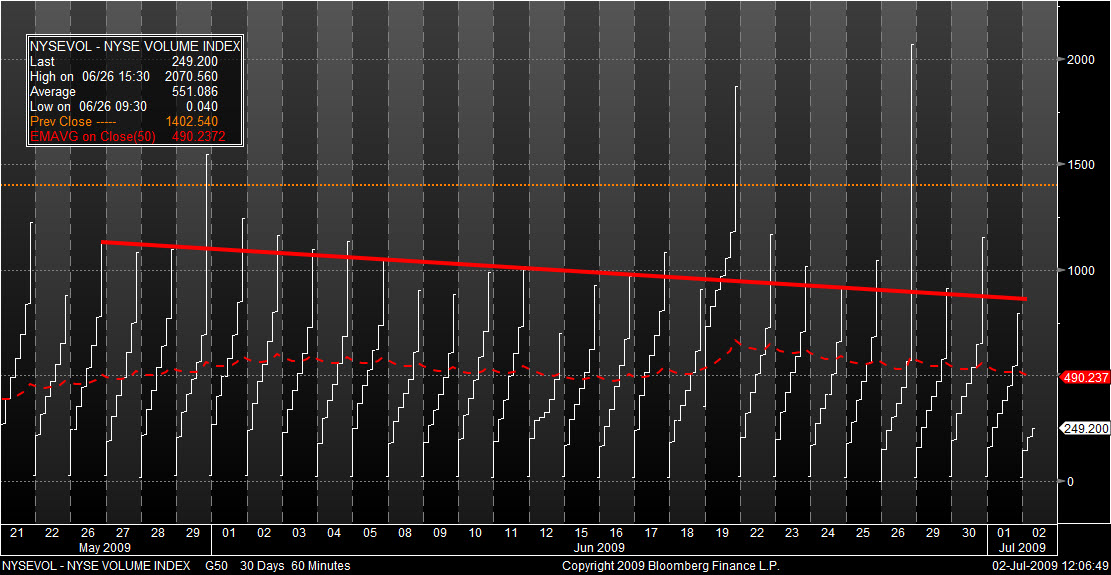 Moreover, this story from Bloomberg has an interesting view that seems to be getting a good deal of play.
July 1 (Bloomberg) — Declines of more than 20 24 percent in regional banks and homebuilders and the failure of transportation companies to erase their annual loss may be signs the rally in the Standard & Poor's 500 Index is about to fizzle.

Smaller lenders in the gauge lost 23 percent since climbing to a four-month peak on May 8, while builders tumbled 26 percent from May 4, when they reached the highest level since October. Concern that mortgage rates, credit losses and foreclosures are increasing spurred retreats in the companies forecast to be among the biggest beneficiaries of $12.8 trillion in government stimulus spending.

Slumps in bank stocks foreshadowed previous declines in the S&P 500 as investors focused on real-estate losses that curbed lending. Regional banks' 51 percent plunge over 28 days starting Dec. 8 came a month before the S&P 500 began a 28 percent slump to a 12-year low of 676.53. The lenders' all-time high in February 2007 occurred seven months before the S&P 500's record.

"If housing and credit led us into all this, they will have to stabilize," said Mark Demos, a Minneapolis-based money manager at Fifth Third Asset Management, which oversees $18.7 billion. "There's a growing concern that they're not out of the woods. Less bad does not equal good."

Speculation government spending will end the first global recession since World War II helped push up the S&P 500 by 15 percent since March 31, the biggest quarterly increase since 1998. Financial shares gained the most among the S&P 500's 10 industry groups, rising 35 percent. Futures on the index rose 0.6 percent to 920.60 at 7:12 a.m. in New York today.

`Government-Induced Rally'

Stocks began to decline three weeks ago as economic reports spurred speculation the U.S. economy isn't recovering fast enough to justify the S&P 500's 36 percent advance since March 9. The Federal Reserve said in its June 10 Beige Book business survey that "stringent" loan conditions persist even amid signs the recession is moderating.

"This has been a government-induced rally," said Jordan Irving, who helps manage more than $110 billion at Delaware Investments in Philadelphia. "We need to see some real positives coming from internal demand, as opposed to government- related demand, and it's just not there."

Borrowing costs climbed in the past month, with the average rate on a 30-year fixed mortgage reaching a six-month high of 5.59 percent on June 11, according to McLean, Virginia-based Freddie Mac. The rate was 5.42 percent when last reported on June 25. The increase spurred the Mortgage Bankers Association to cut its forecast for mortgage originations in the U.S. by 27 percent on June 22 as fewer people refinance their home.

`Challenging'

Marshall & Ilsley Corp., Wisconsin's largest bank, tumbled 52 percent since May 11, wiping out three-fourths of its rally from March 5. Citigroup Inc. analysts on June 11 predicted loan losses will remain high even after the Milwaukee-based lender raised capital by selling shares.

D.R. Horton Inc., based in Fort Worth, Texas, is down 31 percent since May 4, the steepest decline among rivals in the S&P 500 since then. The largest U.S. homebuilder posted a worse- than-estimated quarterly loss on May 4.

"The average regional bank out there is going to see increasing net charge-offs and loan loss provisions, and people may say, `Gee, do I really want to be in banks?'" said Barry Knapp, head of U.S. equity strategy at Barclays Plc in New York. "That could definitely be a catalyst for a sell-off."

`Dow Theory'

Lagging transportation stocks are another bad omen for the rally, according to strategists at Bank of America Corp. and Raymond James Financial Inc., who say gains in airlines, truckers and railroads usually precede economic rebounds.

The Dow Jones Transportation Average has fallen 8.6 percent this year, led by a 62 percent drop in Fort Worth, Texas-based American Airlines parent AMR Corp. The 2009 decline exceeds the 3.8 percent retreat in the Dow Jones Industrial Average of 30 companies that are "leaders in their industries," according to Dow Jones & Co., a unit of News Corp.

Adherents of a century-old stock-picking strategy called "Dow Theory" say the averages must exceed their Jan. 6 intraday highs of 3,737.01 and 9,088.06, respectively, to send a buy signal for stocks, Bank of America's Mary Ann Bartels said. The measures are more than 7 percent below those levels.

"For cyclicals in general, it's hard to imagine that they're going to have very good earnings in the second quarter," said E. William Stone, who oversees $100 billion as chief investment strategist at PNC Wealth Management in Philadelphia. Because the economy probably shrank for the fourth straight period, "you're flying against the wind."