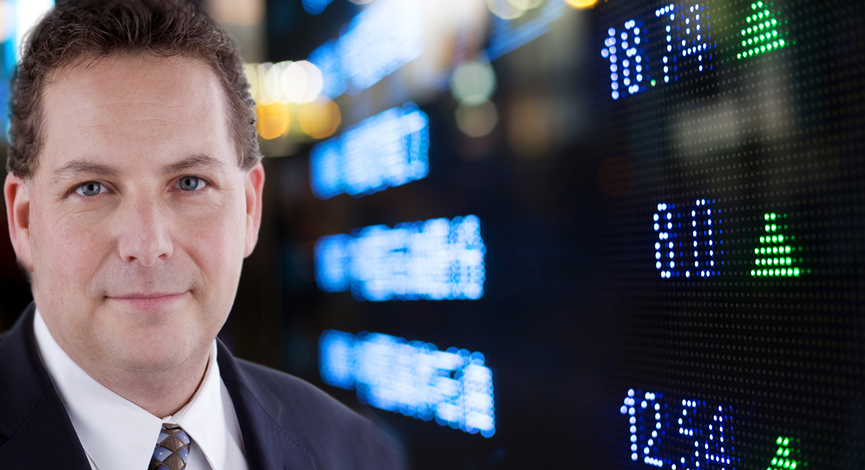 As the recession appears to be coming to a close, several investors appear to be depressed about the losses in their portfolios. Some investors look to Fortune Brands' (FO) Jim Beam for comfort and those left with cash in their pockets go for an upscale Diageo (DEO), Johnny Walker cocktail. We however, have sought solace in the inexpensive, quick and easy fast food joints. Americans have long looked at food for comfort and with the prices of commodities far from their highs, especially beef and grains we see Burger King and McDonald's as viable long term plays for the future. Let's see how each of them stacks up against one another.
McDonald's (MCD) has once been in the same position that Burger King (BKC) is currently experiencing with regards to stock price. Only 5 years ago McDonald's was struggling with quality control as a result of rapid growth causing their stock to fall more than 60% from late 1999 to early 2003. On April 14th, 2009 Burger King announced that they would not meet revenue estimates, driving their stock down just under 20% in one day.
Throughout this recession many have contemplated that companies such as Yum Brands (YUM), McDonald's, Burger King, and Wendy's (WEN) would prosper. Investors assumed families and individuals alike would be looking for a low cost alternative to fancier and more expensive sit down restaurants. Although this may be the case, we still can't forget that we are in a recession and families have no problem cutting out egregious expenses such as eating out to cooking their own meals as a cheaper alternative. Fast food restaurants have also been feeling the pinch from unemployment as many workers would retreat to these places for a quick and inexpensive meal during lunch. This is a potentially substantial impact as officially 8.5% are unemployed with expectations for this Friday to see at least 8.9%. Unofficially, we are seeing much higher unemployed numbers as discouraged workers discontinue their job searches or take on part time positions to fill the void.
(Click chart to enlarge)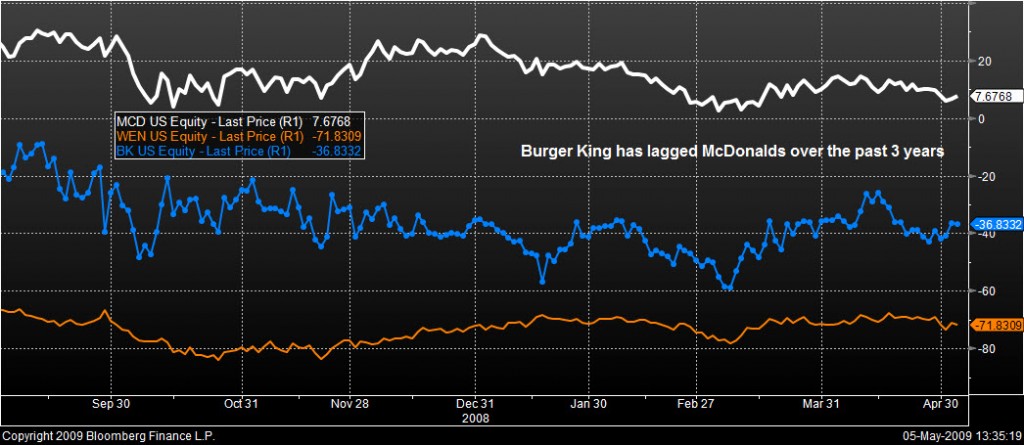 MCD and BK have continued to show weakness in both earnings per share and revenue growth on a year over year basis. Both companies however expect by 2010 to show year over year EPS growth back to 10%. McDonald's continues to drive new products into the marketplace and remain well ahead on marketing. Burger King still has room to grow as they are expanding their international base and have marketing opportunities with the new Transformers, Star Trek and G.I. Joe movies to be released this summer.
The US dollar has strengthened over the past year which has hurt both McDonald's and Burger King's international markets. In the past week however we have seen the dollar show some weakness against the euro which should bode well for both companies as they continue to expand globally. Currency fluctuations will continue to have a major impact on both companies in the near future.
Inflation could potentially put pressure on company margins and tighten the wallets of the remaining households that are jobless.
Horowitz & Company cliets may own shares (short/long) of the stocks mentioned as of the publish date