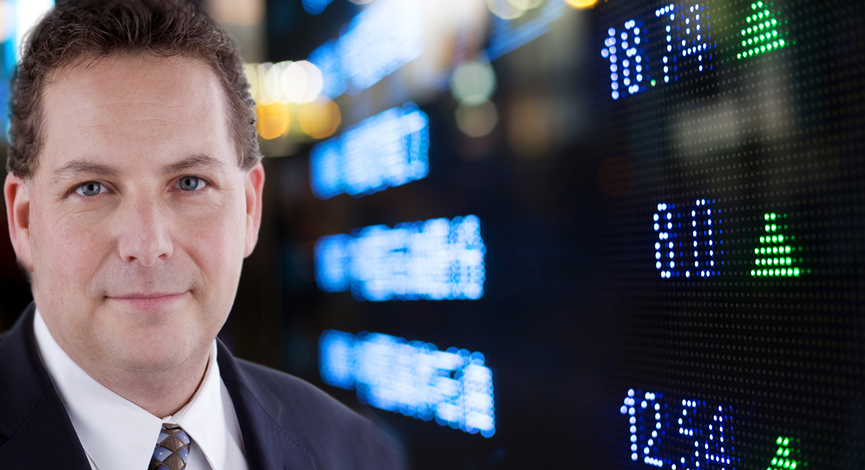 I write this as I am sitting in the middle of Bryant Park (42nd Street and 6th Avenue). There is plenty of sun, people and free wireless!
For me, it is that time of year again. Travel, camp, sun and fun. We were just back from Northern Europe and then off to New York. First for camp visiting day and then to Manhattan for some fun. It is amazing what you can learn from kids. Not only insight into life, but also investment opportunities.
For now, let's stick with the latter.
Early the next day we picked up the kids and drove to the nearest mall. They always need a few things for the second half of camp. We visited two malls in less than 3 hours that day. Always on the lookout for new ideas for investing in retail stocks, I noticed that the usual hangouts for kids (PacSun (PSUN), Abercrombie and Hot Topic) were not very busy that day.
Instead, there was a great deal of action at Zumiez. (zoom-EEY-eyz). This is a store that is popular with the 12-24 year old crowd. Imaging a store that combines the edge of Hot Topic (HOTT), the coolness of Abercrombie/Hollister (ANF) and a nice dose of skater boy. Then, add to that the hottest brands (D&G, Etnies, BMX, Quicksilver, Vans etc) and you have Zumiez.
The standard stock description goes something like this: Zumiez Inc. (Zumiez) is a mall-based specialty retailer of action sports related apparel, footwear, equipment and accessories operating under the Zumiez (ZUMZ) brand name. As of February 3, 2007, the Company operated 235 stores primarily located in shopping malls, giving it a presence in 23 states. Zumiez stores cater to young men and women between the ages of 12 and 24 who seek brands representing a lifestyle centered on activities that include skateboarding, surfing, snowboarding and Bicycle Motocross (BMX). It supports the action sports lifestyle and promotes its brand through a multi-faceted marketing approach that is designed to integrate its brand image with its customer's activities and interests
The company is rated a MODERATE BUY by analysts (covered by # 9 analysts with a range of Strong Buy – 6 Moderate Buy- 1 Hold – 2)
Now what makes this different for any other retail store is that it is still growing, albeit somewhat quietly. The stock is values at 40 times earnings forward earning and 3.5 time sales. This is how it compares to some of its competition:
P/E Ratio (Forward)
ANF 13.7
HOTT 26.8
PSUN 23.6
ZUMZ 40.8

Price/Sales Ratios
ANF 1.9
HOTT 0.8
PSUN 1.03
ZUMZ 3.56
ZUMZ is overvalued as compared to these standard ratios, yet the company is growing nicely beyond its competition. The estimates are for 35% earnings growth for FY2008 and 37% for FY2009. Investors will need to pay up for the opportunity.
The NASDAQ RiskGrade for Zumiez is higher than its competitors as well. This shows that the investment risk may be higher for ZUMZ as the stock has traded with a greater range. This is a concern and therefore entry into this position should be done with some caution.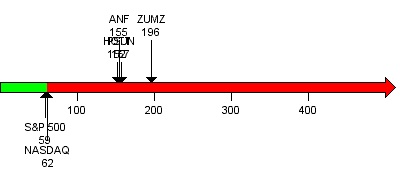 Investing in retail stocks is usually a concern, as consumers seem to change their taste as quickly as hummingbirds flap their wings. Much of the problem with this sector is that companies are selling products that can be affected by not only the consumer sentiment, but also the economy. It is one thing if a company sells a product that people need (Whirlpool), it is another if they sell what people want. This subset is usually much more volatile as growth can happen quickly with a popular product. (Think about the music industry sales related to hit songs on the charts). There is a swell of sales and then it will drop off quickly. That is the Achilles heel of investments in the retail sector. So, with that in mind, invest with prudence.
What is compelling about some retail stores is that they are just the middlemen. They are selling the hot product, not investing in it or manufacturing it. Therefore, they benefit from the popularity and can easily switch to a new product line as consumers taste changes. Under this model, the chain will need to rely heavily on good buyers and state of the art tracking methods of consumer habits. Both art and science need to be blended.
The main difference between Zumiez and Abercrombie is simple. If Abercrombie ever becomes unfashionable (it is possible…isn't it?), those stores have no other products to sell. Zumiez can change brands at will, profiting from the trend.
This is a stock that seems to have the potential to take off as investors are looking for earnings momentum over stability. With a good deal of product selection that is focused on the hottest trends, the company could profit from the voracious appetitive or consumers and investors. We are looking to nip at the stock at prices below $40 as it looks to consolidate and will be cautious to watch downside risk. The main appeal is the growth potential and their ability to rotate the brands they sell as the taste of the consumer changes.
Chart